Don't Try This At Home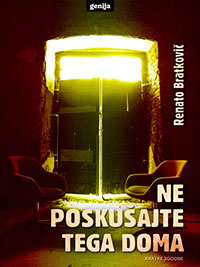 Renato you during the day makes up a communication strategy and advertising campaigns, and at night the story. He lives with his wife, daughter, son, dog, cat and rat in Slovenian Bistrica. Do not try this at home his first collection of short stories.
His author's page is The Big Bratkovski , but otherwise governed by the literary blog Radikalnews .Contents: Barbara Necktie Two chairs will not Sedo! Contract Romeo and Juliet hitchhiker Exactly at midnight for three days until the end of the world The Last Wish
Don't Try This At Home, a collection of 9 noir short stories, published by Genija. It's still available for FREE.
ISBN 978-961-280-121-2 (ePub)
ISBN 978-961-280-122-9 (mobi)
ISBN 978-961-280-127-4 (pdf)