Dream World Defenders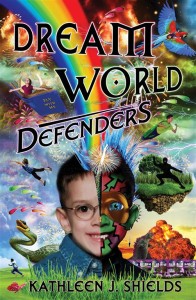 Dream World Defenders an epic out-of-this-world adventure.
What would you do if you could do absolutely anything?
This is the question Parker, Justin, Blake, Owen, Kaylee and Ryan ask themselves, when they arrive in the dream world. Of course they had to face their own fears first.
Nightmares consisting of being chased, falling and arriving in class half naked were keeping them all awake at night. But Ryan's mom had taught him about dreams including how to control them, so helping these five was just the beginning.
Once inside the dream world, the ultimate challenge begins.  Gathering for an epic, out-of-this-world adventure, the group discovers a place that is literally impossible to wake up from.
Chapter Excerpts
Getting to the Dream World
"We made it!" Everyone screamed. They cheered, jumped up and down and high fived each other.
"This is so awesome!"
"Totally!"
"We're free!"
"We can do whatever we want!"
"Yeah!"
"Go anywhere we want!"
"No rules!"
"No curfew!"
"No bedtime!"
"No vegetables at dinner!"
"We are the coolest kids in the world!"
"In the universe!"
"Yeah!"
They all stared at each other, smiling brightly, excited… they continued to stare, eyes shifting, right and left. They looked at each other, carefully, curiously. Their faces went from excitement to confusion.
"Uh… what do we want to do?"
"I don't know. What do you want to do?"
"Any ideas?"
"Uh…"
They continued to stand there. Some shifted their feet on the ground, others wrung their hands together.
"Uh…"
Deep in thought, Parker tried to come up with something to do. He pressed the bridge of his glasses back up his nose. The act of repositioning his glasses had become so routine; he'd never even given it much thought, until now. It was annoying. This was the dream world. He shouldn't have to wear glasses!
Just then Parker declared boldly, "Well I'm not wearing glasses here!" He took off his glasses and threw them to the ground. He stomped on them then looked up at the shocked faces of the others. He saw Kaylee's freckles dotting her face. He read the logo on Justin's black shirt. He scrunched his eyes then widened them. "Guys! I've got perfect vision!"
Everyone looked at him curiously.
"Well," said Kaylee, ever the wise one, "of course you do. If you want it, you can have it. We are in the dream world."
Just then Blake declared, "I want a Mohawk! A purple and blue striped Mohawk on my head!" Blake's hair moved, twisted, grew and discolored on its own. Within a few seconds, his multi-colored hair pointed straight out from his skull.
"Me too, with spikes," Ryan added, trying to top his friend. Just then, his hair sprouted a spiky dark blue hair style that made him look like a punk rocker. "And punk rock makeup!" Multiple lightning bolts flashed on his face and dark coloring outlined his eyes. "Now I need a black leather jacket." Black leather seemed to grow down his arms and back. "With spikes and chains!" Large metal spikes emerged from his shoulders, and chains hung from around his neck.
It was clear, he looked cooler than Blake, so Blake altered his image to that of a ninja complete with sword. Swish, swish. He sliced through the air performing perfect ninja moves.
A green mask materialized around Owen's eyes and a green cape draped down his back from his neck. With tights and muscles to match, Owen looked like a green and yellow superhero and he began flexing his mighty biceps to show off.
Kaylee, holding her mouth shut while she blew on her thumb, grew her hair out in long perfect spirals. A bejeweled gold crown appeared on her head with matching necklace and earrings that completed her princess look. She was so elegant and grand the boys couldn't help but stare.
Justin then morphed into a hip hop star. He strummed a guitar, and it was so loud it rattled the land. Everyone else changed into rock stars and began playing instruments along with him.
Ryan beat the drums in a cool solo. Owen played the saxophone and Parker fiddled a tune that smoked the strings. Kaylee changed into a lead singer and somehow, even though everyone was playing their own thing, their jam session sounded amazing.
The green hill they had been standing on transformed into a stage complete with a laser light show and flame throwing effects. A screaming crowd of fans appeared before them, and they were just going wild. The six of them jammed for a whole session, playing blaring rock music until they finally stopped for a break.
Tall cool glasses of lemonade appeared in their hands. Sitting on the stage relaxing, wondering what to do next, the platform dissolved back into the ground and they found themselves sitting on the grass.
Parker began picking at blades of grass as Blake began poking at an anthill. Kaylee though, decided to try some magic. She touched a wildflower with the tip of her finger. Poof, it broke apart into a dozen pieces. Each piece produced a butterfly and all of the butterflies flew away in a vibrant swirl of color. Loving how beautiful the sight was, she touched another flower, then another. Poof. Poof. Each morphed into a dozen butterflies of varying colors and flew across the grass past the boys who were watching.
Taking the idea a step further, Blake touched a long blade of grass and morphed it into a green grass snake that slithered through his fingers. Kaylee scooted away from him.
Ryan then began touching things and watched them disappear. He'd touch a flower and it'd disappear. He touched a tree and watched it shoot down to the ground and disappear. "Where did it go?"
Owen decided to bring his dog Smurphy to the dream world. He closed his eyes, thought real hard of his bestest fur friend, and then, arf, his sweet red-haired golden retriever appeared in front of him, all excited. Smurphy's tail wagged, his tongue dangled out of his smiling mouth and he was so ready to play, his fur was standing on end.
Ryan was touching everything he could find to see if it would disappear, a log a rock, a dog…
"Smurphy!" Owen screamed as his best friend disappeared leaving just a few strands of red fur behind. "What did you do?" Owen growled at Ryan.
"I don' know!"
"Where's my dog?"
The other kids ran up as Owen grew angrier. "If something bad happened to my dog I swear!"
"Did you hear that?" Kaylee spoke quick. Everyone shushed.
Arf, arf.
"Smurphy?" Owen called. "Smurphy boy, where are you?"
Arf, arf.
Owen followed the sound to the ground, getting closer and closer until he saw a microscopic dog about the size of a beetle jumping from the ground trying to get his master's attention.
"Smurphy! What are you doing down there?" His dog was so small and so far away it broke his heart. He knew he had to do something. He looked at Ryan who was staring at the tiny dog with his mouth dropped open. Thinking quickly, he grabbed Ryan's hand and touched his finger to his head. Owen shrank to the size of Smurphy so he could be with his dog.
"Cool!" said Parker, "Do me!" Ryan touched him, and he shrank down. Everyone else followed. Smiling, yet shrugging his shoulders, Ryan touched his head and also shot down to microscopic size.
Ryan's world looked completely different from this level. Each blade of grass was the size of a tall tree. Each pebble was the size of a car. They climbed grass like trees, hopped over drops of water the size of ponds and rode ants the size of horses. The kids had a blast until Blake's green grass snake slithered up. The scaly giant towered over them at least five stories tall and stared at them like they were snacks.
"Ahhhh!" Kaylee screamed. The boys though, took action. They took defender stances with their fists on their hips and suddenly shot back up to proper size. The snake, now harmless, slithered away in fear.
Kaylee returned to proper size with Smurphy, grateful the snake was gone.
Owen ran to Smurphy and gave him a big hug. "Hi boy!" He smiled rubbing Smurphy's floppy ears. Owen then decided the dream world might be too dangerous for his furry friend and so, with a little sadness, he sent Smurphy home.
"Bye little buddy! I'll see you soon."