Empathy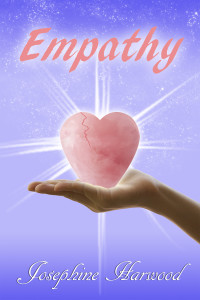 An empathetic caregiver tries to help a family cope after their loving mother suffers a debilitating stroke.
Bryan Wright has trust issues, and he has harbored a dark hatred for the man who abandoned his family ten years ago. Bryan's siblings, Josh and Amanda, have questions about their missing father. When their loving mother, Annie, suffers a stroke, Bryan reluctantly hires caregiver, Delilah Walker, for one week on a trial basis. Bryan knows no one can take care of his mother as well as he can.
Delilah Walker is determined to prove to the skeptical, intimidating, and heart-stopping sexy Bryan Wright she is the caregiver for his mother. In one week she earns Bryan's trust, and during a moment of emotional weakness, Bryan confides in her about his father.
When Delilah is assigned to a second client, she meets a man named Gary Wright. Suddenly Delilah has all the answers. Should she break caregiver/client confidentiality to bring this broken family back together, again? Should she risk her job? Should she risk…her heart?
Chapter Excerpts
Prologue
EMPATHY
By
Josephine Harwood
Smashwords Edition
Copyright 2014 Josephine Harwood
This ebook is licensed for your personal enjoyment only. This ebook may not be re-sold or given away to other people. If you would like to share this book with another person, please purchase an additional copy for each recipient. If you're reading this book and did not purchase it, or it was not purchased for your use only, then please return to Smashwords.com and purchase your own copy. Thank you for respecting the hard work of this author.
All rights reserved. No part of this book may be reproduced or transmitted in any form or by any electronic or mechanical means, including photocopying, recording or by any information storage and retrieval system, or by any means existing now or in the future, in whole or in part, without the express written permission of the author.
This is a work of fiction. Names, characters, places, organizations, and incidents are either the product of the author's imagination or are used fictitiously, and any resemblance to actual persons, living or dead, is entirely coincidental.
Ebook-cover design by Digital Donna
Dedications
To my husband, John, and our son, Steven; I love you both, and thank you for never complaining about dusty furniture, dishes in the sink, or late dinners.
To my sister, Diana; your unbiased feedback as always is greatly appreciated. I think you loved this story almost as much as I loved writing it.
Late one night after one too many margaritas, I posted this on Facebook:
"…Cancer is a cold and heartless bitch. The only thing cancer is good for is bringing family and friends closer together."
This book is dedicated to the ones who have lost the fight and for the ones who are still kicking cancer's ass…and their families.
This book is also dedicated to all family caregivers.
You are stronger than you know.
Lynett Sousa,
You were a gifted social worker who gave so much of yourself and you helped so many. You gave the elderly their voice when no one would listen to them. You taught us, your students, the difference between sympathy and empathy.
You were already an angel before you left this earth to be with Jesus.
I will miss you…my mentor, my friend.
All my love,
Your Josie
Sympathy
Showing sensitivity while trying to understand how the person feels.
Empathy
Showing sensitivity and understanding because you know how the person feels.
For Heaven's angels; Michael, Jim, Larry, Betty, and Donnie
In loving memory of Ted G. Harwood
Six months.
The battle is over.
No more pain.
You will live on…in our memories.
PROLOGUE
Community Medical Center
Emergency Waiting Room
Halo Valley, California
"Code Blue…emergency room—stat. Code Blue…emergency room—stat."
Ice water raced through Delilah's veins. The disturbingly calm female voice over the intercom system was chilling. Medical personnel practically flew by, and in their haste, nearly knocked down Delilah's pacing boyfriend, Damon Chambers. One of the nurses stabbed a series of numbers on a key pad, and the emergency room doors swung inward and closed with eerie finality.
Damon began to pace, again. She knew he wasn't worried or concerned. He just wanted a damn cigarette, and he had smoked his last one a half an hour ago.
Caregiver April Callahan and RN Rachelle Haynes of Halo Valley Nursing Home silently sat on either side of her. No one said a word. No one dared. But Delilah knew both women were thinking the same thing.
The code was for Delilah's mother, Bonnie Walker.
Bonnie had been a resident of the nursing home for the past four months. Rachelle had phoned Delilah personally to inform her that Bonnie's lung infection had escalated and an ambulance was taking her to the hospital. The urgent phone call from Rachelle was made around eight o'clock in the morning.
Delilah was allowed to see her mother, but she was unable to get her mother to respond to her voice. That was three hours ago.
And they had been waiting ever since.
"Remember the last time we were here, April?" Delilah said to her mother's caregiver, successfully disturbing the dominating silence of the room. "Mom's sugar was over eight-hundred. She wasn't even diabetic, and she went into that coma."
"I remember," April replied softly.
"I was ready, you know…to let her go. I accepted it." Delilah smiled at her trying hard not to cry. Tears started to fill her eyes blurring her vision. She shook her head quickly. "I'm not ready this time."
April covered Delilah's cold hand with her warm one.
Delilah wiped her eyes roughly and cleared her throat. "I'll be right back." She stood up slowly on stiff legs and forced herself to walk across the tile floor toward the door marked Women. She pushed the brown door inward with the flat of her hand, waited for the heavy door to close, and leaned back against it.
And it hit fast and it hit hard like a cheap shot to the stomach taking her breath.
Her mother was dying.
"Oh, god," she whispered. Her voice echoed loudly in the empty room. Tears quickly filled her eyes. "Mama, please, don't give up." She covered her face in her hands. Slowly she slid down the door to the cold tile floor. She allowed herself a selfish moment to cry privately.
She forced herself to stand, walked over to the basin, and splashed cold water on her face. She avoided looking at her reflection in the mirror. She didn't want to see the look of despair or defeat in her eyes.
She pulled a couple of tan bathroom napkins from the dispenser with an aggressive jerk. She pressed the sandpaper-like texture to her face, and then, she wiped off her trembling hands. She stepped on the black foot pedal of the stainless steel trash can. The large black lid lifted abruptly, and she tossed the crumpled papers into the wide gaping mouth. She walked to the door, pulled on the cold bar, and stepped into the waiting room.
April and Rachelle were standing with Dr. Ron Ellis, Bonnie's physician. Damon was staring out the window at the parking lot. The doctor wasn't saying anything to anyone.
Delilah knew he was waiting.
For her.
She didn't remember walking across the floor toward the group. It was as if she had no control over her body. She didn't give him a chance to speak. She already knew.
"She's gone."
Delilah wasn't asking a question. She was making a statement. She didn't recognize her own voice. The sound was completely devoid of emotion.
Dr. Ellis nodded sympathetically and proceeded to tell her all that they had tried to do to keep her mother alive. She couldn't hear the doctor's words. They sounded muffled to her.
Damon materialized in front of her. He captured her shoulders with his heavy hands.
"Oh, Delilah, baby, I'm so sorry."
Delilah looked up at him. Whatever Damon had seen in her eyes obviously unnerved him. He released her abruptly and stepped back.
She looked at the doctor. "Can I see her?" Again the tone sounded foreign to her.
"Yes," replied Dr. Ellis gently. "Give—time—clean—up."
Delilah heard every other word the doctor had said to her. She understood that she couldn't see her mother…yet. She didn't know how long she had stared at the empty place where the doctor had been standing.
"Dee?"
Delilah heard the sound of April's voice, but she could barely feel the touch of April's hand on her upper arm. Her eyes felt painfully dry.
"She didn't make it."
Another statement spoken with no emotion.
"They're cleaning her up. Would you come see her?"
April's emerald eyes sparkled with tears. April had been her mother's caregiver for four years. Delilah had no siblings, and she loved her like a sister.
Delilah looked at Rachelle. She had been an angel on earth to her mother, taking excellent care of her needs. She had also been very kind and compassionate to Delilah. Whenever Delilah needed to talk, the sympathetic registered nurse was always available to listen. They had bonded over the span of the past four months.
But now, RN Rachelle Haynes was just another member of the medical staff Delilah's mother would no longer need.
"Thank you for calling me, and thank you for being here, but you don't have to stay," Delilah said mechanically. "I know you need to get back to the nursing home."
"I'll call you later," Rachelle choked out softly. She turned and walked quickly toward the exit.
"Delilah, you can see your mother now."
Dr. Ellis materialized again. Without another word Delilah walked toward the ER doors. The doctor pressed a series of numbers on a key pad quickly and the doors opened. She could barely feel April's presence walking beside her, but she could hear the conversation between Dr. Ellis and Damon taking place behind her.
"Only two at a time."
"But I'm her goddamn boyfriend."
"Watch your mouth and lower your voice. This is a hospital."
"No, dude, this is bullshit! That's my woman, and I have a right to be with her—tell him, Delilah."
She felt the pressure of April's arm around her shoulder…urging her to keep walking. She did not look back at Damon.
Dr. Ellis spoke in a firm and authoritative voice.
"Leave, Mr. Chambers…now…or I'll call Security to assist you."
"Save your breath, doc," growled Damon. "I'm out of here."
As Delilah slowly walked across the floor toward the hospital bed, she noticed the emergency room seemed larger than it did before and much too bright. She stood beside the bed and looked down. Her mother's eyes were closed. Her chest wasn't moving.
She was so disturbingly still.
Delilah smiled down at her mother's beautiful angelic face. She pushed aside a dark blonde curl from her forehead. She was aware that someone was standing next to her, but she wasn't sure whom it was. She leaned down to her mother's ear and very softly sang her mother's favorite song…Somewhere.
"There's a place for us…"
Delilah finished her song, told her mother she loved her, and stood up straight. Dr. Ellis was standing beside her. April was standing on the other side of the bed wiping her eyes. Dr. Ellis was talking, but Delilah barely heard a word he was saying.
Delilah didn't remember walking from the emergency room to the passenger seat of April's dark red pickup truck. The truck was still parked in the hospital parking lot. She stared out the front windshield. The two-story hospital building, the swaying palm trees, the glowing neon emergency sign, and even the sky looked black and white to her.
"You're coming home with me for a while," April announced and started the engine.
"Where's Damon? I need to make his lunch."
"He can make his own damn lunch," April said her voice hard.
"He won't like that."
"He can get over it."
"April?"
"Yeah, Dee?"
"I want her back."