Heartfelt Cases Book 2: The Kiverson Case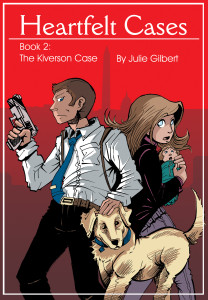 A pair of FBI agents get caught up in a dangerous game.
Official Back Cover Copy:
One man's vendetta could cost them everything …
When a routine arrest turns deadly, FBI Special Agents Julie Ann and Patrick Duncan are drawn into a dangerous game with Kevin Kiverson, a man with little to lose and much to avenge.
In her heart, Ann knows they will catch Kevin, but she doesn't know when or how or what sacrifices will be made along the way. She's prepared to risk her life for others but will her resolve hold when the threat turns to her baby boy?
Chapter Excerpts
Chapter 1 Charismatic Criminals
Edgar Hoover Building, FBI Headquarters
Washington, D.C.
It started on a perfectly normal, summer Wednesday. Special Agent Julie Ann Duncan sat in her new, yet still cramped, office and studied Patrick's collection of Kiverson files. She should be working on the Drier case, but the Kiversons were so much more interesting. She bit her lower lip and absently swiped at a few strands of honey colored hair that had fallen on her face.
Smugglers, thieves, drug dealers, murders, terrorists, and con artists—that is one heck of a family tree!
"Nice family," commented Special Agent Patrick Duncan. "Well-rounded."
Ann—as she was known to everybody except her mother—glanced up to find her husband leaning in his usual spot against her doorframe. "We've been up against some weirdos before but these people top the chart!" Ann bent her head again to look at the diagram.
"Well, let's go round some of 'em up," Patrick said casually.
Head whipping up, Ann's pale blue eyes met his. It never ceased to amaze her how their boss, Assistant Director Lance Morgan, allowed them to work each other's cases, but she couldn't imagine a better partner than Patrick. He'd already been an FBI hotshot when she'd been a fresh face. His uncanny instincts paired beautifully with her sharp eye for detail.
"You've got enough evidence for a warrant?" Ann asked, clearly surprised.
"Is there anything our good buddy Jon can't do?" Patrick asked with a twinkle in his eyes. The deep blue cast of his eyes contrasted nicely with his dark brown hair.
"Cook."
Those chicken breasts were like lemon flavored rocks.
"Agreed."
The things you endure for friendship.
Rachel and Julie Ann had been friends since high school. Rachel had even dubbed her just plain Ann. A harrowing case had brought them together again a couple of years ago. After that case, Jonathan Parker had accepted a job as an FBI computer expert.
"Jon gave us enough to take out this family branch anyway," Patrick said, tossing Ann a file. "He used one of the oldest techniques on the books."
Snatching the file out of the air, Ann asked, "What's that?"
"Follow the money, honey," Patrick said.
Ann grinned and swiveled her chair to grab her purse. "Well, what are we waiting for?" she asked, half rising from her chair.
Patrick waved for her to sit again. "Relax. We've still got time until the SWAT guys finish their primping."
"Let me guess. They wanted an extra hour to run simulations, and you wanted a good excuse to come and see me."
"Guilty," Patrick said, abandoning his doorway post and moving to stand behind her chair.
"Sounds good to me," Ann said. "And while you're back there, why don't you make yourself useful?"
Grumbling good-naturedly, Patrick massaged her shoulders. Ann was surprised at how many tiny knots crackled under his fingers.
Unfortunately, her mind was preoccupied with case questions, so she couldn't concentrate on how good the massage felt. "Ouch!"
Patrick halted immediately. "Sorry."
"No, no, don't stop. It's the good sort of pain."
"Good pain? I thought pain was a bad thing." When she didn't respond, Patrick took up the massage again.
"Charismatic, aren't they," Ann mused after a few moments. She picked up a pencil and rolled it between her fingers, an old habit that meant she was deep in thought, thoroughly bored, worried sick, or some combination thereof.
"They are indeed. They attract quite a following," Patrick noted, resting his hands on her back and leaning over her shoulder to
read the articles she'd spread on her desk.
I can see that, Ann thought as she skimmed a newspaper article on the arrest of James Kiverson, patriarch of the notorious family. After an intense five-year investigation, Interpol had finally trapped Mr. Kiverson in Italy. He had been extradited to the U.S. to stand trial for drug trafficking and supporting terrorists. The picture next to the article showed a small mob holding up support signs welcoming James Kiverson home.
The FBI had people frantically gathering evidence to bring down the rest of the family for crimes ranging from fraud to murder. Jon's ingenious linkage of the recent rash of bank robberies to Asan Kiverson was the first breakthrough in over three months.
"Are we going to have any trouble?" Ann wondered, as she scanned another article which featured the San Diego riot that had occurred when Kiverson supporters had picked a fight with James Kiverson's escorts.
"I hope not."
"Why are people so enamored with them?" Ann inquired, genuinely mystified.
"They make good antiheroes."
Ann nodded reluctant agreement. "Antiheroes, right. Like Asan's brother, Jack, who ordered the Chicago gang massacre or Jack's son, Derrick, murderer of the Claytonsville Cop Killer. Ah, this is confusing!"
Many of the Kiverson crimes were against other criminals. Some people cheered the family while simultaneously condemning law enforcement agencies for failing to keep the streets safe. Ann's mind wandered to some of the news specials where celebrities and common folks alike had voiced their support of the family.
They have no idea how many disasters are averted every day.
"Murderers vs. murderers," Patrick said in a far away voice that indicated he didn't quite get the whole picture either.
"I think they redefined the term 'street justice.' "
"Not good."
Ann touched his right hand which still rested on her shoulder and squeezed it. "That's why they hire people like us." She let a long, slow breath hiss through her teeth. "One thing's for sure, Patrick, we'll never run out of crimes to solve."
Chapter 2 Take Down
Kiverson Residence
Vienna, Virginia
Within the hour, Ann and Patrick Duncan stood ready to participate in the Kiverson raid.
Lord, please keep the teams safe today.
Ann had done this kind of thing many times, but each new experience struck her as a heady mix of danger and excitement. She adjusted a strap on her bulletproof vest and wished someone would invent lighter body armor for summer raids.
"Nervous?" asked Patrick. He wiped sweat from his brow with a white handkerchief.
"Slightly," Ann answered. Her mind flew to the first take down after the Collins case, when they'd started the tradition. She hoped this one would go as smoothly as that one.
"At least we've got the odds on our side," Patrick said.
"We don't need odds, only God," she finished. About two years ago, they had been involved in a shootout in Stanley County, South Dakota. Greatly outnumbered and outgunned, they had both been shot and lived to tell the tale. Since then, they reminded themselves of God's sovereignty and protection before every raid.
We're alive only by the grace of God.
As she waited, Ann studied the Kiverson's spacious house. Sunlight bouncing off multiple windows made the house look like an alien. Ann's mind ticked through the targets again. She didn't like there being so many targets. It was difficult enough to apprehend one
suspect, let alone five. Asan and Amelia were the primary targets, but they had three children who were wanted for questioning: Kevin age 25, Angela age 18, and Benjamin age 16. Ann knew some mafia families passed on the proclivity to commit crimes like other people passed on bad hair, but the Kiversons were in a league of their own.
Strange and sad situation. I wonder what will happen to the children.
She didn't have time to conjure an answer. Patrick gave the "go" signal, and the heavily armed SWAT teams swept through the building with Ann and Patrick on their heels. Both agents held handguns at the ready. Crashing doors, shouting voices, and pounding footsteps made an intense racket.
Instinctively, they split up with Patrick following Alpha Team, and Ann trailing Bravo Team.
Patrick's team found their quarry first, but Asan Kiverson refused to go down easily. A short but vicious fistfight broke out. They rolled several times, making it impossible for Alpha Team members to get a clear shot off. They traded a flurry of shoulder and chest blows before Patrick's left fist finally connected with Asan's nose, stunning the man long enough for the rest of the team to pounce.
When Asan was safely handcuffed, Patrick asked, "Where are your children, Mr. Kiverson?" He frowned and wiped blood from his hands onto his handkerchief, hoping for—but not really expecting to get—an answer from the big man.
Blood seeped out of Asan's nose as he glared up at Patrick. "They left. You'll never catch them, you—"
"Get him out to the car," Patrick said, cutting the man off. He ignored the hatred boiling out of Asan Kiverson's eyes. "Henderson, please inform Mr. Kiverson of his Miranda rights."
"Yes, sir," said the young agent. He and a buddy plucked Asan off the ground and escorted him toward the door. "You have the right to remain silent. You have …"
As Henderson droned through the Miranda rights, Patrick contemplated his handkerchief and wondered if it was worth saving. Deeming it a lost cause, Patrick went to find the restroom where he could toss the handkerchief and thoroughly wash his hands. "That could have gone better."
While Patrick and his team tussled with Asan, Ann and Bravo Team swept through the rooms upstairs. After four bedrooms, they found Amelia frantically searching a cluttered storage box. The Bravo Team men pointed rifles at her and shouted orders.
"Freeze!"
"Stop!"
"Don't move!"
Amelia seized a small, silver object from the box and twisted her head to face them with a wild look in her eyes. Her triumphant grin chilled Ann.
"No!"
The shout came from Ann as she launched herself at the woman. Ann landed on top of the Amelia's back and desperately tried to pin her arms to the hardwood floor. She had to prevent the razor clutched in the woman's right hand from touching anything. A brief, frantic struggle ensued. The smooth, wooden floor made it difficult for either woman to get a good grip. The Bravo Team members were about to enter the fray when Amelia's elbow struck Ann's jaw. Momentarily stunned, Ann's hold on Mrs. Kiverson slipped. Tasting blood, Ann knew what would come next, but no words would come.
Without hesitation, the woman raked the razor down her own left palm.
As Amelia Kiverson fell limp beneath her, Ann groaned and rolled off the woman. Salty blood from her bitten tongue added to her misery.
With her last scrap of strength, the woman rolled onto her right side to face Ann.
"Why?" Ann asked, her voice a hoarse whisper.
"You'll never put us in jail," Amelia declared with her dying breath.
Ann could only blink helplessly as the fast acting poison killed her prisoner.
Why? The question cruelly repeated in her head.
"Are you all right, Agent Duncan?" one of the Bravo guys asked, helping her up.
Ann glanced at him before letting her eyes return to Amelia's body. "I'll be fine in a moment, thanks, Victor. Why don't you guys sweep the other rooms again? I don't want any more surprises."
Could I have done something differently?
Once alone, Ann leaned her forehead against the window and mentally replayed the scene. Dust kicked up by the fight stung her eyes, making it easy for tears to come. This wasn't the first time a raid had gone sour, but it still hurt. The knowledge that she had tried to prevent
the woman's suicide failed to soothe her. Ann gritted her teeth, squeezed her eyes shut, closed her fists in frustration, and hit the wall below the window. Ann knew she ought to help Bravo Team search the rest of the house for the children, but she instinctively knew it was already too late.
Five minutes later, she met up with Patrick and his team.
"We missed them," Patrick said, confirming her sinking feeling.
"Amelia's dead. She killed herself with a poisoned razor." Ann spoke without much emotion, but her eyes said much more. "I couldn't stop her. I should have, but I couldn't."
Patrick drew her into a hug and spoke softly into her hair. "You did your best."
Irrational anger blossomed within Ann. "My best wasn't good enough," she snapped, pulling back to look into his eyes. "We didn't even find the children." Her tone added: we should be better than this.
"We'll find them, Ann," Patrick assured, knowing her anger wasn't directed at him. "It's only a matter of time."
"I don't doubt that, Patrick," Ann said wearily, allowing her head to rest against his chest. "I just wonder how long it will take, and how many will die before this is over."