Her Guarded Desire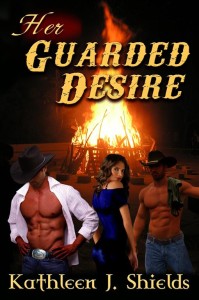 Her Guarded Desire is exactly how Kristen feels as she guards her own inner desires from her boyfriend and her bodyguard.
Having thought the danger was over and she could finally move on with her life, Kristen was again swept off her feet by her bodyguard Cody; which left Devin, her boyfriend, as the third wheel.
Being uprooted from their lives, Devin tries to make the best of a dangerous situation while growing increasingly jealous of the second guy.  Cody, the bodyguard tries desperately to keep it professional all while fighting his own inner conflicts and desires to have her back.
The flames of passion ignite as Kristen contemplates whom she wants, yet when the danger arrives, her men need to work together or they all will perish.
Chapter Excerpts
The approach
Strolling her way over to him, coming from behind; she reached around his abs and clutched her fingers around his buckle. Placing her chin on his shoulder, he reached up and touched her cheek with his palm.
"Ready to go?"
"Just about."
Seeing a couple of guys gather up their beer bottles and coolers, Devin reached into his jean jacket pocket and pulled out the keys to his truck. Placing them gently into her hand and closing her fingers around them, he turned and kissed her on the lips then pulled away hesitantly.
"Alright, go warm up the truck. I'll be there in a minute."
As she made her way to the makeshift parking lot, she again felt good about tonight. Granted there was that moment where Devin became over-protective but she understood it to a point since she too had been nervous about the feeling of someone watching her, of asking about her.
Finding the pickup was easier than she expected. The majority of the crowd had already disbursed and the way the remaining vehicles were parked sporadically throughout the field was a visual reminder of how many people had actually been here tonight. The party had been a huge success. It was a night she knew she would remember for a very long time.
Making her way across the darkened field, the night air became quiet. Shimmering vehicles sparkled in the moonlight, and yet left large amounts of black shadows and dark voids all around her. Feeling her nerves jump to a heightened state of awareness; she once again felt aware of a presence watching her.
Not wanting to look around, to allow her emotions the freedom to control her, she quickened her pace. Still many yards away from the truck, she clutched the keys outward between her fingers, tightening her fists around them to become weapons. Her heart began to race, her breathing quickened and her hearing began to pick up a sound of brush being crushed under footsteps.
The visual acuteness of various horror movies popped into her psyche and every scary scene of being followed rushed into her head all at once. Panic flushed her body as her heart began to race. The feeling of vulnerability and terror filled her entire body like a tidal wave nearly incapacitating her rational acuity. Realizing she needed to take back control of her own wildly sensitive emotions, she took a deep breath and readied herself.
Spinning around, gazing at the field, at the emptiness, she watched the shadows jump around with the breeze. Her ears suddenly picked up the distant crackle of the bonfire and it became clear to her the sound she had heard was that of the fire and not of some stranger stalking her. Accepting this plausible explanation, Kristen exhaled with relief. Allowing her adrenaline to calm, she once again pressed her emotions back trying to ignore what had to be her own imagination. Sighing, she continued walking towards the truck, loosening her grip around the keys in an attempt to relieve her anxiety.
Sure, Kristen had an active imagination. She was born with it. The drawback with that active imagination was that it had seen its own share of action in years past and in these days and times she never knew if her senses were imagined or imperil. As she approached the truck a little less aware of her surroundings, she once again heard the rustling of leaves under foot and although desiring the explanation being that of the bonfire, this time she knew they were too close to be that.
A panic of fiery fright swept over her body as her heartbeat began to race again. Spinning on her heels, her sensitivity hampered by the alcohol earlier, the visual awareness of a darkened presence quickly approaching her was all her eyes could absorb before her mouth opened into a scream of terror and the sound reverberated through the field and into the area of the bonfire.
Hearing the distant shrill of a frightened female's scream Devin dropped his cooler and spoke exactly what his other buddies were thinking; "Kristen!" Racing to the parking lot at full speed, he began to fear what he was going to run into. Not knowing what he would find or if he'd find anything at all, his boots dug into the ground harder; he picked up speed.
With his hand over her mouth, the dark stranger pinned her against the truck attempting to quiet her. He needed her attention and as she struggled beneath him, screams now muffled but arms and legs flailing, he spoke quick and low, "Stop screaming. Stop fighting me." Eyes opening wider in fear, the idea of him not wanting her to fight it devastated her. She panicked. Her adrenaline kicked in to threat level ten. Finding the strength to release his sudden grip around her wrists she threw punches at his face. Dodging her second swing his hat fell from his head and for the first time in what seemed like an eternal moment his face became exposed in the moonlight and their eyes met.
For a moment she stopped moving and their eyes locked, her fear petrified her expression and although she was ready to let go, she couldn't. He was just about to speak again when he was tackled from the side and pulled from her body with the force of repelling magnets.
Having seen her struggle beneath the stranger, his large hand covering her mouth, Devin's anger engulfed his senses. Approaching the scene with the speed of a racing locomotive; feeling nothing but hate seething from his pores, he tackled the stranger with the full force of his body. As they tumbled to the ground the fight began and survival was key. Devin had every intention of killing this man. This man had every intention of walking away with Kristen.