Her Proper Scoundrel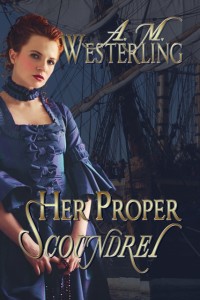 Threatened with an unwanted marriage, Lady Josceline Woodsby escapes London to take a position as a country governess. When she discovers the job is no longer available, Josceline vows she will do anything to avoid returning to her previously dismal life – even if it means coercing the ruthless Captain Sharrington into providing her with employment.
Spurned by a father he never knew and sent off to sea at a very young age, Christopher Sharrington leaves a promising naval career determined to make his own mark on society as owner of a shipping enterprise. The only problem is, hiring the alluring Lady Woodsby as governess for children he doesn't even have, is definitely not part of his future plans.
Josceline soon realizes Christopher is under the mistaken impression her social connections will help him attain his dream. Will he cast her out when he determines she is more a hindrance than a help? And what of the devastating secret he harbors? Will it destroy any chance they have of building a future together?