Lady of Luxembourg (Curse of the Lost Isle Book 4)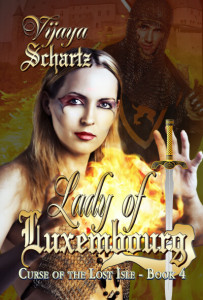 In Lady of Luxembourg, published by Books We Love Ltd, it's 978 AD and Melusine the Fae, immortal and cursed Lady of Luxembourg, managed to hide her Pagan nature from mortals for many years. She fiercely protects her handsome Count, Sigefroi, but in their princely bliss, neither of them seems to age, and a few suspicious bishops take notice. Then an ondine wreaks havoc during a battle, luring enemy soldiers into the river.
Betrayed, Sigefroi reflects on his many sins from the depths of a rat infested dungeon. Under torture, will he reveal her deadly secret? And when her beloved turns into a devout Christian, can Melusine salvage her happiness? Can love truly redeem her curse, or will she burn at the stake?
"Schartz is a gifted writer in many genres, and the research she does for every book is phenomenal. Every detail is woven into the story seamlessly, so you feel as if you are really there, watching the horses, the fighting, the clothing, the lovemaking. Looking forward to the next volume." Manic Readers 5 stars