Devya's Children Book 3: Malia's Miracles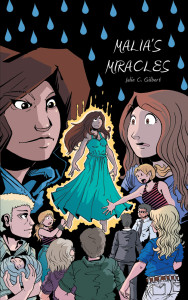 How much is one life worth?
Danielle Matheson faces a difficult decision: helplessly watch Christy's mother die of cancer or ask Jillian and her genetically Gifted siblings to risk their freedom to save her.
Once committed to the cause, Jillian, Malia, and Michio turn their full attention to fighting the caner, but more danger awaits them. Defeating the disease and dodging government agents soon become the least of their worries when measured against the race against time to rescue one girl from certain death.
Chapter Excerpts
Chapter 1 Healing Nadie
ITEM 133: Jillian's sixty-fifth post-kidnapping journal entry
Item Source: Jillian Blairington
I've fallen way behind in my life accounts 'cause there hasn't been much to note. Days come and go without much fuss, which I suppose can't be too bad. I mean excitement tends to translate to life-threatening experiences around here, so peaceful normalness is a nice change.
About the only real struggle right now has been Malia's work with Nadie. The first time I got invited to their shared dream, I thought I'd done something by accident. Darkness covered everything, but it wasn't a scary darkness like being alone in a strange place. Something felt familiar. Usually a dream belongs to one person, not two, but I sensed Nadia and Malia equally in control of this dream.
Not wanting to interrupt, I prepared to withdraw, but Nadia's voice came from the air behind me. "Please stay, Jillian. Your Gift is making this possible. We would be honored by your presence."
Before I could ask Nadia to explain, my unspoken wish for clarity changed the dream. Tiny lights like in a movie theater lit a path from me to an oversized chair that held two figures. One figure reached out and waved for me to come closer. I imagined a tall lamp like the one Momma and my New Daddy bought for the family room appearing right next to the chair and had it shine on its lowest setting.
The new light revealed Malia curled up on the chair with Nadie clinging to her like a blanket. I hadn't seen the three-year-old version of Nadia since the meeting in the throne room where many past and
future versions revealed themselves. As I approached the pair, I noticed Nadie stayed awfully still for a little kid.
"She's asleep," said Malia. She craned her neck back to look down at the child.
"She's dreaming she's sleeping?" I asked, confused.
Malia grinned, nodded, and gently ran her right hand down Nadie's silky, golden hair. The grin slowly faded as Malia closed her eyes and rested her chin on Nadie's head. "These sessions are helping, but they're hard for her."
"What sessions?" I barely refrained from glancing around like the answer was hiding in a dark corner nearby.
"It was your idea that I help her," Malia reminded, chuckling.
"Oh, right," I said, feeling kinda dumb for having forgotten that conversation. "Is she all better?"
"She may never be completely better," Malia admitted, "but she is much improved since you last saw her." A far-off look came into Malia's expression, but she blinked it away. "Would you like to talk to her?"
I shrugged but shook my head. "Let her sleep." I leaned closer to study Nadie's face. A lock of shorter hair curled over her left cheekbone, framing her eye. She had her right thumb jammed into her mouth, and her left hand gripped Malia's shirt. "She looks peaceful."
"She is, now that the nightmare comes only sporadically," Malia commented. "She has you to thank for that."
"She woulda outgrown it in a few years anyway," I said, knowing it to be true 'cause I'd tracked Nadia's major dreams since early childhood. The nightmare was actually a very specific, painful memory about losing one of our brothers during a training exercise. I hadn't deleted it completely, 'cause Nadia still wanted to remember. Instead, I messed with the frequency and intensity that Nadie felt each time it came up.
Dr. S. is looking at me with the shrink lady version of the Evil Eye, so I probably ain't making much sense. I discovered this aspect of my Gift while trying to soothe my baby brother's dreams. When I concentrate real hard on one person, I can pre-load a dream for 'em. That got me thinking maybe I could do the opposite too and stop a dream that keeps coming up. Nadia agreed to let me try, and I had some success blocking the dream that used to haunt Nadie constantly.
The task of blocking that dream took a lot longer than spotting and replacing scary dreams Isaac might have, but he's just a baby.
Besides, Nadia's more complicated than any person I know, so it shouldn't surprise me that her dreams differ from other people.
The natural dreams Nadia usually has consist of scenes from her memories. She once explained that everybody takes in a whole lot more than they process. The explanation goes a long way in explaining why people tend to dream strange mixes of folks they know, things they've done, and places they've seen.
Nadia doesn't always dream as herself though. At times, the dreams can be attributed—that means something like assigned—to specific past or future versions. It must be strange to meet future versions of oneself. To help Nadie, I simply took some common dreams from the seven and eight-year-old versions of Nadia and set it up so that the recurring nightmare got replaced three out of every four times it tried to play.
"Burying the pain isn't the same thing as outgrowing it," Malia said, breaking into my thoughts. "Nadia can be too practical at times. Her answer to the problem was to confine it to one portion of her past: Nadie."
"You saying this is her fault?" I wondered, not quite sure where Malia wanted to go with that comment.
Malia shook her head. Her long, dark hair hung down far enough to rustle with each of Nadie's calm breaths. "Not at all, though I suppose that argument could be made. I'm saying we are stronger together. Our Gifts complement each other. I grew up with Nadia and never knew how to help her until you came along, so thank you."
"You're welcome," I said, feeling kinda embarrassed. "But you woulda figured it out eventually."
"I'm not so sure. I was different then, more self-absorbed and unsure of myself." Malia adjusted her hold as the child slowly woke up. Brushing the hair off Nadie's face, Malia leaned down and kissed the girl's cheek. "Feeling better?"
"Better," Nadie confirmed, mumbling because of the thumb.
"Look who's here." Malia grabbed the girl's wrist and tugged until the thumb popped free. Then, she rearranged the child's limbs so Nadie sat facing me.
"Hello, Jillian," greeted Nadie. Leaning back against Malia, Nadie blinked at me slowly, showing off her beautiful, long eyelashes. Dried tear streaks ran down to her chin, but her expression held none of the deep-seated grief I'd come to expect from her. "Thank you for coming to see me."
The formality from a kid so young made me smile. "Did ya have a nice cry?"
"Yes. Malia holds me when I cry," replied Nadie. "She is comfortable."
"I'm glad." A thought struck me. "Will you go away forever when she finishes healing ya?" My tone conveyed concern. I didn't want Nadie to go away for good. It would be like losing a part of Nadia.
Nadie shook her head back and forth quickly in a manner that reminded me of Aiden and Michio. It makes a body wonder why their eyes ain't bouncing around their skulls like pinballs. It must be a kid thing. They've got no fear of hurting their necks. "I will stay. You might need me."
I couldn't think of what I'd need from the ghost of a past version of my sister, but I didn't think hurting her feelings would do much good. I also remembered Nana's words about never dismissing people 'cause they're young, inexperienced, or not particularly known to you. So, I nodded.
We chatted long into the night, but I didn't mind. It was like a sleepover, only Malia, Nadia, and I weren't even in the same states. Malia lives in Pennsylvania, I live in the money sign state next door, and I don't even know where Nadia is at the moment. One would think that might disturb me, but I've come to accept a lot of things since meeting my siblings.
Chapter 2 Malia's Adventures
ITEM 134: Jillian's sixty-sixth post-kidnapping journal entry
Item Source: Jillian Blairington
I feel old. Not physically so, but internally old if you know what I mean. Worry sure can age a body. I've gotten much better with not worrying about other people's business, honest. My adventure into Nadia's dreams taught me a whole heap about what I can and can't control.
On sound advice from Nadia, Nana, and Dr. S., I've laid aside my worry about the schemes Dr. Devya must have cooking up in his super-smart head. His plans for the future may or may not involve me, but seeing as worrying can't give me greater insight into his thoughts, I gotta trust Nadia's word that he's behaving himself for now. As Nana says, one simply can't control all the crazy in the world.
Momma and Isaac still worry me a fair amount, but I'm starting to understand Momma's feelings a little better. Isaac's growing like a weed. He'll be a year old in a few short weeks. I feel bad about missing much of his life, but Nadia needed me with her for much of the last year. Time moves on whether one's ready for it to do so or not. Summer's hurtling toward its inevitable end, and I've just finished catching up on the school work I missed while I was helping Nadia.
About the only one in my family who doesn't worry me is my New Daddy. Mr. Jeffrey Michael Blairington is a swell man. He works hard. He loves my momma, me, and Isaac lots. I can tell 'cause his eyes brighten and he smiles whenever he holds Isaac or talks to me. He's the sort of man who drops whatever he's doing to give a person his full
attention. I wish I had that quality.
Danielle doesn't have exactly that trait, but she's got a similar heart. She and my New Daddy are the kind of people who go far out of their way to help people in need. Back when she got kidnapped with me, Danielle proved to be brave and emotionally strong. Her love grew even stronger in the midst of uncertainty and pain. She never once blamed me for her troubles, even though my existence is essentially what got her into that mess. More recently, she risked her life to save Christy Roman from some poor decisions. Danielle always finds ways to be a blessing to those around her. It goes far beyond politeness. If she were a few decades older, she'd make a fine Nana-like figure.
Nana worries me 'cause she's getting on in years, and she seems to be running out of steam. It's sorta like a car slowing down as it nears the end of its life. Odd things break down, and one spends more time trying to fix stuff than actually enjoying the car. Last time she was up here, Nana said she might not be able to travel for a while 'cause she needs a hip replacement surgery. Momma, Isaac, TJ, and my New Daddy are going down to visit her this week and help her during the recovery.
Although everything in me wants to go with 'em to visit Nana, I need to concentrate on the other side of my family right now. The other side is of course Devya's Children: Varick, Nadia, me, Malia, Dustin, Reeve (that's Benny Connelly), Michio, and Aiden. Dr. Carnasis has arranged for Nadia to visit with Malia soon. I haven't seen either Nadia or Malia for months, though we talk nearly every day in dreams or head conversations. Danielle and I are bringing Michio with us, and Varick's gonna meet us at Malia's new place.
This is a special time for Malia and her new family. I don't know much about 'em, but Nadia assures me the Davidson family members are about as good as people get. Carol and Able Davidson have raised three children, two girls and a boy and decided to take on the responsibility of two more girls, my sister Malia and a Russian girl named Marina Nardin. The adoption is the main reason for the huge celebration.
Having Malia home safe and sound is another reason to rejoice. I'm told she recently returned from some rather distressing adventures helping to rescue some trafficked children from people bent on selling 'em for a profit. Nadia purposefully kept me ignorant of Malia's danger, and though I understand why she handled the situation that way, I'm a little miffed at her. Sure I had summer school work to
concentrate on, but that hardly compares to knowing I might have been able to help Malia some way. I hope she doesn't think I abandoned her.
Malia has arguably the hardest Gift to bear. Varick gets to learn how to fight. Aiden and Michio get to build complicated things. I can shape dreams. All these Gifts seem straightforward and simple compared to Nadia and Malia. Nadia at least has the advantage of understanding things on a larger scale. Dr. Devya and Dr. Karita Robinson designed Malia to feel emotions very strongly and change 'em to whatever she wishes. I think they were going for a possible emotional therapy, but they got so much more.
Dr. Devya doesn't value Malia's Gifts as much as Nadia's. This hurts Malia. It's a complex issue. Even though Dr. Devya doesn't treat her right, Malia craves his approval. I guess that's a side effect of having grown up in his various scientific compounds. Nadia struggles with similar feelings, but her logical mind helps her deal with those feelings. Emotions are Malia's life, so they have a greater impact on her. She can trick herself into not feeling the hurt, but she usually lets it happen as it will.
My Gifts aren't valued as much as Nadia's either, but I don't give a fig one way or the other. I was raised up with healthy doses of proper affection by Nana and Momma. Besides, Nadia's Gifts are more valuable than mine, but then again, so are Malia's Gifts. I think Dr. Devya's problem is that he doesn't understand Malia and that scares him. People react weird when something genuinely frightens 'em.
I won't claim that my training is always easy or comfortable, but I certainly didn't have to learn what everything felt like. My first real encounters with Malia's training came in Dr. Devya's dreams while I was doing Nadia a favor. I'll never forget those images. Later, I saw more in Nadia's dreams, but I'll leave it to Malia to explain her training if she feels it's necessary. I'm happy she's begun writing to Dr. S. and Nana even if it ain't quite on a regular basis.
The party should be unforgettable. I met the Davidsons' elder daughter—FBI Special Agent Julie Ann Duncan—back when Danielle and I escaped from Dr. Devya's compound. The only boy, Nicholas Davidson, recently finished college. I forgot to ask Nadia about what he studied or what he's gonna do, but I guess I could ask him when I meet him in a few days. The younger daughter and middle child, Joy, will soon marry an FBI agent named George Baker. The preparations for the Davidson-Baker wedding is a third reason for the gathering.
Danielle's gonna drive me to this little shindig 'cause I can't drive, and she's more than earned the right to visit with Nadia, Malia, and the rest of my siblings. I'm glad this trip will give us more time to spend together 'cause sooner than I'd like, Danielle will be busy with college stuff. She's going to move into her dorm at The College of New Jersey a few days after we get back. I'm gonna miss her something fierce. She's not going far, but college is a whole different world. Things aren't going to be the same between us, and that makes me sad. Malia once told me joy is a choice, so I will try to choose joy in these special moments with my friend.
The only ones who will miss our reunion are Benny, Dustin, and Aiden. Benny's got his own life and adoptive parents who love him dearly. As much as possible, all concerned parties are trying to keep him ignorant of his Gifts. Dustin could have joined us, but his momma—Cora—is afraid we'll corrupt him with our wild ways.
Aiden's not coming as a guarantee that Nadia will return when the time comes. Much as I like to pretend we're a big, happy family, things like that shove reality in my face. Aiden is in no more danger than usual I suppose, but it ain't right that Dr. Devya feels he's gotta threaten Aiden to control Nadia. She gave her word to return. That ought to be enough. I wonder if anything any of us do or accomplish will ever be enough for Dr. Devya. The man's got some serious trust issues. Nadia or Malia could help with that if he'd let 'em.