Mending Jodie's Heart – Book 1 When Paths Meet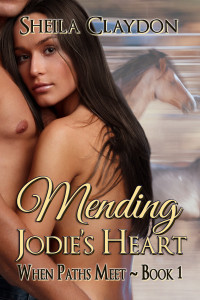 When musician Marcus Lewis buys the derelict farmhouse next to Jodie' Eriksson's riding school he doesn't know whether to be amused or irritated by her angry reaction to his plans. Then her sister Izzie visits him and makes things a whole lot worse…or is it better…because now he has an excuse to see Jodie again. Although, when he sees her, it's not exactly a meeting of minds, they do discover they have one thing in common; they both believe they know what's best for Izzie, and for Marcus' son Luke.
It turns out they're wrong. The children they thought they were protecting need to be set free. It's Jodie and Marcus who have the problem; but can two broken hearts make one whole one? The battle lines that were set when they first met have long since been breached but the war won't be over until Jodie learns how to trust again, and until Marcus allows himself to believe in his son.