Murdered in the Man Cave (A Riley Reed Cozy Mystery)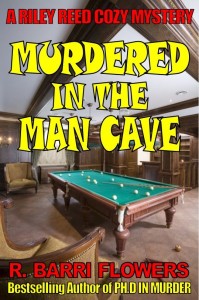 Murdered in the Man Cave is a cozy mystery novel by bestselling crime writer R. Barri Flowers.
In the first book of this exciting new cozy series, Riley Reed has a popular blog offering advice on home décor and renovation and does part-time consulting work in Cozy Pines, Oregon.
When Riley is asked by an old flame, Brent London, a bestselling mystery writer, to help him spruce up his man cave as a newly single man, she readily accepts the assignment. But when she discovers him bludgeoned to death with a pool cue in his man cave, she finds herself thrust into the investigation to track down the killer.
The suspects are many, including three of Brent's four ex-wives, two girlfriends, his niece, a former research assistant, a financial advisor, and his housekeeper.
When two people are arrested for Brent's murder, Riley is less than convinced that the true culprits are in custody, and makes it her mission to prove otherwise.
An alleged suicide and confession seems a bit too pat for Riley, who risks her own life to get at the truth.
Includes a bonus complete cozy mystery short, "Ph.D in Murder," in which a doctoral student's independent study reenactment of the well-known and still unsolved murder of Marilyn Sheppard ends with a modern day murder and killer on the loose.
Fans of cozy mysteries will find Murdered in the Man Cave the perfect start to an entertaining and all-consuming cozy series.
Praise for Mystery and Thriller Fiction by R. Barri Flowers

"A heart-thumping thriller, this is that rare novel that is downright scary. Pick it up at your peril, because you won't put it down until you've read the last word." — John Lutz, Edgar winner and bestselling mystery author on Before He Kills Again
"A masterful thriller set in the dark underbelly of Maui, with lots of fine action, down and dirty characters, and the vivid details of police procedure one would expect from an author who is also a top criminologist. A terrific read!" — Douglas Preston, bestselling thriller writer on Murder in Maui
"An excellent look at the jurisprudence system…will appeal to fans of John Grisham and Linda Fairstein." — Harriet Klausner on Persuasive Evidence
"An exquisitely rich and masterfully constructed mystery…. A savvy, smooth, and sumptuous read that's as hot as Waikiki beach sand." — Jon Land, bestselling crime writer on Murder in Maui
"It gets no better than this! R. Barri Flowers has written another thriller guaranteed to hold onto its readers!" — Huntress Reviews on Dark Streets of Whitechapel
"A gripping and tightly woven tale you won't want to put down. Author Flowers neatly contrasts the natural beauty of a tropical paradise with the ugliness of murder and its aftermath." — John Lutz, Edgar winner and bestselling crime writer on Murder in Maui
"R. Barri Flowers writes with the passion and knowledge of someone who truly knows his craft. A steamy, non-stop thrill-ride through the seamy underbelly of Hawaii." — Allison Leotta, former federal prosecutor and thriller author on Murder in Maui
"Flowers once again has written a page-turner legal thriller that begins with a bang and rapidly moves along to its final page." — Midwest Book Review on State's Evidence
"A model of crime fiction…. Flowers may be a new voice in modern mystery writing, but he is already one of its best voices." — Statesman Journal on Justice Served
Chapter Excerpts
Chapter One
I went for my daily two-mile run at six in the morning along the sandy beach, taking in the fresh autumn air of Cozy Pines, Oregon. Located about 160 miles from Portland, the population of Cozy Pines is less than 18,000. This grew by several hundred people every year when spring breakers come and then the summer vacation crowd flocks in, seeking an alternative to better-known coastal towns, such as nearby Lincoln City and Seaside. Those who call Cozy Pines home permanently are attracted to its year round mild weather, ocean fishing, bicycling, hiking, whale watching, and many festivals and exhibits.
Most locals are laidback, friendly, and active. Many are retirees, while others have decided to live here because it's a nice place to settle down and raise a family. I fit somewhere in between, having lived in Cozy Pines for most of my forty-three years. Never married and childless, the last serious relationship I had was nearly a decade ago. Brent London nearly stole my heart with his good looks, charm, and knack for the unpredictable. The fact that he was a brilliant mystery novelist was an added bonus. But, in the end, things didn't work out for us. Instead of me becoming wife number three, we decided that friendship would be far more enduring, which had proven to be the case as Brent had remained one of my dearest friends over the years.
I ran down the beach, creating fresh footprints in the damp sand, and then headed home. As usual, my mind was racing as I thought of fresh ideas for my popular blog that offered advice on home décor and renovation. On the side, I offered my services as a design consultant, equipped with a master's degree in interior design. My parents left me a small inheritance that afforded me the opportunity to live my life according to my own terms, for better or worse.
Just as I turned onto my street, Hollow Lane, I approached my neighbor and friend, Annette Buckner. She was walking her poodle. For some reason unbeknownst to me, she had named it Mama.
Annette was about my height, but a little heavier. Her short blonde hair was a shade lighter than mine, which was shoulder length. She was two years older than I was, but could have passed for someone younger. I suspected that her husband Fred, who was three years younger, admired that quality in her.
I had already begun my cool down trot, and decided to come to a complete halt when I reached her, since my house was only five houses away.
"Hey," I said, wiping sweat from my forehead.
"Good morning," she responded.
Mama barked playfully.
I smiled as the dog brushed against my leg. "Hello to you, too."
"I'm so envious that you run all the time," Annette said, "which has obviously paid off."
I smiled. What she didn't know was that running could only go so far. Diet, other forms of exercise, not smoking, and only moderate drinking of wine had a lot to do with it.
"You could always join me," I suggested, having done so before, only to have it fall on deaf ears.
She frowned. "I know, but that just isn't for me. With tendonitis in my knee, I'd never be able to keep up."
"Well, I had to ask," I told her politely.
Annette forced a smile. "So will you be at the book club meeting tomorrow night?"
"Of course," I said. Annette and I, along with several other women and one man, got together once a month to discuss a book selection for all of us, as well as recommendations for other titles.
"Great," Annette said. "Well, I have to get going now."
I had a feeling it was the other way around, as Mama seemed eager to get moving and perhaps do her thing somewhere.
My eyes, blue with gold flecks, twinkled. "Okay, I'll see you later. And you too, Mama."
The dog barked once as if it understood me perfectly.
I started to walk away when I heard Annette say, "Oh, by the way, that was a great piece of advice on your blog about installing glass front cabinets to replace the old ones that hide everything inside. Fred liked it, too."
I was happy to hear that, coming from a friend. "Thanks. It seemed like a practical solution for keeping your cabinets organized, along with an attractive alternative to the typical cabinet doors."
"I agree," Annette said. She glanced down at Mama and then gave me an apologetic look for keeping me from moving on again, which in this case I had no quarrel with.
We said our goodbyes again and I headed home.
* * *
I lived in a two-story cottage style home that I purchased seven years ago. I was taken by its turn of the 20th century charm and its solid build that could easily withstand coastal storms. The fact that it had been upgraded with granite countertops, cypress hardwood flooring, and other modern amenities won me over.
Much of the morning and afternoon was spent working on my blog and checking in on my stock portfolio, which had seen both better days and worse. After doing some household chores, it was evening and time to go to the local community college where I was taking a course in art and design. With a lifelong dream of being a landscape and seascape artist, this was the first step in making my dream come true.
I arrived at Elk Community College at a quarter to six, giving me more than enough time to park my Subaru Forester and walk to the Art Center. I was halfway there when I spotted Emily Peterson up ahead. She was Brent London's twenty-three-year-old niece. After his sister died tragically eight years ago in a car accident, Brent had stepped up as Emily's only living relative and taken her in, becoming her legal guardian. She had proven to be a handful at times, with an on and off drug problem, landing her in and out of rehab. In spite of this and, as Brent had put it, her tendency to hang out with the wrong crowd, he continued to this day to provide for her and give her a place to live, trying to do right by his sister.
Emily was talking animatedly to a young man and vice versa as I approached them. They stopped abruptly, turning my way.
I made myself smile while saying to Emily, "I thought that was you."
She seemed to force a smile of her own. "Hey."
Emily was tall and model thin with long red hair and green eyes. According to Brent, she was the spitting image of his late sister, whom I'd never met.
I studied the man she had been talking to. He was even taller, of medium build, and bald headed with a dark goatee. He met my eyes with what I could best describe as a hard look.
"This is Tony Sullivan," Emily said. "And this is Riley Reed. She's a friend of my uncle's."
"Hey," he muttered.
"Hi, Tony." I had a feeling he would rather be elsewhere or perhaps would prefer that I move on, so they could get back to their heated conversation. I was about to oblige them, but Emily seemed to prefer that he move along.
"I'll catch up with you later," she told him.
He nodded. "Yeah, later." After giving me another sharp look, he walked away.
"Hope I wasn't interrupting anything," I said, though curious nonetheless.
"You weren't," Emily insisted. "We were done."
"I see." I paused before pressing on with my curiosity. "So is he your boyfriend?"
She rolled her eyes. "No, he's just a friend."
"Well, things sounded pretty tense between you and your friend."
Emily sighed. "They weren't. It was just a little disagreement. We're cool."
I gave her the benefit of the doubt and decided that I should probably mind my own business. That didn't mean I couldn't inquire on another front as a friend of Brent's and hers, by association, having known her for as long as she had been staying with him.
"Are you attending classes here?" I asked.
"Yes, I'm taking a photography course. How about you?"
"I'm enrolled in an art class."
She looked at me as if this was hard to imagine for someone my age. Or was I misreading her?
"That's so cool," she said. "There's been a standing invitation for Brent to teach a writing course at the college. So far, he's turned it down, stating he doesn't have the time."
Emily had always referred to her uncle by his first name and he seemed to prefer it that way, perhaps to keep himself feeling young, though he was only in his mid-fifties.
"Well, writing can be all consuming," I pointed out.
"It doesn't have to be," she countered. "Maybe he needs to start doing other things to make his life more fulfilled."
I cocked a brow. "You don't think he's getting enough fulfillment in his life?" I couldn't help but think that the Brent I knew seemed to lead quite a fulfilling life with his writings, travel, hobbies, and trying to be a good a role model for his niece. Was that not enough for her?
She shrugged. "I'm just saying…"
"The next time I see Brent, maybe I'll ask him about teaching here," I suggested as an olive branch.
Emily grinned. "That would be great."
I glanced at my watch and realized that my class was about to start. "I have to go before I'm late."
"Me too," she said. "Have fun in your art class."
"Same to you."
I found myself wondering if things were good between Emily and Brent, though I had no reason in particular to believe otherwise. Unless I counted Tony. He seemed a bit odd and someone I could imagine might somehow rub Brent the wrong way. Or was I just projecting my own gut feelings without cause.
I went through the motions in class, focusing as best I could on the instructor, a thirty something, bearded, husky man, who clearly took his work seriously and did his best to make sure his students felt the same way. I admit that my thoughts occasionally drifted to ideas for my blog and then, strangely enough, I imagined Brent sharing his writing experiences and successes with eager to learn young novelists in the making.
But would he actually do it? Or had he made up his mind that this was something he wasn't interested in pursuing?
I considered whether or not I should get involved, sort of on behalf of Emily. Though Brent and I had remained friends over the years, I had no special pull with him and was fine with that. But that didn't mean I didn't believe he could make use of his talents in more ways than writing and selling books.
* * *
By the next day, I had replaced thoughts of Brent with creative ideas for kitchens on my blog. I also responded to comments left from the last two blogs, some more colorful than others.
After watering my plants, I phoned my sister, Yvonne. Seven years my junior, she also lived in Cozy Pines with her husband George Flaunders. Yvonne was a stay at home wife, having given up a nice job in human resources when she married George, who was a successful businessman. Though she seemed happy enough, I couldn't help but wonder if Yvonne wanted to do more with her life, but wasn't sure how to get started.
"What's up?" she said.
I gave her my usual rundown on my day thus far, and asked about hers.
"George is away on another business trip—this time to New Jersey. I'm using the time to clean out the garage. It's a real mess!"
"If you need some help, I can spare maybe an hour," I offered, assuming we were headed in that direction.
But Yvonne said, "Thanks, but I've got it covered."
"Maybe you need to get out more," I suggested tentatively, noting that she seemed to bury herself in that big house too much.
"I get out when I want to," she responded. "Last weekend, George and I were in Portland."
"I meant you should get out more for yourself," I told her.
"When you're married, you do things for each other. But you wouldn't know anything about that, would you? After all, you've been single your entire life."
I sucked in a deep breath at that jab.
"Sorry, forget I said that," Yvonne quickly apologized. "I know you're just trying to be a big sister."
I chuckled. "And maybe I should just let you live your life the way you want to," I told her, knowing I had a tendency to micromanage other people. It still hurt a bit that she seemed to think being single meant only thinking about myself—and sometimes her—but I would get over it.
"Hey, guess what? We're thinking about having a baby," Yvonne blurted out.
I cocked a brow in surprise. The last I knew, George was in no hurry to have children. It had something to do with his troubled relationship with his parents. Had he changed his tune?
"Oh, really," I said evenly.
"Well, actually, I'm the one who's been thinking about it," she admitted. "It's been on my mind for a while now. I've just been waiting for the right time to bring it up to George."
"And when will that be?" I asked.
"If all goes well, I'll tell him when he gets back on Friday."
I wanted to ask her if she was prepared for a letdown, but decided I had already used up my quota of giving her my opinion during one phone call, so I told her, "Let me know how it goes."
We both left it at that and said our goodbyes.
Admittedly, I loved the idea of being an aunt in the absence of being a mother myself. It was a choice I'd made earlier in life and it had become easier over the years since I didn't have a husband or lover in my life to encourage me otherwise. It might have happened with Brent, if things had worked out for us.
But since it didn't, I wasn't going to second-guess my life's choices, any more than Brent's. Or even Yvonne's for that matter.