Odessa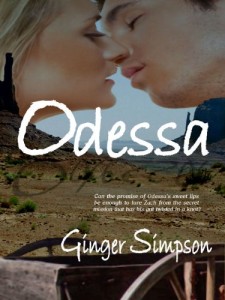 When the wagon carrying Odessa Clay and her father overturns, he is killed. She is left alone in the middle of the desert to try to find her way to kin in Phoenix. Hot, dry and scared, Odessa is near death when Zach Johnson finds her. Squinting up into his tanned and handsome face, she imagines she's died and gone to heaven.
Would-be-outlaw, Zach comes across an unconscious woman alone in the middle of nowhere. Where did she come from? She appears young, but the curves beneath the dusty gingham say otherwise. He didn't plan to become someone's hero, but he cannot leave her helpless and stranded.
Will the promise of Odessa's sweet lips lure Zach from the secret mission that has his gut twisted into a knot? His father's ranch isn't the only thing at stake—now it's his heart, too.