Pacific Cove Testament of Faith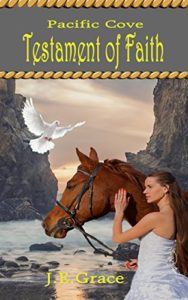 Jason and Naomi Sanders suffer a series of devastating events that will test their strength, faith, and their hope for the future. Can they stay strong and recover from their hardship?
When what is important to them is threatened, they lean on one another and close friends for support. Will they be able to heal and rebuild their life? Will Naomi finally walk the path that God has chosen for her?
With trust in God comes healing, peace and blessings beyond anything they could have ever imagined.
Chapter Excerpts
Chapter 1
Peter Samuel Sanders walked across the stage dressed in his graduation gown, his blonde wisps of hair showing just under his cap.  His six foot two inch frame is muscular from regular workouts in the gym, and he walks with an air of confidence as his name is called. Reaching out his hand, he clutches his document. He steps down off the stage to take his place with the rest of his peers and glances momentarily in his parents' direction. Their eyes meet, and a smile is exchanged between them.
Peter graduates with a 4.0 and a degree in Architecture from Bayberry College, the same college his parents attended. It has been a long four years and not an easy one for him.  There were countless hours of study and the sacrifice of not having a meaningful relationship with anyone.  He can relax now, because soon he will be on his way back to the ranch he loves.
Naomi and Jason wait patiently outside the auditorium as other parents greet their children with smiles and hugs of congratulation.  As each one files through, they scan the crowd in search of their son.  Finally, winding his way in between the enormous crowd, he approaches them.
"Peter, we are so proud of you."
Naomi gives him a smile, beaming with pride inside.
They leave the busy college parking lot and head south across the bridge that overlooks Bayberry Point.  Bayberry Country Club is nestled high on a hilltop and consists of a golf course, conference center, and restaurant which is known to have the finest cuisine in all of the metropolitan area. Business men come there from every area of the country for seminars and meetings.
The club is bustling with activity as they pull up.  Jason hands the keys to the valet and then opens Naomi's door for her. Peter is close behind as they follow the walkway to the front of the building.
The restaurant has exquisite style. The front glass double doors are wide, with handles trimmed in shiny gold. Naomi enters, escorted by Jason on one arm and Peter on the other.
The mater de' takes their names, and they inform him that they have a reservation under Miriam Strong and are quickly escorted to her table. Naomi glances around the restaurant as they walk through. It is quite large and dimly lit by crystal chandeliers which hang from a very high ceiling. Round tables positioned on both sides of the room are covered with red linen tablecloths, and fresh roses send their fragrance through the air, filling her nostrils with the sweet aroma as they pass by.
Miriam, dressed in a lovely green dress with coordinating jacket which fits her trim body perfectly, sits at a corner table.  Her hair is very elegantly swept up high on her head and she looks as though she just stepped off a fashion page.
"Oh, Peter, don't you look dashing," she said as she plants a kiss on his cheek.
"Grandmother, I bet you say that to all the men."
"Only the good looking ones," said Miriam, "You really must try the filet mignon. It's absolutely heaven."
The waiter walks up to their table to take their order. They decide to take Miriam's advice and try the filet mignon.  The meal is superb, and an hour later they are finishing up with steaming cups of hot coffee and luscious strawberry cheesecake for dessert.  Jason tries to pay the bill, but Miriam insists it is her treat.
Miriam slips Peter an envelope as they are walking to their vehicles.  They all say their goodbyes with promises to see each other soon.  Naomi and Jason wave as Miriam drives away.
They enter their vehicle and Peter stretches out in the back seat of the truck with a pillow propped up under his head and in no time is fast asleep.  Naomi spends the time watching the city lights which flicker brightly in the distance and pass out of sight as they make their way down the interstate.
Jason stops only once to gas up and get coffee.  Only, an hour left before they will reach their destination.  He drives along in the dark of night; the landscape lit up only occasionally as they pass a town.  The scenery changes from the city landscape to the wide open spaces of countryside.  Trees lining the sides of the road and the mountains with their dark cast shadows illuminated by the moon, lends a sinister atmosphere to the landscape.  As Jason turns off the main highway down the winding road to the ranch, Peter wakes up.
"It looks like we're almost home," said Peter shifting to an upright position.
"Not too far now.  Your mother must have been exhausted. She hasn't stirred since I stopped for gas."
Jason drives the winding road along the switchbacks until they crest the top of the hill and drop down to the ranch below.
Peter glances towards the ocean and his heart warms. There is a full moon and it casts a glow upon the waves as they lap onto the shore. The trees along the roadside are dark silhouettes with their leaves gently blowing in the wind, and moonlight bounces through the trees casting its moonlit glow upon the ground below.  On the side of the road, a skunk, a creature of the night, lumbers off to gain safety in the underbrush.
Jason hit a pothole in the road, and Naomi awakes startled.
"Well, I guess you're still with us after all," said Jason teasing her as they turn into the driveway in front of the house. The house looks dark and foreboding, far from the warm and loving place that it is.
As Naomi gets out, the salt air fills her nostrils, and the roar of the ocean surf below is like having a transfusion of new blood.  It renews her, and she feels very much alive.  She is home where everything seems right and safe.