Past Betrayals, Past Loves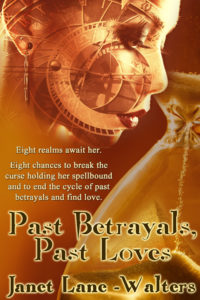 A curse sends Astrid on a journey to ancient lands. She meets deceit and betrayal searching for true love and to break the curse. The search begins in Egypt. When she touches an ancient Egyptian necklace she is hurtled through time into the turbulent life of another woman. She discovers the words spoken in anger holding her spirit captive. Seven more times she finds a piece of jewelry and returns to a distant past. In each of these lives she encounters and falls in love with a man who seems to be someone recently met in her present as do the enemy man and woman.
The heat between Astrid and Duncan is instant and becomes incandescent. Her dislike of two characters grows. Eight realms await her. Eight chances break the curse holding her spellbound and to end the cycle of past betrayals and find love. Eight chances to foil the evil man and woman who follow her and Duncan from era to era.