Payback – "Does that make me a bad person?"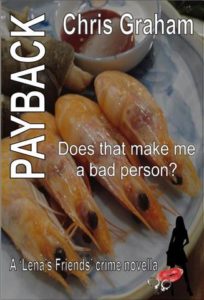 PAYBACK is the novella length second prequel to CHRIS GRAHAM'S, 'LENA'S FRIENDS' series of crime novels. ('Payback' can be bought from Amazon, but is specially discounted as an introduction from the publisher's website: ex-l-ence.com )
* * *
Lena Fox and two of her friends are among the professional 'escorts' who are engaged to work as 'hostesses' at the opening of an exclusive but illegal gambling club, hidden away in one of Bristol's leafy suburbs.
Despite the evening seeming to pass without undue drama, a grim discovery is made by casino staff who are clearing up after the event.
When a body is found in the tidal mud of the River Avon, naturally, questions are asked by the police.
The body turns out to be a man who was a known drug dealer, pimp, and loan shark. The police become even more interested. He was a man who had some very nasty secrets. It begins to look like murder…
Who was the murderer and why did they commit the crime?
The past comes back to haunt one of the hostesses. But will she let it be her downfall?