Retributions -"Don't tell me it's another bloody e-mail"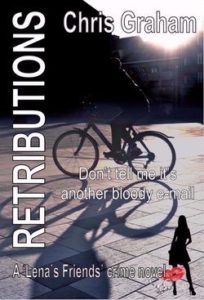 A 'LENA'S FRIENDS' crime novel from CHRIS GRAHAM.
A tall mysterious African is taking an unhealthy interest in certain people.
Atheist scientists… Muslim and Christian clerics… Entrepreneurs and entertainers… and a fifteen-year-old youth.
But why should their deaths be so important to him?
A gay, atheist vicar…
A sexually charged grieving widow…
A high-class whore and her biker boyfriend… And several extremely baffled policemen…
They're all asking themselves the same question:
"What links all these victims?"
RETRIBUTIONS is available as an e-book (Kindle or .pdf *) and paperback editions.
*.pdf version only available from the publisher's website (www.ex-l-ence.com)