Sapphire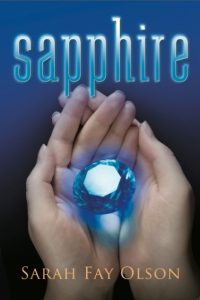 In the kingdom of Asteria, Layla has dreamt of nothing but royal balls and falling in love. On her sixteenth birthday, she receives the invitation to the annual Autumn Ball and it doesn't seem like life could get any better when the Prince falls for her. But the fairy tale is short-lived as Layla soon learns the truth about her murdered parents and is given a sapphire that changes her life.
Now available on Amazon and at Christopher Matthews Publishing. Read the first 5 Chapters now!
Chapter Excerpts
Chapter One
The breeze sent a chill down my spine as I lay in the soft grass, allowing the setting sun's rays to dry the shift and corset that clung to my skin. I closed my eyes and listened to the chorus of songbirds and the gurgling river.
Fall was coming to the Maplewood Forest in the kingdom of Asteria; I could feel it in the air. Soon the leaves would change and cascade down from the trees.
"Layla," a voice said.
My eyes flew open and I jumped up, ready to run and grab my dress.
"It's just me," my friend Charlotte laughed, pushing a strand of black hair behind her ear.
"You scared me," I said.
"I'm sorry. Mrs. Fallon told me you were out fetching water and that you've been gone for an hour."
I shook my head. My time gone had been noticed. My Aunt Betsy was going to be furious.
"Did she send you here to fetch me?" I asked.
Charlotte smiled. "Maybe. I actually came to wish you a happy birthday. You are sixteen today!" She wrapped her arms around me.
"Thank you," I said, hugging her back. "We aren't doing anything special though. At least I have the Autumn Ball to look forward to!"
Charlotte pulled away, her hazel eyes suddenly looking sad. "You're going?"
"Why wouldn't I be? You are coming with me . . ."
"I am not sure I will be able to." She sounded distant. Her eyes avoided mine.
"Is something wrong?"
The forest around us seemed to silence as I took a breath, readying myself for some horrible news. Charlotte was never one to overreact and the sudden gloom that had descended over her chilled me.
"Did something happen to Tristan?" I asked, thinking of her older brother. Before he had left, the three of us had been the closest of friends.
"No, no," she replied quickly. "He has pledged his allegiance to King Luther's army. The only harm he will ever come to is if he has to fight in battle."
"Then what is it?"
Charlotte bit her lower lip. "You mustn't tell anyone that I told you why."
I nodded.
"We are leaving, Layla."
I was at a loss for words. Leaving? What did that even mean?
Her words came out fast as if she knew that if she did not say them now, she never would. "We have to—it's for my father's protection. There is a force of people, building beyond the Northern Mountains. It's something big, Layla—an army of people preparing to overthrow the king."
"And you've seen them?" I asked warily.
"Only a few. My father has been sending them supplies, and has even housed a few when they've come to town."
"Why?" I gasped, appalled. "Why would he put you in that kind of danger? Put Tristan in that danger? He's a soldier in King Luther's army!"
"Layla, Tristan is a part of it. You think he went there without knowing about any of this? He has been sneaking military tactics and secrets to my father since the day they took him."
Took him. The words pierced my heart as I remembered how much he hated the thought of being forced to serve in King Luther's army for five years—the one thing every sixteen year old boy had to do. It had been two years, already, and I missed him every day.
"Layla, my father would have never put him in that position if Tristan hadn't wanted to help the rebellion."
"But why do you have to leave?" I asked, sorrow of losing Charlotte, as well, filling up inside me.
"Because another family was just caught doing the same things. Loyal citizens of the king have been reporting any suspicious dealings they see. The king does not actually know about the forces, but he knows something is going on. When King Luther suspects something, he gets rid of the group of people who look suspicious. He is not taking any chances, and neither is my father. If we leave before anyone becomes suspicious of us, the king will not connect anything to Tristan and he will be safe as a soldier. My father has set everything up so it looks like he is going to Malan for work."
Not only was Charlotte leaving the Maplewood Forest, but to the neighboring kingdom of Malan.
"But, you cannot leave!" I exclaimed. "What about the ball? I can't go alone!"
It was the one thing I had been looking forward to attending with Charlotte all year. She was two months my senior so the upcoming ball would have been a first for both of us.
"Layla, are you so selfish to think of only yourself and some ball? This could be the very movement to end Luther's reign. You should not be going. You know how much your uncle hates the king. You should hate him too."
"But why? He has never done anything to me. I'm just a commoner—this has nothing to do with me." I heard the frustration in my voice. Selfish? I was not selfish!
"Believe what you want, but I am leaving."
"Charlotte—"
"I'm sorry I won't be able to go with you. I realize you've been looking forward to the ball for years."
"Will I ever see you again?"
"I have faith you will," Charlotte said, pulling me into a hug.
I fought the tears and held on to her as if my life depended on it.
My closest friend was leaving the kingdom to join a rebellion, and I did not know if this was the last time I would ever see her.
"Here," Charlotte said, pulling out a leather wristlet entwined with purple ribbon.
It was an Asterian custom to give a loved one a wristlet if they were leaving on a long journey. It was a way to always carry a part of them.
She tied it around my wrist next to the one Tristan had given me.
"I wish I had one to give you," I said quietly.
Charlotte smiled. "Don't worry about it."
I hugged her again. "Thank you."
"I have to go," Charlotte whispered.
I nodded. "Be careful."
She smiled. "I will. Don't worry about me."
I watched as she mounted the horse she had left at the edge of the meadow. "Goodbye, Layla!" She urged her mount forward and disappeared into the forest.
I wiped the tears from my eyes and looked down at the empty bucket next to my dress. My shift had almost dried now, so I pulled the dress over my head and filled the bucket with water. I walked through the thicket, toward home, careful not to trip on the tangle of roots sprawled across my path.
Betsy came out on the porch of the cabin, fixing her graying hair in a bun, just as I came through the trees. She took one look at me and frustration clouded her face. "Where have you been? I sent you for that water an hour ago!" She put her hands on her plump hips.
I walked up the worn path through the small garden. "I'm sorry, Aunt Betsy. I lost track of time."
Betsy took a calming breath. "I'll let you get away with it today—only because it's your birthday. Did Charlotte find you?"
I nodded glumly. Tears began to stream down my cheeks.
Betsy's expression softened. "Come here, dear."
I put the bucket down and stepped into her outstretched arms.
"Is everything all right?" my Uncle Robert asked, coming up behind us.
"Charlotte came to say goodbye," Betsy said.
"Oh, Layla, I am sorry," Robert said as I pulled away from Betsy. "You will see her again though. I know you will."
"I know," I said, looking down at the two leather wristlets wrapped around my wrist.
"Why don't you go inside and freshen up," Betsy said, picking the bucket of water up. "I will get dinner ready quickly. And Robert, will you bring in some more wood for the fire?"
"Of course, dear."
I followed Betsy into the cabin and headed up the creaking steps to my room.
Robert and Betsy were not wealthy, but they did all they could to make our home pleasant, especially my room. Walking in was enough to raise my spirits. Robert had the town's woodcarver make me beautiful furniture with brass knobs and a large vanity with a shining mirror. While the lavish furniture did not fit in with the cabin's quaintness, every time I walked in I felt like a princess. The white lace curtains at my window matched the pale pink and white floral quilt that covered my bed. On the vanity sat a jewelry box—my most valued possession. It was made of ornately crafted silver and had belonged to my mother. While the jewelry box made me feel closer to my parents, it could not fill the void I felt from time to time.
My mother and father died from a disease that had spread throughout the kingdom around the time King Luther overthrew the monarchy. Even though they were not my real aunt and uncle, Betsy and Robert had cared for me ever since.
I changed into a fresh pair of undergarments and dress and then sat in front of the vanity. I combed my long golden-brown curls that had already dried considerably and tied it up into a bun. By the time I finished, the aroma of a delicious stew wafted up to my bedroom. Betsy had made one of my favorite meals.
Chapter Two
Once we had sat down at the table, the rumbling of my stomach helped me forget about Charlotte. All my sorrow at her parting was gone when Betsy and Robert presented me with the invitation to the royal Autumn Ball.
My name was written on it in beautiful letters. I broke the wax seal and pulled the invitation out.
Dear Layla Fallon,
We are pleased to invite you to join us in celebration at this year's
Autumn Ball this Saturday at the Royal Palace of
King Luther and Queen Alyssa.
Formal attire is required as well as this letter to verify your invitation.
We hope to see you then at half past seven in the evening.
Yours truly,
The Royal Family
"It's finally here!" I cried, nearly falling out my chair. "This is so exciting!"
Betsy smiled faintly, and I could not detect even a trace of displeasure in Robert's gray eyes over my excitement.
Since she and Robert were not fond of King Luther, they had never been thrilled over my wanting to attend the ball. Thankfully, I had gotten them used to the idea. Turning sixteen and attending your first royal ball had always been an important part of becoming a woman and I was not going to miss a second of it.
"We have something else for you," Robert said. He stood up and took a large box out from underneath his chair.
He placed it in front of me and I eagerly opened it.
My eyes widened when I saw the beautiful emerald green material. It was an elegant ball gown and I held it up.
It had the perfect large skirt for swishing around a ballroom floor and a silver and crystal decorative pin that resembled a delicate flower centered on the bodice. The gown was sleeveless and off the shoulder with a fairly modest neckline. Even though the pin was its central focus, the ball gown as a whole astounded me.
"I love it!" I gasped. "It's gorgeous! I can't believe you made this for me!"
I had always wanted a ball gown of my own. Since Betsy ran a seamstress shop, she never had the time or reason to make me one.
"Well you didn't expect me to send you to the ball without a gown, did you?"
I had thought that was exactly what was going to happen. I thought I would have to use one of the simple formal dresses she'd made me.
"And I made sure she used green to bring out your beautiful eyes," Robert said.
My cheeks grew warm as I blushed at the compliment. I was truly happy and grateful Betsy had made me this gown. It was going to make everything better now.
"Oh, Robert, don't act like it wasn't something I hadn't already been planning on doing!"
I laughed. "Thank you so very much. It is absolutely beautiful." I placed the gown back into the box and hugged them both.
It did not matter anymore that I would have to attend the ball alone, because now I had the most incredible gown I could have ever wished for. It was going to be a night to remember.
Once I helped Betsy clean the kitchen, I slipped outside and headed to the barn.
The night welcomed me with chirping crickets and leaves rustling in the breeze. A single lit lantern hung outside the barn door. I used its flame to light another inside. My horse heard my footsteps and whinnied a greeting.
"Hello, Dusk," I said, hanging the lantern outside her stall. I stroked her muzzle as she leaned her head into me.
Her white mane and hide seemed to glow in the firelight. Dusk was a young horse, about three years old, and in her prime.
"I bet you're hungry."
She blinked back.
I laughed. "Hold on." I put some hay in her stall and brushed her down, letting my thoughts drift from the ball to Tristan. Now that Charlotte had told me he was a rebel spy, I feared for his life.
What would they do if they found him?
Not only did I fear for his life, I feared for Charlotte's as well. Their involvement in a rebellion was dangerous. What happened to the Tristan and Charlotte I had taken to the old castle of Asteria—our secret place where we would explore whenever we could?
I thought back to the first time I found the castle. I'd been searching for blueberries when I came across its giant stone walls. I knew it was unlawful to trespass, but I had to get a closer look. It was the most beautiful thing I had ever seen. Its vine-covered walls and turrets stood at a height I had thought only mountains could reach. I walked around the outer wall searching for a way over when I found a section that had crumbled into a pile of broken stone. I climbed over it carefully and found myself face to face with the towering castle. The distant sound of crashing waves made me realize I had never wandered so far from home.
Crude wooden boards sealed the castle's main entrance as well as the windows. They were weathered and rotted so it was not difficult to find a way in through the lower windows. Once I'd crawled in, I found myself in a cellar. The cold, still air sent a shiver down my spine, and a musty smell filled my nose. From the light leaking in through the now broken window, I saw old, dusty barrels piled with torn canvas bags littered around them on the dirt floor.
I lit a candle with the flint I had in my bag, turning my shadow into an eerie flicker across the wall. Searching for a way out, I spotted a rickety staircase in the corner. I crept up it, cringing at every creak of my footfalls, and stopped at a dusty door. I took a deep breath and turned the doorknob. The door squealed open into a kitchen with long counters and marble iceboxes that were ten times larger than Betsy's. It would have been quite a sight when all the cooks were bustling about serving the king and his guests. The strewn crockery and broken pots, the tattered remains of chairs and tables evoked a feeling of sadness.
How could such a grand place be allowed to fall into such ruin?
A door led into the great hall, a room that stretched almost out of sight. The dark, thick-wooden table was carved with intricate designs that matched the chairs. Tarnished silver chandeliers hung from the ceiling draped with cobwebs. Paintings covered the walls depicting the history of the royal family.
I inspected them with my small flame. A young man knelt before another who placed a crown upon his head. The kneeling man's closed eyes gave him a look of humility. Onlooker's faces were all stretched into smiles, some even cried with joy. It was the coronation of King Hector and something made me believe the artist's rendition had captured the moment exactly. In the next, King Hector was holding the hands of his beautiful bride, Aria. She was just as striking as in the stories I had been told. Her long blonde hair cascaded around her shoulders and her brilliant green eyes stared into the king's—the two smiling.
I continued down the hall admiring more of the paintings. In one, Aria was being crowned queen followed by another depicting a large feast held in the very room in which I stood, with all the important nobles of that time. The very last was of the first and only victorious battle the king had led against Luther.
I did not stay long to stare at the portraits that lined the other wall, those of other, older kings. Instead, I continued to the adjoining sitting room. A piano and a few scattered sofas remained, their fabric torn, ragged, and stained. Shredded blue velvet curtains dangled from the rods above twenty-foot windows.
I looked down at the rug stretched out beneath me and found I was standing on a large bloodstain.
The memory sent a shudder down my spine. I looked over at Dusk as she happily devoured the hay. I envied her lack of worries. She lifted her head and stared at me unblinkingly.
I smiled. "The ball is going to be wonderful, isn't it?"
Dusk turned back to the hay, and continued eating.
"It will be," I said.
Chapter Three
The following week rushed past me in a blur of petticoat fittings and shopping for accessories. Betsy took me to a neighboring town, Eagle's Nest, and bought me dangling earrings that looked like real diamonds along with a cream-colored corset and petticoat.
The night before the ball, I washed my hair and sat by the fire while Betsy tied it up with wooden spools and rags so that my hair would curl nicely for the ball. When she sent me off to bed, I fell asleep quickly and dreamt of the day to come.
When I woke the next morning, I found that the sun was high in the sky and that I had not risen early enough to complete my chores. I scrambled out of bed and flew down the stairs.
Robert glanced up from a book he was reading by the fireplace and laughed. "What happened to your hair, sweetheart?"
"I—I woke up late," I stammered. "I came down to do my chores and have Aunt Betsy fix it."
Why did they let me sleep so late?
"Oh, she went out—said she had a few more errands to run before tonight. She also said you needed to rest, so she did your chores this morning."
"Oh!" That was a surprise. Betsy was usually a stickler when it came to chores.
"She said you needed your beauty sleep but with hair looking like that, I think you could have used more," he said with a wink.
"Uncle Robert!" I exclaimed, running to the nearest mirror. I began to frantically pull out the wooden spools and rags from my hair.
"Layla!" Betsy called from the door, startling me. "Don't pull them like that!" She put down the bag she was carrying, and rushed over to me. "You have to unravel the hair slowly so you don't pull the curls out."
Robert chuckled.
Betsy rolled her eyes. "Wait here, Layla."
"It's your fault," I chided him.
"My fault! I was just joking, darling," he planted a kiss on my forehead. "I have some work in town today, so I am afraid I must get going. But don't worry, I'll be here to see you off."
"Good," I said as he headed out.
Betsy came down the stairs with my hairbrush and pulled a chair up for me to sit. From the bag she left by the door, she pulled out a small silver box and placed it in my hands. "Open it."
My fingers popped the lid open, and inside sat the most beautiful barrette I had ever seen. It was silver with two butterflies made from what looked like diamonds.
"Is this real?" I gasped
"Yes."
I turned to her in astonishment. "You didn't have to buy something like this for me. I know we cannot afford it."
"I didn't. I took it to town to get it polished. It was your mother's."
I blinked back at her in surprise. "My mother's," I repeated, tasting the words and staring down into the box. My fingers caressed the smooth silver of the barrette. "I didn't know you had anything else of hers."
"I know. Robert and I felt that you were too young to give you something of such value, but agreed it would be very special for you to wear it to the ball."
Tears welled up in my eyes, blurring the barrette into a shimmering star. I looked up at the mirror and saw Betsy wiping her eyes.
"Now, you've got me crying too," she said, trying to force a laugh.
"Thank you," I said, hot tears rolling down my cheeks.
"You're welcome, but stop crying or your eyes will be red for the rest of the day," she responded, taking a glass bottle from the same bag. "This is something the nobles' wives use to keep the curls in their hair. It came highly recommended. It wasn't cheap, but I wanted to try it."
I watched her in the mirror as she unraveled the remainder of my hair from the spools. She brushed them carefully and used the barrette to clip the top of my hair back. With steady hands, she gently loosened the front so a long bang curved over my left eye and tucked it neatly behind my ear. She rubbed the liquid in her hands and ran them through my hair humming softly. By the time Betsy finished, half an hour had flown by and my stomach was growling.
"All done," she said quietly.
"I love it!" I exclaimed, reaching up and touching the curls that had begun to harden.
She smiled. "It's your job to keep it that way for the rest of the day."
"Of course," I laughed.
As the hours slowly crept by, I grew increasingly anxious for the night to begin. At last, by five o'clock, Betsy told me it was time to get ready. She pulled at the laces of the corset, tightening them until it closed, and then helped me step into the emerald gown. I tried to turn to look at myself in the full-length mirror but she stopped me.
"Not yet. Wait until you're completely ready."
She fixed any stubborn hairs that stuck out of place as I put on my earrings.
"I forgot your slippers!" she exclaimed. She disappeared quickly down the hall. I was about to sneak a peek at the mirror when Betsy's voice rang down the hall. "Don't even think about it, Layla!"
I sighed. She always knew when I was going to disobey her.
She returned with a pair of black slippers with an inch and a half heel. They were simple but went perfectly with the gown.
"Nobody will be able to really see them, but it's the latest fashion," she said, leaning over and helping me slide my feet into them.
I put my hand on her back for balance when I almost toppled over.
"Can I look now?" I asked once they were on.
"No, you need makeup." She powdered my face, brushed blush onto my cheeks and applied a reddish lipstick to my lips. "Now you can turn around."
I slowly turned and looked at myself in the long mirror. The young woman I had become stared back at me in disbelief. Behind me, Betsy's face was glowing as she took in my expression. I turned slowly and watched the pin on the bodice glisten. The green fabric felt soft underneath my fingertips as I ran them over the skirt. I felt like royalty.
"Stunning," Robert said from the doorway. "Now I'm gonna have to sharpen that old sword of mine to keep boys away from this house." He winked, and Betsy rolled her eyes.
I felt my cheeks turn red with the compliment.
"I believe you need to get going if you want to be on time," he said, smiling at my reflection in the mirror.
"How am I supposed to get there?" I gasped.
How had I missed such an important detail? The way you arrived at a ball was everything. I could not go in Robert's old wagon.
"Why don't you go outside and look?" he said slyly, stepping back to let me through the doorway.
I gathered up my skirt and hurried down the staircase trying not to trip with the new slippers that pressed into my toes. When I got to the window, I looked out at the elegant black carriage with two white horses. It was better than anything I could have expected. "You—you got me a carriage?"
"Well, the other choice was taking you to Eagle's Nest so you could catch one of the carriages the palace provides, but Elizabeth and I felt having your own would be special."
"Thank you, but I didn't expect this. It's so expensive."
"Nonsense. Elizabeth knew some folks that had one to spare. You know, all of those rich folks she makes clothing for."
I laughed and looked back to see Betsy shaking her head.
"Well my dear," Robert continued, kissing my forehead, "it's about time you get going. It will take a little over an hour to get to the palace and you don't want to be late."
I hugged them both tightly and then ran, well tried to in those awful shoes, to the carriage.
The driver stood by the door and opened it. The man bowed and gingerly took my hand to help me into the carriage.
I sunk down into the soft red velvet seat and waved to Betsy and Robert through the small window. As the carriage started down the road with a jolt, I took a deep breath. It was really happening—I was going to the ball.
Chapter Four
I arrived at the palace at a quarter to eight. When it came into view, my jaw dropped. A stone wall ran high along the property's perimeter, with a large iron gate, and guard towers on each corner. Through the carriage's window, I saw the silhouettes of guards pacing back and forth on the top of it. The carriage rolled underneath the raised gate into a lighted square. Lanterns on ten-foot poles lined the cobblestone path that led straight to the palace's grand entrance.
The palace was breathtaking. It was made of white stone that rose into turrets. The roof of it stood black against the night sky and the twenty-foot windows glowed orange from the lights inside. I watched guests enter through the large doors as a servant came to open the door of my carriage. He offered me his hand and I took it graciously as he helped me out.
"Welcome, milady," he said. "Your invitation please?"
I handed it to him.
"Welcome, Miss Fallon," he said after reading it. "Do enjoy yourself."
"Thank you," I replied, picking up my skirt.
I ascended the stone stairs to the open doorway flooded with light. The entrance led me to a balcony that overlooked the marvelous ballroom. The marble floor glittered under the light of crystal chandeliers. The guests below spoke in loud voices, competing with one another, creating a roar of liveliness. To my left and right, grand staircases led to the marble floor.
As I glanced around the room, I spotted the king and queen's extravagant golden thrones sparkling in the center. From the balcony, to the left, there were long tables where guests sat eating and drinking. In the center of them sat buffet tables laden with all sorts of delicacies.
I made my way down the stairs hoping that on my way to the tables I would see a familiar face. I walked through the mass of people, smiling at the women in their gorgeous gowns of all colors and the men in their best doublets. An older woman with a kind face approached me and I was grateful. By her manner, I could tell she was of royalty so I curtsied bowing my head.
"What a beautiful young lady you are," she said kindly. "So polite. What is your name?"
"Layla Fallon, milady," I replied shyly.
"What a lovely name. I am Lady Diana, Queen Alyssa's mother," she said proudly. "I do not believe we have ever met. Is this your first ball, my dear?"
"Yes and I've never seen anything like it."
She laughed. "It's quite impressive isn't it? Did you come alone?"
I nodded, blushing.
She laughed again. "Don't worry, you will make friends. Young ladies come unattended all the time. Here, let me introduce you to my granddaughter. She is Prince Richard's cousin."
She took me by the hand and led me over to a gorgeous blonde with chocolate brown eyes. She was older than I and took all of me in with one glance as we neared her.
"Emily, I would like you to meet this young lady, Layla. Layla, Lady Emily."
"It's a pleasure to meet you," I said curtsying.
"A pleasure," replied Emily.
"It's her first ball and she is alone. I thought you could introduce her to some of your friends," said Lady Diana.
I suddenly felt like an imposition.
"Of course," said Emily, smiling at me. "I would love to."
While her smile seemed to radiate with kindness, there was iciness behind her stare.
"Well, have fun, dears," Lady Diana said. She turned and disappeared into the crowd.
I looked back at Emily who seemed to be sizing me up with her big eyes. Her blonde hair was pulled up in a neat bun with perfect curls that grazed her neck. She wore a pale golden gown that shimmered as she moved. The low neckline was provocative but still managed to be decent. The skirt of her gown did not flair as much as mine did, but fell in glimmering folds around her feet. Her jewelry was exquisite and her makeup was flawless. There was a slight hint of gold on her eyelids that caught the gold flecks in her brown eyes.
"So Layla, where are you from?" she asked sweetly.
"Maplewood Forest, in the outskirts of Eagle's Nest," I replied
"Ah, Eagle's Nest. I am surprised it's still called that. Do you live in an estate there?"
"No," I said, feeling rather embarrassed. "My aunt and uncle own a farm."
"I see. And where did you get your gown?"
"My aunt made it for me."
"Well it's nice, for a homemade gown."
I tried to ignore the jab since at this moment she and her grandmother were the only people I knew.
As I watched her eyes scanning the room, she seemed to forget I was there.
I was about to ask her what she meant by being surprised the town was still called Eagle's Nest when she said, "I'm starved, would you like to join me? I am alone at the moment since it seems my fiancé has disappeared."
"Yes, I would," I replied, grateful for the invitation.
Together we made our way to the end of the line by the buffet table. She was quiet as she filled her plate with small portions. I assumed it was a lady-like thing to do, but as soon as my eye caught the plates of food, I piled my silver platter with all it could carry. There were freshly roasted pigs, herb and flower salads, breads of all textures and shades of browns, bowls of colorful fruits both familiar and unfamiliar, puddings, cobblers, and cakes. There was so much I wanted to try. This was the way kings and queens feasted and for one night, I was going to enjoy it.
"My, you eat a lot," Emily commented as she served herself some of the herb and flower salad.
I blushed. "There is just so much I want to try."
"Oh yes, of course. I forgot you are from the country. My meals are always like this . . . it gets rather boring at times."
How food like this could get boring? I had no idea.
We found two empty seats that faced the ballroom, where people mingled and watched the musicians play beneath the balcony I had entered on. As I went to eat, I realized I did not have any utensils, a napkin, or a drink. I turned to ask Emily when a pair of gloved hands placed a silver fork, knife, and spoon beside my plate and then was asked if I wanted white or red wine. The question took me off guard since Betsy never let me drink wine.
"Red, please," I said, assuming it would be much more flavorful.
"And I will have white," Emily said to him.
"Yes, milady," he replied and walked away to a table behind us where a server poured the wine into crystal clear wine glasses.
"Have you ever had wine?" Emily asked.
I shook my head.
"Then make sure you only have one glass. Trust me. And for the future, you should get white because sometimes the red will stain your lips and that is not too easy to wash off. Frankly, it's quite embarrassing."
I nodded and thanked her for the advice.
I started with the herb and flower salad and sipped the wine little by little. It had a strange bitter taste and after Emily's remark, I was very careful on how much touched my lips. On the other hand, the food was phenomenal. The pork was tender, and the fruits were juicy and delicious. When I got to the pudding and cobbler, I was afraid I would not have any room in my stomach for the slice of cake topped with icing and fresh strawberries. I ended up having to leave half of it in order to keep my corset from snapping.
As Emily finished her meal I asked her, "Why does it surprise you that Eagle's Nest hasn't changed its name?"
"Oh, I thought you knew what I meant," she replied after wiping her mouth with the embroidered napkin. "The old kingdom's seal was an eagle. That is what it was named after. It was where King Hector's men made their last stand—not to mention the closest town to the old castle of Asteria. Tell me, is it still there?"
Something warned me to lie, but I ignored it. "Yes."
"Have you seen it?"
This time I lied. "Only once. It is in bad shape, but still holding. I mean it hasn't been cared for in many years."
"True," she agreed. "So Layla, why are you here at the Autumn Ball? Have you come to celebrate the harvest or see if you could win my cousin's heart?"
Her question caught me off guard. "I just came so I could experience a royal ball."
While the Autumn Ball was meant to celebrate this year's harvest, it was rumored King Luther had his own agenda—to get his son, Prince Richard, married off to a young woman, preferably one with high stature. However, the prince was the farthest thing from my mind.
"Is your version of a good time eating?" she asked, critically, as she eyed my plate with all the leftovers.
"Well no, I hope to dance when the waltzes begin."
"Dancing is quite fun, but you need a partner. Who will you dance with?"
My heart sunk as I saw the amusement in Emily's eyes at my discomfort. She was just using me to sit with until her fiancé came back. To her, I was a commoner her grandmother asked her to entertain.
A young man suddenly came up behind us and covered her eyes before I could answer her.
"Rupert!" she exclaimed, pushing his hands away. "You will ruin my makeup!"
"You worry too much," he laughed, giving her a kiss on the cheek.
"Where have you been?" Emily asked, turning to look at him.
He did not seem much older than her and his carrot colored hair stood out brightly. Freckles littered his cheeks below his bright blue eyes.
"Sorry, milady. King Luther needed to talk to all the nobles."
"And since when are you a noble?" Emily asked, laughing.
"It was a special invitation by Prince Richard."
"Anything I should know about it?"
"Just some rebel trouble, but nothing important," he said, smiling to reassure her.
"Rebels?" I exclaimed. "Where are they?"
A few heads turned as Rupert noticed me for the first time. He raised an eyebrow at my eavesdropping.
"Rupert, this is Layla—it's her first Autumn Ball," said Emily with a nonchalant wave of her hand.
He shook my hand politely. "It isn't exactly information for a young girl like you," he said with a wink.
"I'm terribly sorry," I apologized, blushing.
"It's not a problem. But as I said, it is nothing serious. All the king said was that he believes they are living on the Malanese border and staying out of trouble."
Suddenly, trumpets sounded and all the people around me rose to their feet as a voice rang out. "Ladies and Gentlemen, I present to you King Luther, Queen Alyssa, and Prince Richard."
Almost at once, the guests bowed.
"Welcome my people," said King Luther as he stood by his throne.
Everyone straightened at his greeting.
"I would like to thank you all for coming and helping celebrate this year's harvest. It is wonderful to see so many of you here, since the Autumn Ball would not be possible without its guests. So my ladies, my nobles, and all my other guests, without further ado, let the dancing begin."
Perfectly on cue, the musicians began to play a waltz, and the guests cleared the middle of the ballroom as couples began to dance.
"May I have this dance," Rupert asked Emily with a bow and outstretched hand.
"Of course!" she exclaimed excitedly. "It was good to meet you Layla. Have fun!"
Rupert twirled her onto the dance floor and disappeared among the other couples leaving me alone. I left the dining tables and sadly found myself by a bowl of fruity punch.
I watched the rainbow of fabrics swish around the dancers as the men spun their partners. It was mesmerizing. As I watched, my hand ended up with a glass of punch that I used to erase the taste of wine from my mouth.
I am not sure how long I stood there, but a voice snapped me out of my daze.
"Are you going to drink all the punch, Lady?"
I spun around quickly to find the prince watching me. I looked down into my glass shyly and noticed it was filled to the rim except I clearly remembered drinking it.
"I'm sorry," I apologized, bowing my head so my confusion would not be taken as disrespectful.
"No apology is necessary," he said, his finger gently raising my chin so I could look at him. "I will just make sure the cooks know how much their punch was enjoyed."
His touch sent a tingling down my spine, and I resisted the urge to pull away.
"I don't believe I've ever had the pleasure of meeting you, Lady. What is your name?" he asked, smiling.
His hair was blonde and neatly combed back. If I remembered correctly, he was two years my senior and looked it. He was very handsome and his gentle brown eyes made it difficult to look at him. The prince resembled a much younger version of his father and I felt like I was looking upon King Luther himself. His chest was fairly broad, but that was the only thing that could be interpreted as menacing. Except for his well-tailored doublet and blonde hair, something about him reminded me very much of Tristan.
"Layla Fallon," I replied, focusing on his mouth so he would not think I was being rude.
"That's a unique name. I'm Prince Richard."
"It's a pleasure to meet you," I said with a curtsy.
"I must say that dress is quite stunning. I'm sure every young lady has envied you tonight."
"You flatter me, your Highness, but I doubt any of these women would see me worth envying."
"Then they haven't seen your eyes."
I felt the blood rush to my cheeks.
Was I in a dream, or was the prince actually complimenting me?
I was tempted to pinch myself to see if I would wake up in my bed back home and find out the day had not even begun.
"I don't know what to say," I said, still avoiding his eyes.
"Say you will dance with me," he said, offering me his hand.
I stared down at his gloved hand for a second, then put my glass down and took it. He led me out to the middle of the floor between the waltzing couples and slid his hand around my waist. I hesitantly placed my hand on his shoulder and he began to whisk me around in perfect tempo with the current waltz. I concentrated hard as I remembered the steps Robert had taught Charlotte and me one summer—Tristan teased us the whole time. That was up until Robert paired him up with me.
As we spun across the dance floor, I felt the eyes of jealous women boring into my back, appalled that a commoner was dancing with the prince.
The taste of blood sprang onto my tongue as I realized I had bitten down on the inside of the cheek.
"Do I make you nervous?" he asked, laughing. "Relax, I don't bite."
"Oh, forgive me—I haven't danced in a while," I said, focusing on his mouth.
"Stop apologizing—and smile, won't you? You look like a frightened lamb."
I was not sure whether that was a compliment or insult. He must have seen it in my face, for he quickly added, "A very beautiful frightened lamb."
Did he just call me beautiful?
My mind screamed in confusion, but despite it, I managed a smile.
"There you go," he said, spinning me with one arm.
We danced in silence for quite some time, allowing me to concentrate on loosening my muscles. He was an excellent dancer—which was expected, and the longer we danced, the more at ease I felt.
"Are you feeling more comfortable?" he asked.
"Yes, I think so."
"Good, so where are you from?"
"Maplewood Forest. Close to Eagle's Nest. My aunt and uncle own a farm in the outskirts."
"I didn't know commoners dressed so well," he said jokingly.
"We have our moments," I grinned.
"What's it like to live on a farm?"
"Well, it's much different. First of all, we never have parties as extravagant as this. I have to admit turning sixteen and finally being allowed to attend the royal balls is really the only thing us girls dream about."
Richard laughed. "That seems a bit extreme don't you think? Or am I offending you because it is what you dreamt about?"
"None taken," I replied. "And it has been a dream of mine but, I'd also say my dreams are of one day marrying and raising children." I almost bit my tongue at my words. The blatant honesty of my answer surprised me. I had just met the prince and I was speaking as if I had known him forever.
"Well I'm glad you were able to, and your dreams seem simple but delightful. You cannot imagine what some girls tell me. It's like they want to impress me so they say things like 'I want to live in an estate where servants wait on me and I can have whatever I want.'"
"It must be awful to have to listen to them," I said with a laugh.
"I know— it's as if that is supposed to impress me."
"Do you want to be impressed?"
"Sometimes, but not like that. In the end, they try so hard they make it worse for themselves."
"What do you mean?"
"I'm expected to announce a royal engagement in three months," he sighed.
"That's so soon and you can't think of anyone? I mean you're the prince, any young woman would be happy if you chose her."
"I have a few in mind," he said, winking.
It surprised me his wink did not make me nervous. I was feeling rather comfortable with him and I was enjoying his obvious flirting. I no longer felt like I had just met him. I felt rather at ease and his attention made me feel important.
"Would you like to take a break from all this dancing and go for a walk?" he asked.
"I would love to." The prince wanted to walk with me!
He smiled and gave me his arm. Prince Richard led me past the wide-eyed guests and through some doors that led to a brightly lit patio and a garden that sloped downwards, glowing in the moonlight.
We walked in silence, and then he said, "It's probably the reason I chose to greet you."
I kept my eyes forward on the winding path through perfectly trimmed bushes and flowers. "I'm not sure I quite understand, your Highness."
He stopped and I let go of his arm.
"Well, you were the only girl that didn't follow me around the entire ballroom with your gaze. But that could easily be explained by the way you were so engrossed with that punch."
"It was a very good punch," I said in my best flirtatious tone.
I could not believe I was trying to flirt with him. This was absurd. I was not the type of girl to receive the flattery he was giving me, especially when we had only met less than an hour before.
"And I believe it. But you see, I find interest in people who don't seem to find it in me."
"Don't let that get around, or you'll find yourself becoming interested in every female in the kingdom."
"Then you better not tell," he said with a wink.
I wondered how many girls he had taken on this walk and had spoken to in this manner. "I'll try, but you are just lucky I don't have any friends that like you enough to want to be your princess."
"That so?" he asked, crossing his arms and leaning against a tree.
"I'm afraid so, your Highness," I said sadly. "It looks like your only choices will have to be nobles' daughters."
"Except I don't like any of them. They are stuck high among the clouds—completely lost in their riches and glory."
"And you aren't?" I asked. "Forgive me, your Highness, but isn't that what a royal family is known for?"
"King Hector wasn't known for it, neither was his queen."
"What about your family?"
"I'd like to think we aren't, but I'm not sure. What do you think?"
"I wouldn't be able to judge right now, I don't know you well enough."
"Hmm," he said after a moment, "you intrigue me, Layla. I would like to get to know you better if you would allow me. Then perhaps after a while, you can tell me what you think."
"I'm flattered, your Highness, but I live far and would be unable to come see you."
"I'm the prince, I'll find a way," he said, flashing a sly smile.
Behind us, I heard the clock strike ten. The time had flown by and my driver said he would be waiting outside at this time to start the journey back.
"I had a wonderful evening, your Highness. But I'm afraid I must go, it's a long way home," I said, curtsying.
"Please, call me Richard. And expect to see me sometime, Layla," he said, taking my hand and gently kissing it.
"I shall, goodnight." The thought of him coming to see me sent butterflies fluttering in my stomach.
"Goodnight."
I walked away with my thoughts in shambles. The way I acted with him perplexed me. I was so comfortable with talking to him, and even flirted with him. It was difficult to believe he actually could have meant everything he said. Perhaps he did not and would laugh this night off with his friends and I would never see him again, but I felt like he did. Why else would you spend much of the ball with someone you barely knew, and a commoner for that matter?
I had no idea how I was going to tell Betsy and Robert I had danced with Prince Richard, so I settled with feigning sleepiness when I returned home, all the while dreaming of the prince.
Chapter Five
The next morning when I woke, I stayed in bed and watched the flickering rays of sunlight dance across the ceiling. My thoughts were spinning uncontrollably as I replayed the events from the night before. They dwelt on Richard. I hoped he would come and visit.
I got up and headed to the kitchen that greeted me with silence.
Where was everyone?
I took an apple from the fruit bowl and wandered out to the barn. Robert and Betsy were nowhere to be found. It was strange of them to disappear on a Sunday without a word. I gave up my search and opened the back door in Dusk's stall so she could graze in the small paddock behind the barn.
"I had the most wonderful time at the ball last night," I told her as I stroked her mane. "I met the prince, and we danced and danced. All the women were so jealous but I did not mind. I've never felt so special."
Dusk perked her ears and I hugged her neck.
I stared up into the bright blue and cloudless sky, and hummed a waltz as I imagined dancing with the prince. The cool breeze rustled the golden leaves on the trees and sent them cascading down to the ground. I spun, laughing, as they fell around me. Nothing could undo the happiness I felt at this moment. I pictured Prince Richard's handsome face as I leaned into Dusk and closed my eyes. For once, it felt like impossible dreams could come true. Someone as common as me could really mean something.
After about an hour, I heard the wheels of Robert's wagon roll up. I ran to meet them as he helped Betsy down from the wagon.
"Good morning, Layla!" he said, cheerily. "Help your aunt inside while I put the wagon away."
Betsy and I walked into the house as she coughed into a handkerchief.
"Where did you go?" I asked.
"To town. I've been coughing these last few nights and you know your uncle, always worried over me getting sick, so he took me to go see the town's physician."
The truth was it was probably the other way around. Betsy was the worried one, not Robert.
"Regardless," she said quickly, "the physician said I'm fine and it is just a cold."
"No, he said it's probably just a cold," Robert said, joining us, "and that you need to take it easy for a few days so you can get better."
"Same thing."
"By the way, Layla," he continued, "your aunt and I heard the most peculiar rumor in town today. A girl with a beautiful emerald gown went to the ball last night and swept the prince off his feet."
I shrugged as blood rushed to my cheeks but tried to keep my composure. "I had no idea there was another young lady with a dress like mine."
Betsy raised an eyebrow at my pitiful attempt to lie.
"I'm sorry!" I blurted out. "He was just so kind and friendly. He asked me to dance and I did and then we started talking, but I cut him off so I wouldn't be late coming home."
Robert's face hardened. "Layla," he began quietly.
"It's dangerous to be around him!" Betsy exclaimed.
"Not necessarily dangerous—but he is not to be trusted." Robert cautioned. "You don't know what types of things his father is involved in."
"I don't know, because you won't tell me! I don't even know how you would!" I heard my voice rising. "You don't live there—you live here, on a farm in the forest! You have never been involved with kings and queens!"
Robert opened his mouth to say something, but closed it instead. He looked hurt and I wanted to run to him and hug him, but I knew that would undermine my argument. I never disrespected Robert or Betsy like this. But I could not—would not—give in, so I bolted up the stairs and into my room.
"Layla!" Betsy yelled after me. "Come back down here!"
"Let her go," said Robert. "It's impossible to explain things she doesn't understand."
Things I do not understand? Why not just be honest with me and explain why they hated King Luther and his family so much?
I slammed the door hard behind me.
Today I had woken up full of dreams and now they were being shattered. If Prince Richard did come to visit me, what would Betsy and Robert say? Would they tell him to leave even if it hurt me—or would they try to get to know him and together, as a family, we could decide if he is evil like his father.
I sat by my window and stared out at the trees draped in their fall colors, ignoring Betsy when she called me down for lunch.
After another hour, she brought up a plate of food. "Layla," she whispered, "your uncle was much more involved in the war Luther caused than you realize. He doesn't just hold opinions . . . he holds memories of what he saw."
I kept my eyes on the world outside. "It has been almost sixteen years. We have to move on sometime."
Betsy sighed and stood there for another minute then left me in silence.
I ate the food she brought, barely registering what it was, and changed out of the chemise I was still wearing. Slipping down the narrow stairs, I snuck outside, saddled up Dusk and took her on a ride. It was time to return to the old castle I had not seen since Tristan left.
The familiar walls and turrets lifted my spirits as I rode up to it. I tied Dusk to a tree and climbed the crumbled wall onto the castle grounds. Everything looked the same as I headed toward the broken window and crawled through it. The candles and flint we used to use lay on the floor beside a barrel Tristan had put there to help us get down into the cellar.
I lit a candle and wandered through the corridors. I remembered how I would cling to Tristan's hand, and how Charlotte would lag behind but catch up when an eerie sound rang through the still halls. I took stairways that seemed to last forever and found myself at a door I had never seen. The door was old and jammed, but after some pushing, its rusty hinges gave way and the door slammed into the wall behind it.
The candle cast an orange glow around the unfamiliar room. There was a large bed against the wall with torn yellowed sheets and pillows. Dark velvet curtains hung from the bed's canopy with gaping jagged holes. Sunlight seeped in through cracks on the boards that had been crudely hammered to the wall on both sides of the bed. I placed the candle down on a small table and ran my hands down the sides of the boards trying to find a weak spot.
I pulled on a loose corner but it was no use. I scanned the room and spotted a stone fireplace by the door with long iron fire stokers piled next to it. I took one and jammed it underneath the loose corner. After a few failed attempts, it ripped away from the wall and I fell backwards onto the dusty wooden floor. Blinding sunlight poured into the room.
I had thought the boards were covering a window, but I was wrong. Behind it was a door with symmetrical square windows, like the doors Prince Richard had taken me through to the garden. I stood up quickly and pushed it open. A salty breeze hit my face as I walked out onto a balcony.
I gasped when I reached the railing. The balcony was hundreds of feet over a blue-green ocean that crashed onto the cliffs below. The expanse of it was breathtaking. It stretched out for as far as the eye could see, and the sun's reflection glittered on the surface, making it look like it was made of thousands of mirrors. I had never seen anything more terrifying and incredible. The ocean roared below me with a great fury as its waves tried to grab hold on the cliffs. The wind blew my hair as I stared down into the jagged black rocks covered in the ocean's foam. This was nothing like the sandy seashores I had visited when I was a child. I shuddered at the thought of trying to swim in the massive blue-green waves that thundered below me.
When I recovered from the sight, I wandered back into the room to explore it. Charlotte and I used to make up stories as to what may have gone on in the different rooms of the castle. This room in particular was much larger than I had realized. I slipped the yellowing sheets off beautiful dressers, a vanity, a small table, and two high backed chairs. A door at the end of the room opened into a living room with covered sofas and paintings that hung from the walls.
I spun slowly, taking in all the ornate woodcarvings and the old rug. There was a dusty painting above the stone fireplace and when I looked at it, I realized whose room this was. The painting was of Queen Aria sitting in a chair with King Hector standing behind her. They both stared back at me from the canvas, solemn and peaceful. I kept my eyes on it for a while, trying to imagine that King Luther was not a bad man, and neither was Prince Richard. I wanted to believe King Hector and Queen Aria had done something terrible that made them lose their kingdom. But no matter how many times I told myself that, my mind couldn't wrap itself around the idea I wanted so badly to accept. I tore myself away from the painting and went back to the balcony. I stood there for the rest of the day and watched the sunset light the sky on fire with pink and orange flames. I wondered how many times King Hector and Queen Aria stood on this same balcony looking out into the magnificence of the Western Sea.
When the pink sky faded into a dark purple, I left the castle and returned to Dusk. She was excited to see me and pawed the ground impatiently, wanting to go home. I mounted her and took one last look at the castle. It was now a looming shadow against the darkening sky, mysterious and threatening. It was good to see it again.
"Where have you been?" Betsy asked sharply when I returned.
"I needed some time alone."
"You can have time alone when you have actually done your chores, which you managed to escape for yet another day," she said, looking down at a dress she was sewing.
She was not being fair. I normally did my chores, and yesterday she gave me a break by her own choosing.
"I'm sorry," I apologized, suddenly feeling hungry.
Betsy must have seen me look towards the kitchen because she told me to go to my room. "I was nice earlier and brought you your lunch. Then you did not have the decency to show up for dinner and you know how important it is for us to have dinner as a family. So as punishment, you will go to bed hungry and think about your disobedience."
I decided there was no point in arguing. Truthfully, I had used all my anger up in our earlier confrontation, so I headed up the stairs and went to sleep to the growling of my empty stomach.
hbaf
The following week passed slowly. I had the same schedule every day, which Betsy made a point to write out before she and Robert headed into town for work. Wake up, collect the eggs, milk the cow, eat, and then study the lessons Robert left me. Robert and Betsy kept me busy and I did not get any time to myself. Betsy even had Robert fetch the water when they returned from the town each day so it would not take hours the way it usually did when I went. It was Betsy's way of punishing me for my outburst and running off. However, I did not let it bother me. I kept myself busy with thoughts of Prince Richard. I clung to the hope he would come and visit me.
On Friday, Betsy finally let me have a break, 'due to my good behavior,' she had said. As soon as she and Robert left for Eagle's Nest, I ran upstairs to get my riding boots. Now that I had finally returned to the castle, the balcony over the sea was calling to me. Since Robert and Betsy said they would not return until after dark this time, I planned to spend my whole day there. While humming to myself, I shoved the boots onto my feet and started tying up my hair when a knock sounded at the front door.
I felt my heart start racing and head pounding as a tremor set deep into my bones. We never got unexpected guests. The only ones who ever showed up unannounced had been Tristan and Charlotte. All I could hope was that it wasn't some forest bandit looking for trouble.
I peeked down the stairs, but was unable see who it was, since they stood away from the windows. They knocked again, and I took the opportunity to get down the stairs quickly and pick up the fire stoker by the smoldering fireplace. I held it tightly in my hand and swung the door open to find Prince Richard.
*Get your copy of Sapphire on Amazon today to find out what happens next!*