Seducing The Blakefield Brothers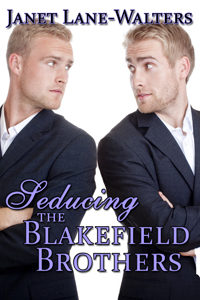 Seducing the Doctor
"You're next." Those words send Matt Blakefield fleeing his brother's wedding. Marriage or even falling in love is the last of his desires.
Dr. Cassie Moore has borrowed a cabin from one of her partners in a cardiology practice to come to terms with a broken engagement. The news came via an email. Her fiancée had married another woman just weeks before their scheduled marriage. The appearance of Matt at her door brings an old attraction into full bloom. She realizes love is lurking but he's a player and she needs to forget the connection.
Seducing the Innkeeper
A chance photograph sends Mark Blakefield to Vermont to find something he lost and didn't know about. He has a son. He also has a way to find the woman he fell in love during his last year of college. Her disappearance when he went to pick her up for dinner puzzles him. Though he searched for Christa Parsons for months and never found her. The photograph taken by one of his writers for Good Travelin' shows an inn in Vermont. He rushes off to solve the mystery and claim his son.
Christa Sommers runs the family inn left to her by her mother. Besides making the inn successful, she is raising her nine year old son, Davy. She has to deal with her younger, selfish half-sisters and she has reached the end point of her patience with them.
When Mark arrives she is stunned. Now she has to explain who she never told him about Davy. Part of the reason was her attempts to find him were foiled by a secretary and the other was being swamped by work. One sight and she fears falling in love with him or losing custody of her son.
Can Mark figure why he was looking for someone with the wrong name? Can he persuade Christa he has loved her for all those years and convince her to share her life and her son with him?