Seducing The Blakefield Sisters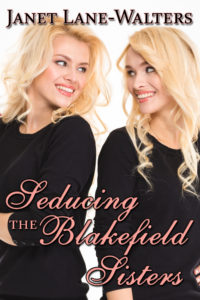 Part One
Seducing the Chef – Allie Blakefield, editor of Good Eatin' wants to do a feature on Five Cuisines a restaurant across the river from NY City. Her father forbids the feature and won't say why. She's not one to sit back and be ruled by someone. She borrows a friend's apartment. While leaning over the balcony she sees a handsome dark haired man doing a Yoga routine. He looks up and she is struck by the Blakefield curse. Love at first sight. The pair start a hot and heavy romantic interlude. She visits the restaurant and is recognized by Greg, the chef's mother. The woman goes ballistic and the affair is broken. Can Allie learn what's going on and rescue her love?
Part Two
Seducing the Photographer
Meg is sure she's made a mistake when she agrees to pick up and Injured Steve, the magazine group's photographer from the airport. The first moment she saw him, the Blakefield Curse took effect. She fell in love and she was a forever woman. He wasn't. Spending time with him over the weekend only cements her feelings. She has rules of life and she breaks everyone of them even the new ones she added that weekend.
Steve has been intrigued by Meg and he enjoys her blushes. He's found ways to raise them but something more is happening here. When she leaves abruptly, he wants to track her down but his broken leg makes pursuit difficult. Now he must find a way to win her over and that takes some time and clever moves.