Silencing the Blues man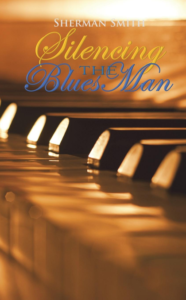 Review
"Poets Can't Sing hooked me. The Honeysuckle Rose Hotel brought my heart back to San Francisco. Silencing The Blue's Man is pure Sherman Smith at his best. Great story, and I encourage you to read them all." – J.R. Wells, Denver, Colorado "He had been saved by a blind man, a Jap, and a nightingale." What does a heart see that blinds seeing eyes? Heart is blind to colors, of beauty, or its lack thereupon a face, of wealth and poverty, yet is open to the flash of a twinkle that infuses weariness when song is heard through the silent plea of an outreaching hand. "The music stopped as a cheer rose loud enough to rattle the cables that keep the Golden Gate Bridge clinging to the sky. So shall you cheer, page after page, till the end of this enlightening story." – J L Skirvin (author of Snow Sizzling in Soleil, Rollins of Stone House, Jaugar Ravenz King, FACE)
Paperback: 262 pages
Publisher: Elementa (August 28, 2016)
Language: English
Chapter Excerpts
Only A Dream
HOW DOES ONE PREPARE HIMSELF TO GO TO WAR FOR A second time; one which he knows with certainty shall end his life?
Henry Akita had once saved Ivory's life—not on the battle- field, but from the nightmares that haunted his hospital bed pushing him to the edge of the suicide cliff. Ivory had suffered for three years, nine months, and two days as a prisoner of war of the Japanese Empire. Japan lost the war. Ivory lost his will to live. He was a defeated man physically, emotionally, and spiritually. Unless he somehow rediscovered the desire to live, no matter the nightmares and pain, the doctors could do nothing more.
Ivory was sent to the veteran's hospital in San Francisco as a wait and see patient. What the doctors could not do, an angel, a blind man, and a Jap did. Henry Akita had been the Jap— Japanese American, Nisei, war hero, and friend.
Ivory had many nightmares. Surprisingly, the one that shook him the most was the memory of his first meeting Henry. Now it was Henry who was in trouble and Ivory had no choice but to try to help.
Ivory's nightmare always began the same way, waking on a hard earthen floor, drenched in a fever sweat, exhausted, his joints aflame, and skin screaming from the fire ants that fed on the lice that swarmed across his flesh. This is the way Ivory Burch woke most of the days he had been a prisoner of war of the Japanese.
Now his nightmares ended with his screams as he struggled to wake, his heart pounding, remembering pain so great that he
wished he were dead, fearing that on the other side of life, there is something so horrific, that he is afraid to die. There is no heaven, only hell for both the living and the dead. The Japanese had been the doormen.
The Jap soldier, outraged, smaller, though stronger than he, pinned him to the ground with a hobnailed boot, as he raised his bayonet above Ivory's heart. There was pure hatred in his enemy's eyes as the bayonet descended . . .
Ivory had thrashed wildly in his bedding.
"Wake up! It's only a dream," a voice from the other side of his nightmare said. "Wake Up!" Strong hands held him down as he fought for his life.
The bayonet raised, he could see his own reflection, his own terror, glistening in the blade.
He tried to run, his amputated leg useless as he opened his eyes, his fear beyond measure.
"Easy, fella, it's only a dream. I've got you." Henry Akita had said. Ivory's eyes went wide as he shrieked at the sight of Henry's Nisei face.
"Easy Ivory, it's only a dream."
The terror slowly faded from Ivory's eyes as he began to remember that he was a patient at the veteran's hospital. He was no longer a China Marine. He was the sole survivor of his outfit. The Japanese had been right, he had surrendered and did not deserve to live. The only sounds Ivory had heard were the words "it's only a dream," the pounding of his own heart, the babble of other men imprisoned by their wounds in the same hospital ward. In the distance someone singing sweet and low while
playing a piano, whose music sounded as pretty as a spring waterfall.
The war had ended five years prior and Ivory was still a frail survivor of everything he had been through. The strong hands that had woken him from that dream belonged to Henry, a former Nisei army corpsman whose face he still had trouble looking into. Now, he and Ivory had become more than friends, if necessary, Ivory would lay down his life to protect Henry Akita from harm.
Feminine intuition defies reasonable explanation, it is sometimes right, even when it is wrong, creating in its own mind-set a reality that few men will even understand. That was the way it began the moment that Stella woke. She knew that something would happen this day that would change her life as nothing had since the first moment she had heard her Earl sing.
Something had come in the morning mail.
Ivory knew that Henry was troubled; why he did not know. Nor where he had gone. Ivory left the Honeysuckle Rose Hotel to find his friend and to see that he came to no harm. Whatever troubled him, Ivory wished he could say: "It's Okay, Henry, it's only a dream."
But it wasn't a dream, and there was nothing he could do to change the wind that blew in bad news.
a
The Road Once Traveled
Two
JUNE, 1950. THE NEWS WAS NOT ALL BAD, BUT ONE HAD TO work hard at finding the good.
There had been hope after the end of the Second World War that things would get better. Now, hope was becoming lost in the headlines: "Hear Ye, Hear Ye, it is 1950, and dark clouds are gathering." War clouds loomed over Korea. The Communist Chinese invading Tibet. U.S. Troops going to Vietnam to aid the French. McCarthyism. President Truman ordering the development of the Hydrogen Bomb, while Albert Einstein warns that nuclear war will lead to mutual destruction. The cost of living continues to go up. The average house now costs $8420. A new car costs $1500, and a gallon of gas 15 cents. A top sirloin steak, a whopping 53 cents a pound. And in San Francisco a person of color still isn't allowed to work or earn a livable wage.
It is June, one of the most pleasant of times to be in San Francisco. With its warm spring days the city stands out bright with its crisscrossed cable car hills, the Coit Tower reaching up into a rich blue sky pointing towards the cosmos where time began. Today was just that kind of day, with a slight breeze chasing whitecaps beneath the Golden Gate. The whitecaps glistening like so many sparkling rubies and diamonds that lift romance from the heart to the imagination, and back again.
The sky never failed to amaze Stella, filled with its mysteries and endless amounts of space. The sky was ever-changing, its various colors of navy blue, black, lavender, robin's egg blue, turquoise, and fiery tangerine, painted glass, a window to the
vastness above. Sometimes the clouds are puffy and tall, other times they were no more than mere wisps, dashed across the sky by some divine paintbrush. While spring had come and gone, today the flowers sprout a blue field of loveliness.
If Earl, her husband could see her here, he would swear that she was an angel visiting from heaven above—and no blind piano playing crooner deserves an angel like her.
The Grotto, once an old Speakeasy beneath the Honeysuckle Rose Hotel, never felt the warmth of the sun. Never-the-less, it was where Stella spent most of her days listening to her husband Earl sing and play the blues, mixed with jazz, his touch velvety across the ivory keys of his piano. To Stella, the Grotto always seemed cold as the basement of an old Tenderloin hotel ought to. While at the same time it was warm and welcoming as Earl and his family of musicians create a warm fire of memories, emotions and dreams. Their music drawing people to a place that has become symbolic with good music and friends.
She sighed, her heart fulfilled, content, and sadly alone. The sigh fluttered in the breeze like a butterfly decorated with a chimera of color. There was one thing that brought her more joy than the vastness of the sky, and the clouds teasing her imagi- nation. What brought a song to her heart when everything else seemed wrong, that there still might be some right in this crazy world, was her Earl.
Stella had taken the trolley to Golden Gate Park, walking to the Japanese Garden, a place she especially enjoyed when the cherry and plum blossoms bloomed—that had been late April. Her walks in the park were her private moments reserved for bringing some order to the chaos that was her life. A few minutes of simple peace and quiet; her me time. Earl, and her extended family back at the hotel, took all the rest.
A quirky bunch, these musicians and oddball friends who made the Honeysuckle Rose Hotel their home. Each has his or her problems, secrets, addictions, sins of their own making, traumatic issues the world has seen fit to weigh down upon their shoulders, nightmares from the past, or dreams of things the way they ought to be. Most were broken in one way or another, each with their own special gift God had given them to hopefully make this world a better place. Stella keeps a place in her heart for each of them, as if they were her own sons and daughters. Without qualms, or reservations, she holds tight to their gifts and imperfections. When they play their music they put their problems aside until such time that their issues out weigh the music; then they play with a musician's passionate blind eye— Earl heart guiding them as they try to put their problems away. Is there any doubt on why Stella has so little time for herself?
No one is perfect, especially Earl, her husband who can be cantankerous, argumentative, self-centered, wise beyond his years, and child—like, all at the same time.
Stella hadn't changed much since the dark days of WWII back at the veteran's hospital. She was still a petite bottle-blonde, deliciously curvy, with a haughty, sultry, heart—shaped face, who looked far younger than her forty-one years. Of course, she had added a few pounds to her hips, a fuller neck, just below her chin, along with a smoker's dark shadow below her eyes, that hid the worry lines her husband would never see.
Stella had gone into nursing with the heart and aspirations of Florence Nightingale. The life of a nurse was her life's calling. Then the war came. She buried her emotions and any dreams for her own future in the white uniform that camouflaged the real woman hidden beneath. She never thought about marriage; the
war bringing to her too many broken men. These were the men whose injuries were too grievous to ever return home again. The sad eyes and broken hearts of the women who visited them were just as painful to her as the pain and despair of the patients she cared for. The war taught her to be afraid of love and all the heartbreak it brought beyond reasonable measure.
Then one day within the gloomy white-washed institutional walls came a new sound:
'Bye bye blues . . . I'm sayin' bye bye blues Bells will ring and birds all sing
Stop your mope-in', keep on hope-in' . . .
Stella pushed her hair back as she starred down the long hospital corridor where she saw a blind man, white cane tapping, a spring in his step, a jaunt to his stride, and he was singing:
. . . 'Now don't you sigh…..and don't you cry
Bye bye blues . . .'
This blind man seemed terribly out of place compared to all of the bedridden patients surrounding her. But oh, he could sing. He did not have the gravelly voice of Louis Armstrong. But from that moment on Stella's world changed as Earl Crier reminded her on a daily basis that it was indeed a wonderful world.
His music helped heal and bring peace to men where her nursing fell cruelly short. With Earl she found a place where the cruel winds cease to blow. Where for every sunset there will be a sunrise, a place where the sun may set with no fear of the darkness to come. Where one soul can whisper to another in a language only one's mate can truly understand. A place where togetherness means it's possible. Earl was her life, her breath, her reason, and she loved the fact that he was an imperfect man.
Earl is blind, a casualty of the war, and he is terrified of the dark. When he sleeps he remembers color and light. When he wakes he finds himself trapped in his own worst nightmare. He sleeps as little as possible because waking is too traumatic. He finds his way in his darkness, chasing away his terrors, with his music—which is the reason he cannot stop singing his own personal blues.
Earl was the patient who could and would not be silent. When he wasn't at the piano he sang; time and place meant nothing to him. When you have a hospital full of seriously ill, dysfunctional patients, that can be a problem.
There was no medical reason for his admission to the hospital. There was nothing wrong with him besides his being blind as a bat. Fear of the dark in itself is not a qualifying event. He had been in the merchant marine whose members did not qualify for veteran's benefits. Yet, at the bequest of the United States Navy, the bequest coming from the highest levels, he was given an officer's room.
Victor Mann, the hospital's administrator could not stand Earl, swore daily that he would give up six month's wages to see Earl banned from the hospital. Earl's private room was signed, sealed, and permanent for as long as the United States Navy said so. Earl had all the privileges of an Admiral, his secret guarded from as high as the Director of Veteran's Affairs. There was nothing the administrator could do about it.
One day a new patient was assigned to Stella's ward. Like Earl, he was blind. The hospital was not designed for the blind, especially obnoxious pain-in-the-butt ones. Stella was not about to book him into the ward. Brooks Weingarden III was mean, nasty, unpleasant, and irritated everyone around him.
Finding out that Brooks had been with the ARMY USO and had played the piano, she moved Brooks out of the ward and into Earl's room. From their first moment Earl and Brooks could not stand the sight of each other. Earl could out sing Sinatra, his fingers magic on the ivories, there wasn't anything he could not play or sing, as long as it wasn't long haired classical. It wasn't that he could not play Mozart or Tchaikovsky, long hair did not cause his heart and fingers to dance.
Compared to Earl, Brooks was a rank amateur on the piano, his singing voice, wishful thinking. What came out of his mouth was mostly self-centered pomposity. Buried beneath his vainglory, shallow and cancerous, was a suicidal wish that ate away at what was left of his soul. He would argue that left is right, that right is left, and never meet you in the middle. It did not matter if he was right as long as you were wrong. Both, newly blind, competed against each other for attention—Stella's in particular. In his abject misery
Brooks had a small advantage. Earl did not know it at the time but his pompous ass for a roommate wore a gauze mask which covered his entire head with barely a hole for breathing or eating through. Brooks had suffered more than the loss of his sight, he had lost most of his face, the damage too severe to repair, destined to be buried beneath a mask forever. Their feud, bitter, vicious, and unkind, continued until more important issues outweighed them. In time lady luck, and brother mis- fortune, cast them apart, with no love lost from either.
Three years had passed since Earl and Stella married. It was also three years since Earl and Brooks had been in the same room together. And two years since they had taken over and made The Honeysuckle Rose Hotel their home. It wasn't long after that
that Earl shook up their entire universe, turning it upside down for good measure, by asking Brooks to come back and live with them at the Rose. Earl had sworn that before he would be in the same room with that god-damned SOB the fat lady would be singing opera in a hell frozen over. Well, hell froze over, and here they were. God, he detested opera.
Stella had expected World War Three when Brooks and Earl first came together; only Brooks had changed. He was no longer the angry blind suicidal drunk that loathed Earl more than his own disability. He was now a mild mannered poet who called himself Oscar Katz. His deep rich soulful voice brought life to his poetry as Earl's piano playing brought life to the old hotel. As each day passed Stella wondered when their truce would end and their bitterness towards each other would rise again.
For friends, and music sake, Earl had acquired an old hotel in the Tenderloin District of San Francisco. The hotel had fallen into hard times, which became harder when Earl chose to fight against the corrupt and bullying musician's union to save their home, The price, if lost, the Honeysuckle Rose Hotel would be closed, and if the president of the union had his way, torched and burned to the ground. That was when the fat lady sang, when hell froze over, when Earl called upon his old nemesis, Oscar Katz, the former Brooks Wingarden, to put aside the past, their acrimony, and join he and Stella in their battle to save the old Honeysuckle Rose Hotel.
Oscar, having over-come his own suicidal quest, had found his dignity, and perhaps his character, stood with Earl, fires burning around them, union goons with rubber truncheons too near for comfort, their music and poetic verse winning the night.
That was two years ago.
14
There was still an edge to their voices that suggested that all was not forgotten, nor forgiven. It was for Stella's sake they each wore their truce as if it were a well tailored suit. They were becoming friends, but they still felt anxious with each other's presence. Each morning when Stella woke, she prayed that her two blind men, men she loved dearly, would not trade their suits in for verbal boxing gloves, and start it all over again.
Stella needed her quiet walks in the park. While this day was lit by brilliant sunshine, she sensed a bitter cold wind coming from just over the horizon. It was a wind that would bring change, heartache, and trepidation.
Being married to Earl Crier sometimes called on her to move both heaven and earth. She knew that she was helpless to change this coming wind.
a