Snap! And the Alter Ego Dimension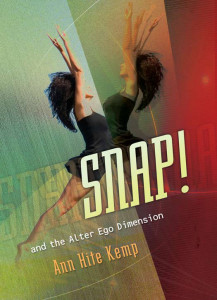 Bored and unhappy with herself, Tammy sighs and expresses her wish to be more like the other girls. No sooner does she do that than she is called to play an internet game called "Snap". Against her better judgement Tammy clicks on the game and is transported to the Alter Ego Dimension. Her evil alter ego, who looks exactly like her, wants to overpower and store her permanently in this desolate dimension in order to take her place on earth. Together with a Japanese brother and sister and a German youngster, Tammy must fight against the alter egos, which are always on the lure. Then a murderer and his victim also show up in this dimension. How long can Tammy and her new friends survive without food and water in this grey, godforsaken place? And can they ever escape? Her family and boyfriend on Earth search desperately to locate her, but how can they know about the other dimension?The book is intended for young adults still in their teens that are interested in the paranormal, science and love adventure stories. Also readers who think for themselves and who can enjoy the "ride" while doing so.
Chapter Excerpts
Chapter One
DO YOU WANT to play Snap?
Oh no! What is this?
Frowning, but also irritated, Tammy Delport looked at the message on her screen. Unexpected messages like these, popping up without notice could only mean one thing: There was a virus on her computer.
Tammy stared at the stupid message, Do you want to play Snap? in a rectangular block with a Yes, No and Help option.
So now what? She clicked her tongue.
She tried every trick she knew to close the box, but the message would not disappear. There was no "Close" icon, no little device anywhere around the box that would let her close it.
Tammy clicked on "No".
You need to play Snap. Press Yes.
She stared at the new message. What on earth? she thought angrily. Why then was there a "No" option?
Frustrated, she started to press all the keys that might have anything to do with delete, but the message still stayed in the middle of the screen. It did not move.
There was no way she could continue with her friend, Wayne's, work. The computer was just not responding to anything. Clicking "Yes" could activate something nasty.
She hated viruses more than anything else in the world. There had been times when her fast reactions were all that saved her school work from being lost. More than once she thought about the people who spent time and effort writing these viruses and wondered just what made them tick. Were they malicious sadists or greedy men with shares in businesses that sell anti-virus programs? Perhaps that was the reason why new virus's erupted out of nowhere.
Once she had convinced her mother that they should have the internet at home, it became much easier to protect her work. Now she could download the latest anti-virus programs and keep her work safe. It still made her angry though, wasting her time and costing her, or at least her mother, money. Because of the cost, it had been a while since she last updated her computer. Now, it seemed, she had been caught out.
She glared at the computer.
All she could think of to do next was to switch it off without saving. Perhaps it would be a good thing. It would serve Wayne right if his assignment wasn't ready for him. The reason why Wayne had asked her to download information for his assignment was because his own internet connection was acting up. And he had the cheek to ask this favor of her, Tammy Delport, after he had laughed at her for having a bright red pimple on her face. She could hardly believe he was so cheeky or that she had actually agreed.
She pressed the red bulge on her face. Pain erupted around the tender spot and she winced. Where had this thing come from? Every day she took medicine to keep her acne under control.
When she thought about what had happened that morning, she became furious all over again. It had been the worst of days . . .
Tammy joined with the other grade twelve students in the shade of the white stinkwood trees close to the school square. She kept her left hand next to her nose to prevent her friends from seeing the huge pimple. She felt so ashamed of it, because it resembled a red volcano.
"Hi, Tammy," she recognized Wayne's voice and froze.
Oh no, not Wayne. She didn't want him to see her like this. Her face was all swollen on the left side.
"Can I ask you a huge favor?" he asked.
She turned around and faced him—still with her hand next to her nose.
"Our internet connection is giving me trouble," he continued and his eyes wandered to her hand. "I must still do my science-assignment for tomorrow. Will you be a darling and download the stuff for me? I can do it myself in the school's computer room on their internet, but I would rather come round to your house and collect the information later. Then I can stay over for a while if it is okay with your mother. I'll even bring you a chocolate bar."
Tammy was delighted. They had been dating since the start of the year and things were going well. A few minutes work was the least a girl could do for her boyfriend.
At school everybody called Wayne 'the Blonde Hero'. Most year twelve girls thought he was a real hunk, and she did too. Dating a popular guy made her feel special. Wayne was good at rugby and tennis and was a very fast swimmer, though being so handsome and popular sometimes made him a bit arrogant and boastful.
"Thanks," she said. "My assignment is all done. But I'll download the information again and put it on a flash-drive for you, okay?"
He looked at her with his cheeky smile and said: "Take your hand away from your face, Tammy. Everybody knows you've got a volcano growing next to your nose. Come on, let's see it."
Unwillingly she took her hand away and he burst out laughing. His perfect white teeth gleamed in the morning sun.
"Whoa!" he exclaimed.
She could not believe her eyes and ears. There was a powerful urge inside her to scratch out his eyes, but she knew her whole face was distorted by the huge bulge. He couldn't help himself.
Everybody turned to stare.
She felt as if she could sink into the ground.
Goodness, why could Wayne not have been more diplomatic? He could at least have pretended it wasn't that bad.
She wanted to tell him there and then to go to hell and get a new girlfriend, but she didn't. She literally bit her tongue and fought against the tears.
There was going to be a big athletics gathering at the school on Saturday and she wanted to hang around with him for the whole day. She was sure Wayne would win some events and she dreamt of him charging over to her to show off his trophies. It was something she had looked forward to for weeks. She had the same shade of blonde hair as Wayne. Everybody that saw them together said that they were such a cute couple. But after what just happened she wasn't quite so keen to go anymore. Perhaps Wayne wouldn't like to be seen going out with little miss pimple-face.
Tammy swallowed her shame and stifled her tears and told Wayne he could come round to her house and fetch the flash drive.
The school-bell rang and she was very glad to walk away from him.
At home after school, she had put on her swimsuit and jumped into their little pool. Like most pools in South Africa theirs was in their garden. It was more like a splash pool than a swimming pool, but it was sufficient to cool off in after yet another very hot, totally cloudless, summer's day in Pretoria. Tammy had an ulterior motive for jumping into the pool. She wanted to soak her face in the chlorinated water. If chlorine could kill algae and other stuff, it might also cleanse her face from whatever causes acne.
Because of the heat, her bikini had dried very quickly and she had decided to keep it on while working at her computer. With only her mum and herself at home, it wasn't a big deal to stay in her bikini, and she worked better when she was cool. Her mother was an accountant who did most of her work on her desk-top at home. Having a parent good at math was a real plus at school.
While Tammy had waited for the computer to start up, she had stared at the old, black screen of the monitor. She had gazed at her own reflection, and also saw the reflection of the window behind her and the branches of the young tree in the garden outside. The curtains on each side of the window had cast colorful reflections, and on the branches of the tree she could see two almost identical birds. What she couldn't see was the ugly bulge on her face, because there hadn't been enough light to show her face in detail.
She had thought of Wayne's previous girlfriend, Rosette. The beautiful Rosette, with skin so pure and perfect, that she had already been in a television commercial. Rosette never had any trouble with acne or greasy skin and she had the most beautiful hair. It was a million dollar question as to why Wayne had split from the pretty Rosette, but Tammy couldn't bring herself to ask. She might not like the answer. She would have given anything to look as good as Rosette did. No puberty problems, no acne. Just a perfect, lightly tanned, smooth skin. Perfect, in every sense. She had dreamt of being as perfect as Rosette.
Tammy stared at the monitor with the second message.
You need to play Snap. Press Yes.
What now? Must I reboot or what?
She knew a game named Snap. She had played it when she was a toddler. There were playing cards with pictures of different animals, four card sets of lions, four of tigers, four of elephants, etc. Perhaps this game and the card game she had played as a child were the same?
Moving the mouse she clicked on "Help" and kept her fingers poised and ready to switch everything off in case this indeed activated a virus.
She waited.
A long piece of information appeared on the screen.
A pack of Snap cards contains sets of 4 pictures of people or animals or numbers that are identical. Therefore an ordinary pack of 52 cards can also be used. Choose a dealer randomly. The dealer shuffles the cards and deals them all as evenly as possible. Each player places his cards, face down, in a pile in front of him. The player to the left of the dealer begins by turning over the top card from his face-down pile. Play then moves clockwise. When someone turns over a card that matches one already face up on another player's pile, players race to be the first to call "Snap!". The player who calls "Snap!" first wins both piles and adds them to the bottom of his face-down pile. Play continues until one player wins all the cards. That player wins the game.
Good, this sounded like the game she used to play, Tammy thought. But how is it going to work on the internet? Will it be like a chat room where different people play together and shout "Snap!" by pressing a button? Which button? The Enter key?
She cancelled "Help" and immediately the block with the message was back in the middle of the screen.
Do you want to play Snap?
She could quickly have a look to see how the game works. If it took too much time, she would switch the computer off again. Then she would continue searching for the information for Wayne.
Okay; she clicked on "Yes".
For a split second it looked as if the monitor had photographed her. There was a sudden flash of white light. As the flash faded she noticed the reflection of her window and the branches outside. But the light kept fading and she was engulfed in total darkness. Night-blind and startled she looked around.
It couldn't be a power failure because it was still mid-afternoon. Light should be streaming in through her window. There hadn't been a cloud in the sky when she took her swim. Where had this total darkness come from? An eclipse?
Then it felt as if she was weightless and was floating through the air. Like the time when her mum and she had visited relatives in Plettenberg Bay and her cousin had dared her to bungee jump from the Storms River bridge. She had to jump even though she was so scared that she was shaking. She had plucked up all her courage and stepped off the bridge. Then she had started to fall and fall and fall. The fear had grown as the water rushed up toward her. Her terror only had shrunk as she had had felt pressure on her ankles and her descent had started to slow. She had realized the fall was over and that she had been hanging by her ankles, bouncing gently with her blood ringing in her ears. It had felt so good to be alive. She had shrieked with the exhilaration and the sheer joy of it all.
Now she was floating somewhere without knowing where she was heading. She couldn't see her screen anymore. It was still pitch black. She could see nothing in front of her.
What was happening? Where was she going?
She had only clicked on "Yes".
The floating stopped. Her feet touched something solid, but she couldn't see any flooring or ground. It was as if she was standing on gray, opaque dense fog. Or something grayish. Grayish, not black. She looked in front of her. A few meters ahead of her—more or less five meters, she guessed—she could also see nothing but the strange opaque grayness.
She turned around and saw her bedroom window with the multi-colored curtains drawn to each side. But it was only the window and a narrow strip of white wall around it that was there. The rest of her room had vanished.
She was not in her room anymore . . .
The window with the two curtains and the strip of wall were floating in the middle of nowhere. Floating in the strange grayness that surrounded her. There was no top or bottom to this grayness, no real up or down. It was simply all around her. Everywhere. And on the other side of the window were the branches of the tree outside her bedroom. Through the branches she could see blue sky, but it was only inside the frame of the window. The light from outside the bedroom did not filter through and light up the place where she was standing. It resembled a three-dimensional painting, animated, because the two birds that she had seen in the screen of her monitor were still there, hopping from one branch to the other. They seemed to be staring at her as they turned first one eye, then the other, to look through the window. As if they too knew that something was wrong.
Something had gone terribly, terribly wrong.
The window, the curtains, the strip of wall, the branches and the two birds, all resembled the reflection that she had seen on her computer's monitor . . .
Chapter Two
AMMY'S HEART BEAT ANXIOUSLY in her chest. Something was definitely wrong. Where was she? What was all this grayness? Gray clouds or what? Was there something wrong with her eyes? Where did it come from?
"Mum!" she yelled at the top of a voice edged with panic.
Her cry sounded strange in the eerie grayness. Hollow, empty and without echo. Indeed, it was without any substance—as if it had nowhere to go.
She listened hard. No reply. No noise from a breeze or the birds in the garden. Nothing. She was inside nothing, or so it seemed.
Again she looked at her feet. She could see them clearly, but had no idea what she was standing on. Were they standing on nothing? There were no carpets, no wooden floor, tiles, ground, soil, stones or tar. There was only this grayness that surrounded her—as if she was in a formless room with gray walls, a gray ceiling and a gray floor. The only color near her was the piece of wall with its window and the three-dimensional view.
"Mum!" she tried again.
Still nothing. Or not quite nothing. There was a tiny flicker of light off to one side of the window.
Then that too disappeared. Or had she just imagined it? Whatever it was, it was gone now.
She was afraid—more afraid than ever. Her heart pounded as if there wasn't enough room in her chest.
Step by small step she started towards the window. Cautiously, she stretched out her hand and touched a curtain. It felt right, exactly like the curtain she had drawn each morning and evening for the past few years. She pulled it slightly. And it moved.
That was something, at least.
Then she moved even closer and looked through the window. The birds were frightened by her presence, but it seemed as if they couldn't fly away. The branches of the tree were limited by the area of the window. It was the same with the sky. The tree had no trunk. It emerged from the grayness, even though her bedroom was on the first floor. Things just floated in the grayness.
Tammy thrust her hand through the black, steel security bars in front of the open window, and it went beyond. Her fingers reached and touched the soft green leaves on a thin branch. The feeling surprised her, but she held on for a moment. That certainly felt like real leaves.
The birds hopped as far away as they could. It wasn't far. About three meters.
The branches came to an abrupt end, as if they had been cut out of a bigger picture. It seemed to Tammy that only the window itself and the scene directly behind it had shifted with her. Only what she had seen reflected in the monitor had shifted here. Wherever here might be. Her desk, computer and bed were not there. Everything gone—except what had been in the reflection. Her cupboards, the bookshelf, clothing and the shoes on the floor. All gone.
What happened? she wondered anxiously. Who was playing such far-fetched tricks on her? Who even could play such tricks?
"Mum!" she shouted again. And again.
She closed the window so that the birds wouldn't fly off into the grayness around her and stepped back and turned.
And bumped into something. No, not something. Into somebody.
An ice cold chill cut through her.
The somebody shouted, making Tammy jump at the sudden noise.
"Snap!"
She knew the sound, the voice. It was so totally familiar. Because it was her own voice, but it hadn't come from her lips.
Very frightened, she tried to step away, but she was backed against the window. She couldn't escape.
She stared, slowly raising her hands to hide her face. Everything was happening too slowly. She stared at herself as if looking into a full length mirror, willing her hands to move faster.
Tammy was standing in front of her, and staring right back.
She was standing in front of herself.
In exactly the same bikini . . .
Exactly the same, but different.
Still holding her breath, she looked more closely. She looked herself up and down, her eyes searching the face of the strange Tammy. She was staring at . . . herself.
Never before had Tammy seen herself so beautiful, so perfect in every way. Her blond hair was almost white, like it had been bleached by the sun and so very shiny. It was the same length, down to her shoulders, but much thicker, more healthy looking. Her skin was smooth and youthful with no sign of the ugly pimple next to her nose.
But her likeness looked . . . wrong. It looked evil! Wicked even.
Speechless, she stared at the other girl. The girl had cried "Snap!" as if they were playing a game. The game!
Damn it, had she been sucked into her computer like a character in some fantastic science fiction story?
Impossible. Unbelievable.
But what else could it be? It must be so, because her identical playmate was standing in front of her—bikini and all.
And then the Tammy she was facing spoke again.
"Hallo, Tammy," she said. "I'm your alter ego. Your other you, or other me, or other I?" She smiled, but not in a friendly way, pausing before continuing: "Your perfect I, like you always wanted to be. Perfect like Rosette," said the smugly perfect face. "Only even more so."
"What? Where am I? Who are you? Am I dreaming? Am I inside my computer?" Tammy asked every question that crossed her mind, unable to wait for the answers.
It seemed as if the girl was gliding closer and closer without moving her legs.
"Oh no, you're not dreaming. And you're not inside your computer. You're inside a different world, the Alter Ego Dimension. A place where all living people's other selves are stored."
Tammy frowned, and the perfect Tammy continued to explain: "Whenever somebody is dissatisfied with his or her own self, like you were this morning when you saw that ugly zit next to your nose, their alter ego awakens here and then waits. The more you hate yourself, the more awake we become. The more dissatisfied you are with your life, the stronger we get. That's all the real you have to do so that the other you, that is me, can go to earth," she said. "The other you then takes over for a while. Your best friends and family hardly notice the difference. They usually think: 'She's changed. She's a new person'."
For a few moments Tammy tried to digest her alter ego's words.
"What? Do you mean . . . like when my father has been drinking?" Tammy wanted to know if she understood correctly.
"Our father," sneered the perfect Tammy. "Oh no, wait, I am you and you are me, thus my father. He is a fine example."
Tammy thought about her father. While her parents were still married, her mother used to say that her father became another person when he'd been drinking. It was not the person she'd married, and certainly not the man she'd fallen in love with. Did the other Tammy mean that the robust personality of her father was stored here in this Alter Ego Dimension? Had this alter dad awakened every time that her real father drank, to go to earth and afflict himself upon Tammy and her mother?
That made sense, because as soon as her father sobered up he apologized for his bad behavior. But if he was here, how did he know what his alter ego was doing? There obviously was a definite link between you and your alter ego.
"You're right," alter Tammy said as if she could read her mind, "and each time you put your best foot forward, it was me, doing it for you. I took over for a while." Then her voice changed, becoming more businesslike and threatening. "But now there is new technology, Sweetie . . . "
The beautiful face seemed to sneer and gloat at the same time. "It's now possible for me to take over from you for as long as I want. For as long as you, for as long as we, live. I don't have to come back to this boring place anymore. I can take your place on earth and you will be stored here . . . " she indicated the grayness that surrounded them, "forever." The alter Tammy's cruel smile was back. "I shall take your place on earth as the perfect me. Or you. Or should I say us? Except it won't be us anymore. It'll just be me."
Tammy went cold. This perfect Tammy was horrible. Her alter ego was planning to keep her here, a prisoner. How could she be so mean to . . . herself? She stared at her other self. Her perfect self. She was disgusted by what she saw. Did she really want to be that perfect?
It was so superficial. Perfectly pretty, but not perfectly nice. Her alter ego was perfectly horrible. She would rather have a few pimples now and then, thin hair and greasy skin, than be like the girl opposite her.
"What . . . what new technology?" she asked anxiously. She could feel the fear in her throat. Alter Tammy gave her the creeps.
"With the Snap game. With Skype, the internet, nanotechnology, cell phones, micro waves and everything. Just clicking on the "Yes" option brings any person here that is not satisfied with themselves. People don't need drugs or alcohol anymore to change or escape reality. When they think they're not good enough they can simply play Snap on the internet and in a blink they're here. Here where the alter ego takes over. And then voilá!" she threw up her hands theatrically. "The real person is stored here forever."
She glided even closer. Their faces almost touching.
"All your troubles will be gone. Look at me. I'm perfect. Like you've always wanted to be. Now I will become you. Your earthly self will have my perfection forever."
Tammy's blood raced against her temples. What now? She didn't want to be stored in this place forever. She didn't want a 'perfect' alter ego taking her place in the real world.
"But the window? Why is it here?" She had to play for time, because she had no idea how to get away or how to escape. Darn, she had to think! Her fear-numbed brain knew just enough to warn her that she must play for time.
"Oh, the window? That comes as a consolation prize. Everything reflected in the screen of your monitor can come along with you, so while you are here you have something to remind you of your old life."
The alter Tammy ran a finger down the real Tammy's cheek. "Thoughtful, isn't it? Something to remind you of what you've lost. The views, the animals, the sunny days and starry nights." She clicked with her tongue. "Enough talking. Time for me to take my place on earth. Things to do. Wayne's information still needs to be downloaded."
The alter Tammy looked like the cat that swallowed the canary. She was almost purring. "Cute little Wayne," she breathed his name provocatively, "he'll be glad to see that my pimple has vanished into thin air!"
Tammy felt both hands of her alter ego on her face, then on her throat. Ice cold fingers clasped her neck. So hard that she couldn't breathe.
Tammy grabbed the other Tammy's hands. At the same time she lifted her knee and struck her alter ego as hard as she could between her legs. Even as she lashed out she wondered if it would hurt to strike herself. It didn't. She felt nothing except the impact of her knee against the second Tammy's groin.
Alter Tammy squealed. The sound was distorted, empty and hollow, but the girl's hands held tight, keeping their murderous grasp around Tammy's throat. They pressed even harder.
Tammy felt her strength draining away from lack of oxygen. She knew she had only seconds before she would lose consciousness. She had to act now, break the grip or lose the battle.
Tammy was not the kind of girl who picked fights with other girls. Never before had she even wanted to slap someone, except, perhaps, Wayne this morning. But now it was different. She had to do something or she would die. On her mother's advice she had taken up martial arts lessons at the Mixed Martial Arts Academy. Her mother wanted to keep her safe in a South Africa plagued by a soaring crime rate. Now she must use her knowledge of self-defense against herself. Her other self. Because of the lessons, she knew exactly how to free herself from this grip . . .
"Ah, you're thinking about mixed martial arts," snapped alter Tammy panting. As fast as lightning she released Tammy's neck and grabbed her underneath her armpits. Tammy sucked in air. At last. Oxygen.
"You're forgetting that I know what you're thinking, even as you're thinking it," alter Tammy said mockingly as she tried to pull her arm over Tammy's head.
Tammy ignored the voice as she worked out what her enemy was doing.
Hell's bells! she exclaimed inwardly as she realized the danger. Alter Tammy wanted to do the 'guillotine strangle' on her. If she succeeded, Tammy would lose consciousness for several seconds. Time enough for alter Tammy to store her here? No way was she going to let that happen. She must be strong. Enemy Tammy must not succeed.
Unable to apply the 'guillotine strangle', alter Tammy tried to put her arm behind Tammy's neck to cut off her air supply. Again Tammy parried, quickly putting her arm between her own neck and the alter Tammy's arm. She knew exactly what alter Tammy planned, because they both knew the different kind of grips taught in mixed martial arts.
Again Tammy lifted her knee, but this time she hadn't enough strength left for a powerful blow. It felt as if alter Tammy was sapping her strength. She didn't know how long she could withstand her onslaught.
"I . . . I didn't like the pimple, that's all," Tammy stammered, trying to convince this other self that she really liked and enjoyed her life. "I love my mum's house. I like Wayne. I even like Dad when he hasn't been drinking. Please, let go of me. I'll never, ever be discontented with myself again . . . "
Tammy was interrupted by a loud and ugly laugh. "I like your life on earth, too. Do you think it's pleasant to be stored here, in this grayness? With nothing to do except watch how you're wasting your life? My life. Especially now that we alter egos can think for ourselves and know that we don't have to hang around waiting for little snatches of real life? Do you think we like not existing for long periods of time? I want your life on earth and you are not going to stop me. Now you're here, in my world, your better self will overpower you sooner or later." Alter Tammy emphasized the word 'better'. "So, the quicker you lose your strength, the quicker we can get this over with. Nobody will miss you anyway, spotty-face. Not even our dear mother will know you're gone."
Alter Tammy squeezed harder. Tammy could feel her arm squashed against her neck. She couldn't push her rival away. She could still breathe, but she was losing her strength quickly. It was like watching a drowning scene in The Titanic movie. The actor would struggle slower and slower until he was too tired to fight anymore. Then he would surrender and slip below the surface.
That was how she was feeling now. She wanted to surrender to the mass of grayness that surrounded her . . .
She had fought so hard, for so long. Yet still alter Tammy was winning. Her perfect self was the stronger.
She may as well concede defeat . . .
"JIEJAJIEEE!"
The sound was blood curdling.
Chapter Three
AYNE BASSON GOT OFF his metallic blue motorcycle, lifted the silver helmet from his head with both hands and walked with long, hasty strides towards Tammy's mother's one story house. He was still in his white cricket clothes with matching plain sneakers on his feet. He needed to go home and start his assignment, but without the information Tammy was downloading from the internet, he couldn't finish it. He knew it was wrong and risky to postpone his assignments to the last day, but he was addicted to risk. He always worked better under pressure. His mother would often complain: "Procrastination is the thief of time," but he rarely heeded her advice. Today was his last day. Tomorrow the science teacher would give him detention and then he would be kept after school every Friday afternoon until it was done.
Heck. There were much better things to do on a Friday afternoon than to sit in detention.
He took the chocolate bar from his pants pocket, hoping it hadn't melted in the heat of the day. Chocolate stains on cricket whites would look too awful for words. He ran his fingers through his rather long, dark blond hair. One of these days some teacher would, no doubt, complain about the length of his hair and he'd get a detention for that, too.
He rang the doorbell. He could hear footsteps on the wooden floors inside the house and it sounded as if Tammy's mother was coming. Not Tammy.
"Hi, Wayne," Tammy's mother gave him a friendly greeting as she opened the door. Mrs. Delport was a very pleasant lady, not like Rosette's mother. She was unfriendly, cold and a bit surly.
"Hallo, Mrs. Delport," he replied with a warm smile. "Is Tammy here?"
"Come in, Wayne," Mrs. Delport answered. "She had a swim earlier, but I think she might be in her room doing homework. I'll go and see. You wait in the TV-room. Help yourself to some juice . . . "
Wayne went into the kitchen and poured himself a glass of orange, then made his way to the TV-room, sat on the sofa and stared at the black screen of the television. It reflected much of the room like a very dark mirror. He watched himself down the juice, and wondered if there was any cricket on the box today. Would it be rude to switch the TV on?
Deciding against watching the cricket, he put the slab of chocolate on the coffee table and looked at his white sneakers. He'd scuffed them on the bike, but it didn't show too badly.
"Tammy!" he heard Mrs. Delport calling.
Then she called again. "Tammy, where are you? Wayne's here."
He waited, aware of Mrs. Delport moving about upstairs. Where was Tammy? More importantly, had she done the download for him?
Oh heck, he thought impatiently, Tammy had let him down. He was going to get detention because of her. She'd promised, but let him down. He could feel it in his bones. If Tammy was getting him back for laughing at the bulge on her face, then he was going to take the chocolate back with him. Damn it. He was always doing something stupid when it comes to girls. Now Tammy was taking her revenge.
"Wayne." Mrs. Delport was standing in the doorway. There was a worried expression on her face. "I can't find Tammy anywhere. There's a damp towel over the chair by the desk and her computer is still on, but she's not in her room. She never leaves the PC on for long. She's not gone back to the pool either."
"Did you hear her go out?" Wayne asked.
"No," Mrs. Delport answered. "She can't have gone out, because she's still in her swimming-costume, it's not in her room or in the bathroom."
"Would she go anywhere dressed only in her costume?" Wayne wanted to know.
"No, goodness me, only if she pulled something over it," Mrs. Delport frowned. "But she didn't say anything to me about going out. I was in my study the whole afternoon. She always tells me if she's going out and I would see her walk past my window."
"Oh dear, she had to download information for me from the internet." Wayne voiced his concern. He didn't think Tammy would be gone for long, but he needed to hurry now. "May I go and look if it's in her room somewhere? I can't afford to wait for her much longer. Please, Mrs. Delport?" Wayne asked and stood up. He took the chocolate and put it back in his pocket. Just in case.
Together they went upstairs to Tammy's room.
Wayne went in and sat on her chair. He clicked the mouse. The computer was still locked into the web page where Tammy was researching his information. But where was she then? He took his cell phone from his pocket and tapped in her cell's number. He was startled as a phone sounded right next to him. Wayne quickly lifted some papers lying next to the keyboard and saw Tammy's phone.
Mrs. Delport grabbed it.
"Tammy never leaves the house without her phone!" she said, sounding even more worried.
"Without her phone she won't be far, Mrs. Delport," said Wayne, trying to reassure Mrs. Delport. "Perhaps she's hiding from me because of the pimple."
"What?" Mrs. Delport looked puzzled.
Wayne told Tammy's mother what had happened at school that morning. "I'm not proud about what I did, Mrs. Delport and I'm planning to apologize, but I need this information today. May I download it, please? I'll be ever so quick, and I think Tammy might show herself as soon as I leave."
"Okay, you go on," Mrs. Delport said. "I'll call the neighbors and ask them if Tammy is there playing with their puppies. She loves playing with them. There are four Jack Russell pups next door."
Mrs. Delport left the room.
Wayne began reading through the information on the screen and started printing. After a while he realized it was beginning to get dark, but he had enough information to produce his assignment.
He was surprised, and a little angry, that Tammy had still not shown up. They had arranged to meet, and she knew what time he'd be here. Was she that ashamed of a spot on her face?
Wayne put the loose papers inside his cricket shirt, went downstairs and walked towards Mrs. Delport's study. He overheard her talking to someone about Tammy. He could tell from the voices that so far nobody has seen her.
As Mrs. Delport hung up, Wayne cleared his throat to get her attention. She looked at him.
"I'm going to call the police," she said and her voice trembled slightly. "Nobody knows where she is. I've called nearly all the numbers on her cell phone and all the neighbors. It's getting dark. I don't dare wait any longer."
"I'm sorry, Mrs. Delport," Wayne said. He thought Mrs. Delport was overreacting. Parents often did. "But I must go home now. I'm sure Tammy will show up soon. I'll phone later. I'll apologize to her for being such a pig this morning. Good luck and good-bye."
Mrs. Delport walked Wayne out and closed the door behind him. Wayne took his crash helmet, pulled it on and slipped one leg over his bike. He turned the key, revved the engine and drove off with screeching tires while his sneakers hung just above the road surface. The wind lashed his hair against his cheeks, his clothes billowed out as he took the first corner at almost the speed limit.
This is the life! he thought, savoring the moment.