The Apothecary's Widow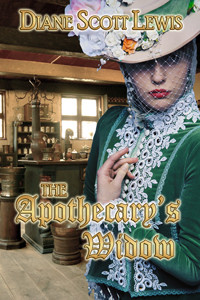 Five Star Review from Historical Novels Reviews
Set in 18th century Cornwall, all Jenna Rosedew's husband left her was an adolescent apprentice and a struggling apothecary shop. When Lady Pentreath's death is deemed murder, Jenna is the first person to come under suspicion as she prepared all the dead woman's medicine. But why would Jenna poison someone at the risk of her own livelihood? When Branek Pentreath has reason to call on Jenna, he informs her is he is putting up the rent of her shop, or does he too think she killed his wife? Jenna finds herself attracted to the man, but any connection between them could be construed as motive for murder.
Ms Scott Lewis' portrayal of a couple trying to come to terms with conflicting emotions in an unsympathetic setting is thoroughly enjoyable. Jenna is no simpering female with no clue as to where to turn, she has her own methods of protecting her livelihood, and being accused of killing one of her clients isn't something she is going to accept without a fight.
Branek Pentreath is also gravely misunderstood. He is not simply a heartless, ruthless mine owner, but a man of principal struggling with a failing business, suspicion from his neighbours and a growing attraction to a woman he shouldn't even have noticed.
Ms Scott brings all the threads of this heart-warming story together into a satisfactory ending. I hope to hear more about Branek and Jenna.