The Borman Factor (A Nick Borman Thriller Book 1)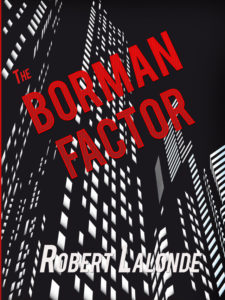 A member of the wealthy and influential Piermont family is murdered in broad daylight on a bright sunny day in Suburban Toronto. Two weeks after the brutal assassination authorities still have no witnesses, no leads and no motive for the crime.
Computer chip manufacturing mogul Bill Piermont hires Nick Borman, a specialist in corporate espionage with a reputation of getting the job done, to bring the killer to justice. As a tangled web of deceit unfolds Borman discovers greed and corruption at the highest level.
From city hall to the depths of Toronto's criminal underworld, Nick Borman is in hot pursuit of a cold blooded killer. Will Nick get the killer or will he become the next victim?
The Borman Factor is the first book in the exciting new mystery series of Nick Borman thrillers.
Chapter Excerpts
Chapter 1
Vasily Orlov was in a good mood. He was always in a good mood when he was on a job. Vasily was an independent contractor and he took great pride in his work.
He also loved the money. But truth be told, he'd probably still do the odd job simply because he loved his work so much. He firmly believed that the world would be a better place if more people took pride in what they did.
Vasily was a specialist. People called him in to deal with particularly difficult problems and he made the problems go away. It was a skill that not many people had. He fancied himself a magician of sorts; a special kind of magician who could make problems disappear permanently.
Today's problem was standing just a few yards in front of him.
Terry Reynolds was walking back to his car after a lunch meeting with a friend. Terry was a car buff from as far back as he could remember. He couldn't afford a true high-end sports car so he went all in for a Dodge Charger SRT. It might not be the most expensive car, but it was one of the fastest production sedans ever made.
The black Charger had a supercharged 6.2L HEMI V8 SRT Hellcat Engine that put out 707 HP and 650 lb-ft of Torque. It was equipped with dark bronze forged aluminum wheels and was finished with black Nappa leather seats to complement the exterior.
Terry couldn't keep from smiling every time he approached the car. He was wearing such a smile when he noticed the admiring look on the face of the man that was walking toward him.
"Is that an SRT?"
"Yeah." Terry's smile widened a bit.
"I hear they're hard to hang onto when you open them up."
"It's got spirit, I'll say that." Terry's Irish accent was always a bit more prominent when he was excited or enthusiastic about something.
The man bent at the waist to take a look inside at the car's dash. Terry's attention was drawn to a small area on the hood that looked like it was lightly scratched. Some careless passerby had probably rubbed the hood with their hand. When will people realize how soft automotive paint is? Oh well, he would have to buff it out later.
Had he not looked away for a moment, he might have caught the glint of light that reflected off the metal as the knife was thrust upward into his chest. The four inch blade drove up just under the rib cage on it's way to it's intended target. Before the look of shock had fully registered on Terry's face, Vasily had stabbed him two more times, puncturing both lungs before driving the blade through the reporter's heart a second time.
Terry Reynolds wore a puzzled look on his face as the realization of what just happened slowly sunk in. He hadn't felt a sharp, hot pain, as you would expect from being stabbed in the heart and lungs. It had felt less intense and much more subtle than that.
With every moment he became shorter of breath. Blood sprayed from his mouth with every exhalation. Terry realized he must be in shock and was probably dying.
Vasily guided his victim's body down to a seated position against the front wheel. He looked around to make sure no suspicious eyes were turned his way before he removed the reporter's watch and wallet. He stuffed the items in his pockets and straightened his jacket as he casually moved away from the body.
Vasily couldn't help smiling a bit as he replayed the act in his mind. One more magical performance by the master. He kept walking to the far end of the parking lot where his car was parked. He made one final check of his sleeves and the front of his shirt to make sure there wasn't any telltale blood stains. There weren't. Just another day at the office for the magician.
Thanks for reading and I hope you like the book, myBook.to/anbt
Robert Lalonde