The Farewell Season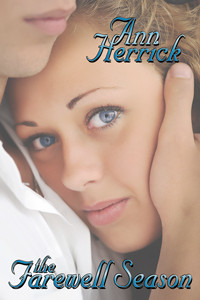 Eric and Glynnie go from butting heads to grudging friendship to something more ….
Eric used to think he'd live forever, but not anymore. As football season starts, he hopes he can live normally again after the death of his father. But his refusal to face his grief results in anger at his coach, fights with his sister, resenting added responsibilities, and disillusionment with football. It takes a special relationship with Glynnie, who is struggling with the divorce of her parents, to open his heart to love again.
Chapter Excerpts
Chapters 1-3
The Farewell Season
By Ann Herrick
ISBN:
Published By:
Books We Love Ltd.
Chestermere, Alberta
Canada
Copyright 2014 by Ann Herrick
Cover art by Michelle Lee Copyright 2014
All rights reserved. Without limiting the rights under copyright reserved above, no part of this publication may be reproduced, stored in or introduced into a retrieval system, or transmitted, in any form, or by any means (electronic, mechanical, photocopying, recording, or otherwise) without the prior written permission of both the copyright owner and the publisher of this book
* * *
Dedication:
In Memory of Daddy, Eddie, and Puff
Chapter One
I slid the DVD into the player and wondered if I had the nerve to watch.
My finger rested on the remote. Usually, I would have watched this thing fifty times in the past couple of weeks.
"Crap, just do it." I pressed the play button. Suddenly, there I was, watching myself playing football. It was just last fall, but it seemed like a million years ago. In a way, it kind of was.
I couldn't believe how skinny I looked. Not that being six-two and one-hundred-eighty pounds is usually considered all that puny, but for an inside linebacker who wants to play college football, it is.
I watched our game against the Agates. We beat them ten-zip. Coach Pickett said our defense was the best he'd seen all season. We overplayed the pass a couple times and got burned on the run once for forty yards, but we hung on and held them scoreless.
I watched myself run around the field and wondered if I could ever get so fired up again. Was that really me charging the running back, about to tackle him and make him fumble the ball?
Then it happened. The ball popped out of the back's hands, the crowd roared—and I heard it. My father's voice.
My breath froze in my throat.
I always heard my Dad yell when I made a big play. He'd let out a scream as loud as thunder. But I forgot I'd hear his voice now. I hadn't heard it in four months.
Not since Dad died.
I coughed to get rid of the icy lump in my throat and hit the pause button.
"Oooh!" My sister, Kirstin, bounced into the room and eyed the still picture. She had to know what I was watching, and why, and the significance of it, but all she said was, "Reliving your glory days, Eric?"
"Just shut up!" I lunged for her as she made a run for it. I almost grabbed her long braid of silvery-blond hair, thick as the climbing rope in P.E., but I tripped over the cat. Before I knew it, Kirstin flew out the door.
Pissed as I was, I wasn't about to go chasing her down the street.
I zeroed in on Starburst. Suddenly, she was just one more female in a whole houseful that I had to put up with. "Dumb cat! Get outta here." I swung my foot in her direction. She flew up the stairs.
I let out a long, loud sigh. Why take it out on Starburst? So what if Kirstin was brattier than usual lately? I didn't have to lose the cool I'd so carefully cultivated over the years. I sat down on the couch and picked up the remote. When I looked at the TV screen I saw myself frozen in mid-air, fist raised over my head in celebration.
I hesitated, then restarted the DVD and watched as I flung myself on top of Jamar Pickett, who'd recovered the fumble I caused. Dad's voice still mingled with the noise of the crowd. I tried to swallow the cold lump in my throat.
I started getting some interest—not a lot, but some—from college coaches when I was a sophomore. The whole process has been amazing, talking with coaches, getting my film out there, checking out schools I was interested in. Last year tapes, packets, brochures, and other various flattering materials from recruiters started arriving, some addressed to me, some to Mom and Dad. The occasional phone calls were part of the deal, too.
Though I haven't exactly been highly recruited, I have shown up on some websites and in some rankings. I used to picture it, developing into a great college player and then by some miracle playing in the NFL. Okay, that's every football player's fantasy, but, hey, why not dream big once in a while? I thought Dad would be advising me about where to go for official visits once I started my senior year, but now ….
"I finally sold Mrs. Carlson that whale-oil lamp." Mom trudged in from her antique store built onto the side of our house. Mom's always been a bit of a worrier, but ever since Dad died she's been tighter than a guitar string when it comes to profits.
I punched the stop button, ejected the DVD, and carefully placed it in its case. It's supposed to last forever, but what if it gets scratched or broken? Or it could get lost. Maybe I should make a copy of it.
"I wondered if she'd ever get around to actually buying that lamp!"
"Mmm." I knew we were okay financially for a while, because Mr. Lindquist had bought out Dad's half of their insurance agency. I also knew Mom was nervous about the long haul. But, still, it bugged me when she wanted to "talk shop." She never used to discuss business very much with me, but now that she was obsessed with her profits she told me about every sale in never-ending detail.
"A hundred forty bucks. And about time!" Mom shook her short, dark-gold curls in that anxious, worried way she'd developed lately. "She's been in at least three times to look at it."
I stared at the wall, trying to play possum.
Mom plopped down next to me. She took a deep breath, as if she was going to relax a little.
I jumped up and headed for the kitchen.
Mom got up and followed me.
I stuck my head in the refrigerator and focused on the light, hoping she'd go away. She was a real Helicopter Mother, always hovering. There are even home videos of me around one-year old, just after I learned to walk, careening around the back yard. In every shot, there's Mom, right behind me, hands out, waiting to catch me in case I fell, as if I'd suffer great bodily harm landing on the grass.
"What are you looking for?" Mom ran her hand across my hair. "Can I get you something? Fix you a snack?"
I slammed the refrigerator door and squirmed to get away from her. "No. I'm fine. If I want something, I can get it myself."
"You sure? I could …."
"Yes! I'm sure!" I brushed past her. I wanted to evaporate, so she couldn't keep after me.
I yanked open a cabinet door and found myself staring at a bag of corn chips. I snatched that, and shoved a fistful of the chips in my mouth. I couldn't explain it, but I just got totally tense around Mom. Especially when she ruffled my hair.
Mom sat down at the kitchen table. She had that intense, probing look in her eyes, the one where it seemed as if she wanted to read my mind. "So … how's your day been going?"
I felt my skin tighten. "I'm going to my room."
"Can't you sit down with me for five minutes and talk about your day?" Mom called after me.
I ran up the stairs. On the way to my room I caught a glimpse of Mom's room with the door open. Though she didn't talk about Dad, not his death or our memories of him, it was like a shrine in there. Her own private shrine. Dad's picture was everywhere. His watch, comb, and loose change were still laid out on his dresser. They'd been college sweethearts, as Mom put it, and had gotten married the week after they graduated.
I quickly turned away and hurried to my room, where I flopped down on the big old brass bed. A brass bed. Cripes, Mom and her antiques even invaded my room. I pushed aside some dirty underwear, and found my CD player. I wanted an iPod, but with money being so tight …. I blasted the music, loud enough so Mom wouldn't even try to talk to me. All I wanted was to be alone and feel that everything was back to normal.
I stared at the posters I'd tacked up on the walls of the pitched-roof alcove. One was a football poster I'd bought at the university bookstore in Eugene.
The other was a blow-up of one of the cartoons I'd submitted to the school newspaper. It'd sort of slipped past Mr. Remail, the faculty advisor, and caused a mild uproar. Principal Lewis had decided there was "too much display of affection" at school, so she declared a No-Kissing rule.
I'd drawn a cartoon of Mr. Tosh, our Vice-Principal, arresting Ms. Lewis as she more-than-passionately kissed her husband goodbye when he dropped her off in front of the school. Not exactly subversive, but I got a major lecture and a First Warning for it.
Dad laughed when he saw the drawing, and said I could have a good future as a political cartoonist. I thought of my drawing as just a hobby, but it was cool to see Dad beam with pride the way he did. I had to shake off that prickly feeling in the back of my eyes. Thinking about Dad should make me feel good, not bad.
It was probably because being the only guy in the house with two hormonal females totally drove me crazy. Thank God football practice started tomorrow. I'd be with the guys, sharing some laughs, and away from all the estrogen at home. I'd put on the pads, deliver some hits, and then things would be back to normal.
Yeah, it would feel good to bury myself in football.
The phone rang. I didn't bother to answer it. It was probably for Kirstin. Ever since she hit high school last year, she managed to grab the phone no later than the second ring. She was always yakking with her girlfriends or the love-sick goofs who called just to hear the sound of her voice. She's been griping for ages about how she isn't allowed to date until next month, when she turns sixteen. She's lucky I'm not in charge of her love life. I'd ground her until she was at least twenty-six.
A few minutes later there was a knock at my door. "Eric, it's for you!" Kirstin shouted.
I turned off the music. "What's for me?"
"The phone," she said, as if it should've been obvious.
"The phone rang ten minutes ago! I told you not to bug everyone when they call."
"I wasn't bugging him. I was talking to him!" Kirstin yelled. "I can talk to a guy if I want to!" I heard her stomp down the hall and slam the door to her room.
I picked up the phone and waited to hear Kirstin hang up. I still couldn't believe Mom canceled my cell phone to "save money." I almost growled into the receiver. "Hello."
"Hey, Eric. Great party last night. You should've been there. Great food! I must've gained at least five pounds scarfing down all the berlinerkranser cookies Lars Sundstrom stole from his Mom's stockpile for the Scandinavian Fair."
I almost laughed as Rolf paused to breathe. Even if I hadn't recognized his voice, I'd' have known it was Rolf Horst by the way the torrent of words flowed through the phone.
"Too bad you weren't there. I know you said you might not make it, but … I mean, I understand … but, well too bad you weren't there." All summer Rolf had tried to get me to do stuff, but I just couldn't.
"Yeah … well." Partying and being with the guys used to be my favorite thing to do. Not that I really got trashed or anything. Rolf either. He was always too busy fueling his six-foot, six-inch, two-hundred-eighty-pound body to ingest or inhale anything toxic. Ever since that drunk driver wiped out Dad, I'd totally lost interest in partying.
Besides, I hadn't wanted to run into Hedy Theodore. I changed the subject. "Hey, sorry about Kirstin. I've told her a zillion times not to bug my buds. She seems to really be zeroing in on you lately."
"No problem," Rolf said. "Kirstin's okay." He paused for a millisecond. "Need a ride to practice tomorrow?"
"Thanks, but I think I'll walk. I need the exercise." I forced a small laugh. What I really needed was to be alone before I faced all the guys, but I wanted Rolf to think I was just kidding around.
I guess it worked. He laughed his big, strong laugh. "Hey, call me if you change your mind about a ride. And … and take care."
"Yeah … sure." I let out a shaky sigh as I hung up. Rolf was not only the kind of guy to actually say "take care" without sounding like a dweeb, he meant it too.
After a while, I got bored hiding out in my room. Besides, the aroma of butter logs, rosettes, and spritz cookies drifted up from the kitchen. During the Scandinavian Fair, business more than quadrupled at Mom's antique shop, and to keep customers coming back she always baked up a supply of free cookies for the store.
I decided to bug her and Kirstin by grabbing a few. I went downstairs and sauntered into the kitchen. When I was so little that I could barely see over the old drop-leaf table, I still insisted on helping make cookies for the fair. Since high school and summer football practice, however, I'd slacked off on the baking.
Kirstin was up to her elbows in flour and at first so focused on a batch of butter logs that she didn't notice I was in the room. When she did finally look up and see me, her Nordic blue eyes opened wide. "Eric Nielsen, don't you dare touch one single cookie!"
"Who me?" I aimed my thumb toward my chest. For a second I stood there smiling innocently. Then I scooped up a half-dozen still-warm butter logs. "I'd never take just one!"
"Hey!" Kirstin snapped a towel at me.
She missed.
As I ran out to the front porch, I heard Mom pull Kirstin back into the kitchen. "Never mind about Eric," she said. "We've got to finish making these cookies."
I settled onto the porch swing with a warm butter log practically melting on my tongue, feeling smug as I listened to Kirstin's usual protests about how I always got away with everything. It was music to my ears. I took greater pleasure than ever tormenting her.
I sat and watched cars go by. I liked living in town. It was closer to the action, or what passed for action around Crystal Lake, Oregon. The town had one lake, two covered bridges, lots of historic houses, vast fields, and plenty of fresh air. Just an ordinary small town. What used to be a main state highway ran through it, and it was still a busy road.
I didn't know how Rolf could stand living out on the edge of town, but growing up in the middle of a garden nursery seemed to be his idea of heaven. His family had been in the seed and nursery business for three generations. Rolf was going to make it four.
It was weird to think my family was down to one generation of males. Me.
I wandered back into the kitchen and found Mom and Kirstin packing cookies into tins. Kirstin saw me eyeing the spritz cookies and slapped a lid on a tin she'd just filled. "You know, Eric, if you're so interested in these cookies you could've, like, helped bake them!"
"Now, Kirstin." Mom brushed a smudge of flour off her arm. "Eric has done his share of cookie baking over the years. He had to work full time this summer, and preseason football practice starts tomorrow. He doesn't have time."
"Oh, stop making excuses for him." Kirstin stared right through me. "You so always make excuses for Eric."
"Now, Kirstin …." Mom sighed.
I gave Kirstin a smug smile, just to bug her, even though I knew she was right. Mom always made excuses for me. But now I was almost eighteen. I didn't need my mother defending me. Still, anything to annoy Kirstin. I increased the wattage on my mocking smile.
The buzzer sounded, indicating a customer in the antique store. Kirstin waited until Mom went through the kitchen door into the shop, then threw a sponge at me.
"Missed!" I said. "You always were a lousy shot." I laughed as I ducked out of the kitchen.
I heard Kirstin muttering under her breath, but she didn't come after me. She was probably figuring out a new place to hide the cookies. Even if they weren't for the fair, she'd hide them from me. I always accused her of being stingy. She claimed she was generous, but I'd eat them all if she didn't stash them somewhere.
I thought about trying to watch more of last year's games. Dad always recorded them all, and I always studied them with him before practices started. I decided to mow the lawn instead.
I'd worked for Pappy Pratt six days a week since school got out. I figured we could use the money, and mowing, raking, and pruning turned out to be a good way to keep in shape. Pappy was a short, wiry, grizzly guy in his late seventies. He could go all day, his lined, leathery face sweltering in the hot sun. At the end of each afternoon he'd clap his hand on my shoulder and say, "Eric, I think we put in a good day's labor."
I'd go home, shower, bolt down several bunches of sweet red grapes, eat supper, and zonk out for at least an hour. Most of the time I didn't even go out, just read or watched a little TV and fell into bed. But I knew Pappy went home, had supper with his wife, and tended to his own few acres of land.
I wondered if I'd be working that hard when I was in my seventies. I wondered if I'd even live to be in my seventies. There was a time when I felt as if I'd live forever. Not anymore.
"C'mon, dammit!" I started the ritual of pulling the starter cord on the mower. Dad had always been the one to mow the lawn. This summer I just sort of took over without being asked. I told myself that this time the mower would start right away, but it always took a couple dozen pulls before it caught. After about the tenth, I stopped to wipe the sweat off my forehead.
I saw Mom peek out of her shop window. She'd mentioned several times how long the grass was. She and Kirstin did about ninety percent of the yard work. They loved puttering around outside. I'd helped plant trees and large shrubs, and I knew the names of most of the plants, but Kirstin was the real expert. She wanted to be a Master Gardener someday. That, or a chef at some famous restaurant. She loved the Home and Garden channel, especially Landscaper's Challenge, and watched tons of cooking shows too, from Rachel Ray to Wolfgang Puck to Amy Finely.
Even though I could cook and garden, Kirstin was much better at both. Same with the piano. We'd both had lessons, but when it was obvious how good Kirstin was, I quit and zeroed in on sports. I didn't like to do stuff where Kirstin could outshine me. Athletically, she could walk and chew gum at the same time, but that was about it.
"Start, you stupid piece of junk!" I gave the starter cord another tug. "It's too hot for this crap!" One more pull and—finally—the mower started. We had almost an acre of land, but fortunately, less than half was grass.
The back yard was a cool oasis that Mom and Kirstin proudly called their shade garden. Under a towering canopy of fir and oak trees they'd planted hardy shrubs, ground cover, and native woodland flowers all pulled together with winding, moss-covered paths. Way in the back was a small man-made—well, Mom-and-Kirstin-made—pond. Filled with lily pads, lotus plants, and goldfish, it was my favorite spot, though of course I'd never tell Kirstin that.
Suddenly, there was a humongous whine, and then the mower stalled. "Shee-it! Now what?" I checked around and found a piece of wire caught in the blades. I grabbed it and gave it a good yank. "Aaaaaah!" I got nothing for my effort but a thin stinging cut. I kicked the mower.
The mower sat there, silent, the wire caught in its blades as tight as ever.
It took me twenty minutes of sweating and swearing to carefully work that wire loose, restart the mower, and finish mowing the lawn. Dripping with sweat, I headed for the bathroom to take a shower. There, standing in the steady stream of heat, enveloped by the steamy mist, I felt removed from myself.
For a few minutes, I just let my mind float. Then I lathered with blue Zest and tried to think about tomorrow's practice. My thoughts drifted back to my freshman year. I didn't worry about Life then. I was too worked up trying to get playing time, flying when I got it, soaring when I made the starting lineup.
Back then high school stretched ahead of me like an endless horizon. Now, I had one year left. Where did the time go?
I turned the water to cold, so cold my skin tightened and shriveled. I stood there until I was afraid my nuts would freeze off. Then I stepped out of the shower into the cocoon of steam filling my lungs and fogging the mirror. I felt as if I were invisible, as if my molecules were floating around the room just like the particles of steam.
"Hey, Eric!" Kirstin pounded on the door. "Quit hogging the bathroom!"
My mind snapped back into my head with a clank. Nothing like a sister to bring you back to mundane reality. I wrapped a towel around my waist, opened the door, and, on my way out, flicked water in Kirstin's face. "It's all yours."
Kirstin stormed in and slammed the door behind her.
"You don't have to get so steamed up about it," I said, enjoying my own pun. I still had that old ability to torment Kirstin.
At least some things never changed.
Chapter Two
The next morning I woke up after having the same kind of fitful, dreamless sleep I'd had for the past four months. It was just barely light out. Too early to get up, too late to try to go back to sleep. I stared at the ceiling.
Although all I moved were my eyelids, Starburst knew instantly that I was awake. She trotted up my legs and onto my stomach. I'd thrown back the covers during the night, so her claws dug in as she peddled on my stomach.
"Ouch! Cut it out!" I swatted Starburst's paws.
Undeterred, Starburst strolled across my chest and started licking my chin. Those warm, wet scrapes were just about the only physical contact I'd had with anyone since I broke up with Hedy Theodore. For a couple of seconds, I let Starburst get away with it.
Then I sat up, and Starburst rolled down my chest and onto the bed. "Pest." I scratched her chin before opening the window. "Out ya go."
With a quick meow, Starburst jumped onto the roof of the porch and started her morning ritual of managing her fur. Sometimes I envied her. What a life. Sleep, groom, eat, stare at a bug, chase a butterfly. Repeat. Not a care in the world.
Suddenly, my alarm went off. I jumped like a puppet on a string. I whacked the alarm button. Why did I even bother setting it? I wondered. I always woke up before it went off.
Then I remembered. It was the first day of practice. As I pulled on my green shorts and T-shirt it dawned on me that I wasn't feeling the usual early breeze. The air was still, and there was no morning chill. Heat waves were rare in this part of Oregon, but when they did come it always seemed to be during two-a-days. It was the middle of August, three weeks before school started, a time to get back into a football mindset without the distraction of classes.
Maybe the weather was why I didn't have that fever pitch of excitement I'd always felt on the first day of practice. Maybe after I got to school the rush would come over me. Meanwhile, maybe some food would help.
I caught a whiff of blueberry kakar. That lured me down to the kitchen where Mom was keeping vigil over her sour-cream biscuits. Except for the periodic cookie sprees and the occasional use of a few family recipes, Mom didn't really like to cook. The blueberry kakar was something she did for special breakfasts, such as the first day of football practice.
"Smells good," I said, only half looking at Mom.
She flashed me a big smile—too big—and said, "I've got to run off to an estate sale in Eugene in fifteen minutes. But I wouldn't miss making your traditional blueberry kakar."
I swallowed hard. Memories crashed down on me. Mom making kakar while Dad ran around the kitchen brewing coffee, pouring juice, making his always-optimistic predictions for the new football season. Sometimes, he seemed to get even more excited about it than I did, and I got pretty excited. At least I used to.
At that moment Kirstin strolled into the kitchen wearing a shorts-and-halter outfit I'd never seen before. I let out a low whistle. "Fire-engine red. Who're you trying to impress, Kirstin? The goldfish?"
Kirstin stuck her tongue out at me.
"Oooh. A vicious retort."
Kirstin ignored me.
It was hard to keep bugging her when she didn't respond. When she was little, I could get a major rise out of her just by pointing my finger in her face or calling her "Gooch." Or I'd tell her I'd sneezed in her milk and she'd run and tell Mom, who would then force me to confess that I had done no such thing. When Kirstin got to be ten or eleven, however, it seemed to occur to her that by not reacting to my "tormenting," as Mom called it (Dad referred to it as "teasing"), I'd get bored and stop. That did take a lot of the fun out of it, but occasionally I could still hit the mark.
The timer went off. Mom peeked in the oven. "Ahh, perfect."
Kirstin disappeared into the pantry. Mom grabbed a potholder, pulled out a sheet of just-golden kakar, and slid them onto a platter. I busied myself by pouring the orange juice.
Then I sat down and waited for Mom and Kirstin to come to the table. As Mom poured herself a mug of coffee, Kirstin walked out of the pantry carrying a butter dish that she placed on the table. "I made this last night to surprise you."
A football-sized lump formed in my throat. I rubbed my hands together and tried to make light of it. "Mmm, homemade butter on blueberry kakar. This has gotta be the best breakfast in town."
"Oh, Eric …." Mom beamed.
Kirstin looked pleased. "I always did make the best butter."
I would've argued with her, but I was afraid my voice would crack if I did. Dad started the butter-making tradition when we were little. On holidays, to keep us busy and out of trouble, he poured a little whipping cream into two jars and told me and Kirstin to shake them. Whoever made butter first was declared The Winner, so the cream-shaking competition was fierce.
There never was any actual prize for being first, but you'd think a million bucks was hanging on the outcome the way we went at it. Then, during Thanksgiving dinner or Christmas dinner, or whatever the occasion, we'd watch to see whose butter was being eaten up the fastest. That always ended in a tie. It was years before it occurred to either one of us that the grownups knew their butter consumption was being monitored, so they intentionally kept it even.
Kirstin slathered a blueberry kakar with her homemade butter and took a bite. "Mmm, this is so good. Remember how Dad used to always—"
"Kirstin!" I said. "Would you … would you pass me the butter before my kakar gets cold?"
Kirstin handed me the butter. "As I was say—"
"Omigosh!" Mom jumped up from the table. "I want to be one of the first at the estate sale. There's supposed to be a large collection of depression glassware. I could make a pile off that stuff." She almost knocked over her coffee mug as she grabbed her keys and purse. "I don't know how long I'll be gone. Watch the store, just in case. I can use every customer I can get." She started for the door, then stopped and came over to me. "Have a good practice, Eric."
"Yeah, sure." I tried not to flinch when she kissed my cheek.
After Mom left, I wolfed down a couple more biscuits, polished off my orange juice, and gulped a big glass of milk. When I was done, I said, "Thanks for making the butter, Kirstin."
Just to make sure she didn't get too swell-headed about it, I leaned over and let out a super-sized burp in her right ear.
"Oh, gross!" Kirstin shot me a look of utter disgust.
I grinned and ran upstairs to grab my gym bag. I had to hurry if I was going to make it to practice on time. I dashed back downstairs and started out the door.
"Where are you going?" Kirstin asked, her bright blue eyes opening wide.
"Duh, where do you think?" I held up my gym bag.
"But it's early. Where's … that is, aren't you getting a ride?" Kirstin peeked out the window toward the driveway.
"Your concern is touching," I said. "But I can walk. I've been doing it since I was ten months old."
"Oh. Well. Will you be coming home for lunch?"
"I don't know. I guess so. Unless I grab something at the Sub Shop with Rolf."
"Well, I'd like to know. 'Cause I … I could fix you something here. Maybe some … some meatcakes."
"Hmm …." I practically slobbered just thinking about the small patties of ground beef, grated potato, and onion. There were some advantages to having a sister who loved having an excuse to cook. "Okay, you talked me into it."
"Ummm …." Kirstin chewed her lip. "Rolf will be with you, right? So, um, how many do you think I should make?
"Tons! Rolf will work extra hard at practice just to build up an appetite once he hears the word 'meatcakes.'"
"Good." Kirstin smiled. "I'll make plenty."
I glanced at the clock. "Gotta run."
"See you later," Kirstin said. She looked way too cheerful about the prospect of frying up a batch of meatcakes.
***
It was not that far to the school, but after a quarter of a mile under the bright sun I was broiling. Instead of brisk morning air, a hot, muggy vapor wrapped around me. It seemed to rise right off the grass-seed field next to the road. The town cemetery was just down the dirt road that cut through the middle of the field.
I never went there. I'd thought I was a man, so strong and macho, but I never felt weaker than when I saw Dad's casket lowered into the ground. I couldn't stand the idea of him being in the cemetery.
Suddenly there was a honk. A blue pickup truck pulled up next to me. It was Rolf. "Hey, Eric." Rolf leaned over and stuck his head out the passenger window. His thick crop of wheat-colored hair fell across his forehead. "You sure you don't want a ride?"
"Man, I could use it." It took me two seconds to hop into the truck.
"First day of practice, and … surprise! … it's gonna be a scorcher." Rolf grinned, plumping his cheeks into two big red apples.
"Yeah, wouldn't you know it?"
Rolf babbled all the way to school. Some guys got annoyed at his almost constant talking, but I found it relaxing. He was an easy guy to hang with. And he paid attention when someone else spoke. That's probably one reason he was voted one of the team captains this year. That, and his positive attitude.
As I listened to Rolf ramble on, I looked out the window. I swallowed hard as we passed Nielsen and Lindquist, Insurance. It was still tough not to think of Dad in there at his old mahogany roll-top desk.
When Rolf stopped talking for a second, I suddenly remembered, "Oh, Kirstin wants us to come home for lunch. She's going to make meatcakes. How 'bout it?"
"You bet." Rolf pounded the steering wheel with enthusiasm. He couldn't resist the lure of meatcakes.
When the tires of the pickup crunched the gravel as we pulled into the school parking lot, I actually started to get some of those new-season feelings. Anxiety. Nausea. I even felt kind of excited.
As we got out of the pickup and headed for the front door, I heard the familiar, if ragged, strains of the Crystal Lake High School fight song. Out of the corner of my eye I spotted the band marching over on the soccer field. I quickly looked the other way. Hedy Theodore was one of the clarinetists. I didn't want her thinking I was looking at her.
"Not bad for the first day," Rolf said.
"What?"
"The band. It sounds okay for the first day of pre-season practice."
"Oh. Yeah. I guess."
As we headed for the classroom where we'd have our team meeting, other guys started arriving. Larry Johnson sent up clouds of dust as he roared in on his motorcycle. Lars Sundstrom jogged up the front walk. Inside the school, we ran into Jamar Pickett. He looked as if he'd had a bad night or something.
"Hey, Jamar, how's it going?" Rolf asked.
"Not so good." Jamar pointed to his feet. He was wearing sandals, so we could see that two of his toes on his right foot were taped together. "I fractured my toe last night. It'll be at least four weeks before I can even practice."
"What happened?" I asked.
"Well …." Jamar let the word hang there for a second. "My mom's always bugging me to push the chair in after I eat. I didn't, as usual, and later I was walking around barefoot and whacked my foot into a leg of the chair. Man, it hurt! I knew something was wrong when I saw my middle toe sticking out at a weird angle."
"Tough break." Rolf slapped his forehead. "Sorry, you know what I mean."
"Yeah, thanks," Jamar said. "I just wish that was the worst of it." Before we could ask what he meant, his father called him over and he hobbled off.
"We sure didn't need to lose our top player," Rolf said.
"Yeah …." Rolf, Jamar, and I had all made First Team All State, but Jamar was the best of the three of us. I felt lousy for him, but I felt lousy for myself, too. I didn't need that kind of bad news.
More guys arrived, and we funneled into the classroom. The first thing we saw were Coach Pickett's "Six Commandments for Football" scrawled across the top of the blackboard.
Always do your best.
Play one game at a time.
Play all four quarters.
Never let down.
Never give up.
Play the game first. Talk later.
A low murmur of voices floated around the room along with heavy air from the open windows. The hushed tones were due to the presence of Coach Pickett.
He was a short, solid man built like a fireplug, and he had one of those pushed-in faces, kind of like a bulldog. A tough-looking guy. He taught math, a pretty tough subject. Dad said folks in town weren't quite sure what to expect when Coach Pickett arrived twenty years ago, a black man wearing a sharkskin suit and a ruby earring.
He turned out to be quiet and effective as both teacher and coach. He almost never yelled at anyone. He got people to work through their mistakes. Kids could tell that he really cared about them.
Of course, winning football games made a big impression. If anyone in town still needed to be won over, that did it.
Standing next to Coach Pickett was a tall, broad-shoulder guy fidgeting with a piece of chalk. His limp brown hair fell across his sloping forehead, almost touching his thick, heavy eyebrows. All I could think was, Neanderthal Man.
Where was Coach Short? He coached the defense at Crystal Lake High for as long as I could remember. He was a lot like Coach Pickett, very positive, saying more with one look than a lot of guys did with a ton of yelling and screaming. The kind of guy you'd bust your butt for. I was really looking forward to my last year with him.
"Good morning." When Coach Pickett spoke, the room fell quiet. He gestured toward the caveman. "Gentlemen, I didn't make a public announcement, because I wanted to tell you myself. Coach Short got a last-minute offer from Meridan down in southern Oregon to be their Head Coach. Meet Don Horton, the new history teacher and assistant football coach at Crystal Lake High. "
Omigod. Not a new coach, not for my senior year. A dull, empty ache gnawed at my stomach.
Coach Horton nodded and scanned the room with a scowl. Something about him bugged me. For a second our eyes met in a mutual glare.
Coach Pickett launched into his first-day-of-practice pep talk about doing your best, giving a hundred percent, but still remembering it was a game. It looked as if Coach Horton winced at that last part.
I tried to listen, but my mind wasn't on football as much as it should have been. Besides, I'd heard the talk, or ones like it, before. I looked around the room. Some of the guys, such as Rolf and I, sat at desks. Others leaned against the wall or sprawled on the floor. We were divided as usual, though, defensive guys on the left, offensive guys on the right.
Suddenly, something Coach was saying caught my attention.
"… and I have a special announcement." Coach Pickett paused, then said, "Unfortunately, I've found out I have some health problems. In the near future, I'll need to cut back on my workload. So this will be my last season as coach of the Crystal Lake football team."
Gasps and moans spread across the room. I exchanged glances with Rolf. That must've been the "worst of it" Jamar had mentioned. Rolf whispered, "Thank God we're seniors."
I nodded. It was tough enough having a new assistant coach. I couldn't imagine adjusting to a new head coach after someone like Coach Pickett, especially in my senior year.
Coach waited for the clamor to subside, then went right back to his usual speech. "Right now, we are undefeated …."
He finished his talk, then went to the blackboard and started sketching offensive formations. After that, Coach Horton took over. He sketched a four-three defensive lineup and talked a little about what he expected from each position.
Nothing earth-shatteringly different, which was good. At least I didn't have to learn a whole new system for my senior year. The four-three relies on having a sure tackler at the middle linebacker position, and I'm for-sure a good tackler.
We had a couple minutes to study the board before Horton looked each of us on defense in the eye. "You may think you are good at your position. Maybe you are. Maybe not. Don't treat preseason as a lark. There'll be competition at every position." His eyebrows slanted down. "There will be a lot of pressure. You can't take any plays off. You'll have to work for everything."
Silence.
It wasn't as if all of us didn't know that everything Horton said was true. It was just something about the sound of his voice, the look in his eyes that made it brutal.
After a couple seconds, Coach Pickett indicated it was time to head to the locker room, put on our helmets and shoes, and go outside. As I strapped on the green helmet I remembered looking at myself in the mirror the first time I ever put one on.
I'd complained to Dad that I looked like a wimp with my baby face and my gold-blond hair curling out. I announced that I wanted to shave my head. Dad said that I might regret shaving my head, and, in any case, Mom would have a heart attack if I did. "Besides," he said, "it could work to your advantage."
"Right," I muttered. "How?"
"Your opponents will underestimate you."
After I thought about that, I decided not to shave my head.
***
I finished adjusting the strap to my helmet and hurried to join the guys. Moving as a unit, we thundered onto the field sounding like a herd of buffalo. Ordinarily, my heart would've been pounding with first-day excitement, but so far I didn't feel much of anything. Maybe it was the heat.
We circled the field then lined up for stretches and calisthenics. As the defensive captain, Rolf joined Kyle, the offensive team captain, in leading the exercises. As usual, Rolf was vocal.
"Okay, guys! C'mon. Let's go," he yelled, clapping his hands, which were as big and thick as sirloin steaks. "That's it. Good job. Yeah!"
Most of the guys picked up Rolf's enthusiasm, but a couple rolled their eyes. Derek Davis shook his head and a half-sneer curled across his freckled face. I could see by his expression that he was itching to lob a few vocal volleys at Rolf, but he wouldn't as long as Coach Pickett was standing just off to the side.
By the time we broke into smaller groups for drills, I was drenched with sweat. I headed to the sideline for water. Rolf was right behind me.
As I replaced some of the water I'd sweated off, I saw that up in the covered stands a girl scribbling in a notebook was sitting next to Jamar. With a closer look, I could see it was Glynnie Alden. She was new at Crystal Lake High at the start of last year and had been in some of my classes, so I knew she was real smart.
But she was one of those girls who was determinedly dowdy. For instance, her hair was bluntly chopped off at about chin length. It looked somewhere between light brown and dark blond, as if it couldn't quite decide what color to be. Same with her eyes—they were sort of gray, sort of blue. She wore old-fashioned horn-rimmed glasses. Plus, she didn't have much of a body, except for long legs that went up practically to her ear lobes.
"Hey." Rolf nudged me. "I think Jamar's getting interviewed."
"Yeah," I said. For the summer, Glynnie had been doing a column, "Youth Scene," for the Crystal Lake Recorder, the local, semi-weekly newspaper. I'd read her column a few times. It was pretty good, actually.
"Hey! Did you two come to work out or gawk at spectators?" Coach Horton shouted at us.
As Rolf and I trotted back on the field, I could feel the hairs on my neck stand up. It didn't bother most guys, but I never could stand teachers or coaches who used the sarcastic approach to get their point across.
We started on the drills, and for a while it was okay. Horton prowled the sidelines, the whistle around his neck gleaming like a silver bullet in the sunlight. My body was on automatic pilot through stuff like hitting the bag, stripping the ball, and shuffle drills, but on the real drills my brain was not in gear. I kept messing up.
"Hey! Nielsen. Wake up," Coach Horton snarled. "Eliminate mistakes! Get the job done!"
Okay, I should expect to be called on it for not being with it mentally, but I had enough problems, and for some reason Coach Horton really bugged me. I muttered a few choice words under my breath.
"What?" Coach Horton planted himself in front of me, his hands on his hips, his mouth tight.
I was surprised at how much I wanted to hit the guy. But he was my coach. I dug my nails into the palms of my hands. "I said, 'Yes, sir.'"
He let it go then, and I tried to concentrate. I guess it helped, because during the break-on-the-ball drill I managed to break to where the ball was every time.
"Better," Coach Horton said in a tone that left me wondering whether or not the jerk was actually impressed.
As drills continued I made an effort to be sharper mentally, and for the most part I succeeded. But emotionally, well, I still wasn't hyped up. I kept waiting for that tremor of excitement to hit me, but it didn't. Practice just felt like a lot of hard work. Where was the thrill of the start of a new season?
It was hard to concentrate. I kept looking over to the sideline, half-expecting to see Dad on a quick break from work, checking out the team.
It was hot. I was tired. I guzzled gallons of water just to keep going. Every time I trotted to the sidelines for water, I looked up at Jamar sitting in the stands and almost wished I were up there with him. Glynnie was still there, but I noticed she was doing more than talking to Jamar. She was watching practice and taking notes.
Lars and Larry jogged over for some water. In the past I would have hung around and joked with them for a minute. But I moved off. I couldn't get into a joking mood.
Ordinarily, Coach Picket would be prowling the field, checking on everything, stopping to pay particular attention to the kickers. He always emphasized that kicking was a vital part of the game. I noticed that while he occasionally wandered up and down the sideline, he spent most of his time on the bench. It was tough seeing him looking tired. Usually, he was so energetic. I got queasy just thinking about it. Nothing was the same at practice. Nothing.
Finally, we were through with drills, but we still had to line up for wind sprints. Though he'd practiced as hard as anybody, harder probably, Rolf made sure he was out in front on each and every sprint. I knew it was because he was a team captain. He took that job seriously. He had to be tired, but he knew no one would want to hear him yelling encouragement if he was giving only a half-assed effort.
I was soaked with sweat. Every part of my body, including some I forgot existed, was dead-tired. Even with Rolf leading the way, I was ready to collapse.
Finally, Coach Pickett yelled, "One more minute! Everybody's tired. Drive yourselves. That's it. Okay, five seconds … four … three … two … one. Good job!"
I finished in about the middle of what had turned into an extremely straggly line. My lungs burned. Sweat rained down my face. And it was only morning practice. It'd be worse in the afternoon.
There was a mad rush for water, then we all lined up for warming down, where we tapered off by slowing down and doing light exercise. Kyle and Rolf led the way. Rolf's big round cheeks were shining red, but he still had that grin of enthusiasm on his face. In spite of my exhaustion, I felt a small smile ripple across my own mouth.
After the last stretch, we formed our traditional circle and shouted, "V-I-K-I-N-G-S," followed by one loud, simultaneous clap. Morning practice was over.
"Whew! Some workout," Rolf said as we headed toward the locker room. He wiped sweat off his forehead, but a look of satisfaction shone in his eyes.
"Yeah, it was—"
Derek Davis butted in. "Hey, Dude," he said with a twisted smile on his face. "What's with the rah-rah crap? You running for office or something?"
I wanted to pulverize Davis. Rolf could, if he wanted to. Or he could mouth off right back of him. But he wouldn't. That just wasn't his way. Instead, he forced a big grin and said, "Yeah, I'm running for Dictator-for-Life. Do I get your vote?"
A bunch of the guys laughed, myself included.
For a second, Derek stared, a scowl of confusion on his face. Then he mumbled a selection of swear words and stomped off.
Still, he'd achieved his goal, curbing Rolf's enthusiasm. Rolf wanted to please everybody, and had a tough time accepting the fact that there are some guys you can't please no matter what. He needed to be more thick-skinned. I felt the anger rising in my throat just thinking about a jerk like Davis trying to bait Rolf.
"Excuse me."
I felt a tap on my shoulder.
"What?" I snapped.
"Hi …." Glynnie offered a white, even smile. "Could I interview you? For my column?"
I shrugged.
"Don't worry, I'm not a muckraker." She let out a small laugh.
"Look. Write what you want. I never read my press."
Glynnie's big, gray-blue eyes widened slightly behind her horn-rimmed glasses, and for a second a look of disappointment crossed her face. "Whatever."
Then it was her turn to shrug before she whirled around and headed toward the parking lot.
As I started to trot away, I blinked hard to fight off tears of frustration. Jamar was injured. Rolf was putting too much pressure on himself. I was unfocused and snapping at an innocent girl just trying to do her job.
So much for my big-deal, long-awaited, awesome senior season.
Chapter Three
"Hey, Rolf," I found myself saying. "I … I'll catch up with you in the locker room."
Rolf nodded. He didn't question why I was suddenly veering off toward the parking lot.
I decided being unfocused was bad enough. I didn't have to be a jerk too. I trotted over to where Glynnie was just starting to ride away on her bike. I called after her, "How about after I shower?"
She didn't turn around. Maybe she didn't hear me. Maybe it was just as well if she didn't.
I noticed a group of band members strolling over the grassy knoll next to the school. In the middle of a knot of girls was Hedy. She'd witnessed the whole scene. Hedy elbowed Jenny Lund, and then the entire cluster of girls started pointing and whispering.
I looked off in the opposite direction, totally pretending I'd been trying to catch the attention of someone other than Glynnie then hurried off to the locker room. I figured I'd given Hedy and her friends enough to talk about.
Inside, the locker room was all steam and the sound of hissing water. There was little talk—not even Derek Davis ragging on someone. We were too exhausted to do anything but stand and let streams of water wash our hours of sweat down the drain.
After we toweled off and dressed, I plopped my aching body into Rolf's truck. We rode along in silence, both seriously wiped out. As we rounded a bend in the road, I saw Glynnie up ahead.
"Hey," Rolf said. "Isn't that Glynnie Alden? Weren't you talking to her and Jamar? What'd she want?"
"Nothing."
"Um. I could pull over, and, uh, we could invite her to lunch. You know Kirstin would love to have one more mouth to feed."
"I don't need to have lunch with Glynnie Alden. I don't need to have lunch with any female to whom I'm not related. I don't need—"
"Okay, okay. It was just a thought!"
"Hmmph." I crossed my arms over my chest and scrunched way down in my seat as we rode past Glynnie.
We pulled into the driveway at my house, and before we even made it to the door Glynnie whizzed by on her bike. She looked goofy in her round glasses and bike helmet, but she'd made excellent time. Must have been her long legs.
Once inside the kitchen, first thing Rolf tried to snitch a slice of tomato from a salad sitting on the counter next to a bowl of red grapes.
"Cut that out!" Kirstin playfully slapped Rolf's hand. She had an easy relationship with him. She'd known him all her life and he was like another big brother to her—except he never gave her any grief. When she was little, I don't know how many times I heard her say, "Why can't you be like Rolf? He's nice!"
When we sat down to lunch, Rolf and I were like a plague of grasshoppers, devouring everything put in front of us. I was kind of glad Rolf was there. Dad used to come home for lunch during summer football practice. Rolf being there helped distract me from his absence.
"Man," Rolf said as he heaped his plate with a third helping of everything. "This is great!"
Kirstin beamed.
"I thought you might have one more mouth to feed," Rolf said, "but Eric didn't—"
"Eff it, Rolf, give it a rest!" I slammed my hand on the table.
"Eric!" Kirstin glared at me. "You know what Dad said about using the F word."
"One, I didn't use the F word." I ground out the words through clenched teeth. "Two … Dad's not here!"
"Hey, are we gonna eat or argue about vocabulary?" Rolf said, always eager to smooth things over. He stuck a fork into a huge piece of meatcake on his plate and answered his own question. "I'm here to eat."
I was too beat to get into it more with Kirstin, so I mumbled something about eating.
Kirstin ignored me by fussing over Rolf, and within a few minutes all was cool again, at least on the surface.
After we wiped out the meatcakes, salad and grapes, Kirstin announced, "Time for dessert!"
"Dessert?" Rolf clutched his stomach as if he couldn't eat another bite.
Kirstin knew better, of course. She disappeared into the pantry for a minute, returning with a small plate of butter logs, rosettes and spritz cookies.
"Hey!" I said. "I thought those were off limits until the Fair."
"I made them," Kirstin said. "I can use a few for company if I want."
I snorted. Rolf was hardly company, but Kirstin seemed to get some sort of thrill out of feeding him. Of course, he always vacuumed his plate clean, especially when the food was good, and I had to admit Kirstin's was.
"Hey, I just noticed the time," Rolf said. "I've gotta go soon. I have to help pack tubes into boxes this afternoon."
Rolf's family owns a seed and plant nursery. A lot of the business is mail order, so they have to grow some plants in tubes in order to ship them.
Kirstin reached across the table and gripped Rolf's arm. "Why don't I go with you? I could help … and I need some plant food anyway."
"Rolf doesn't need you hanging around," I said. "How would you get home? Mom's got the car and who knows when she'll be back."
"No problem," Rolf said. "I'll bring Kirstin home when I pick you up for practice."
"Yeah," Kirstin said. "You can stay home and watch the store just as easily as I can."
"Hey, I'm really beat—"
"Who isn't?" Kirstin jumped up from the table. "I've got to feed the goldfish. C'mon, Rolf. You can watch while Eric cleans up."
"I said I'm tired."
"I've got a few minutes," Rolf said. "It won't take long to clean up."
"Well, if you'd rather wash dishes than help me feed the fish …." Kirstin said.
"I'll help you feed the fish another time, Kirstin." Rolf started scraping plates.
"Promise?" Kirstin tilted her head to one side.
"Promise."
"Okay, then." Kirstin smiled on her way out.
"Kirstin gets away with murder," I griped, bugged that Mom wasn't around to let me off the hook. "You and I are both wiped out, and you've got a ton of work ahead of you at the nursery."
"No big deal," Rolf said. "I clean up at home all the time. Besides, Kirstin did all the cooking. That's a lot of work."
"Mmmph," I muttered as I wiped spills off the kitchen table. Sometimes Rolf was just too easy-going for his own good—and mine.
About the time Rolf and I were done cleaning up, Kirstin came back inside.
"We're outta here." Rolf placed his hand on Kirstin's back and guided her toward the front door. "See you at three, Eric."
"Don't forget to listen for the buzzer!" Kirstin shouted on her way out the door.
Right on cue, the buzzer sounded.
I stepped into the shop just as a smiling, gray-haired couple walked in. I noticed the out-of-state plates on their car and thought, Oh, great, a couple of browsers. They could be here for an hour! "Looking for anything in particular?" I asked hopefully.
The woman looked at me kind of doubtfully. No one expects a guy my age to know anything about antiques. "Well … as a matter of fact, I'm looking for kitchen glassware from the depression years. Not the dishes, mind you. The kitchen glassware."
"We have lots of kitchen glassware," I said. "Several pieces, lots of colors." I ticked them off on my fingers. "Amber, Blue Chalaine, Clambroth, Green Jadite—"
"Yes!" The woman exclaimed. "That's what I collect—the Green Jadite."
"Let me show you what we have." I crooked a finger, indicating that she should follow me, and led her past crowded tables and shelves to an old wall hutch loaded with kitchen glassware.
The woman gasped. "Harold, you should see this. I've never seen so much Jadite kitchen glassware!"
"Mmmm, hmmm," Harold said. He was busy picking through a box of old tools.
"Oh, my." The woman held up each piece, checking the price, feeling the edges for flaws. Then she came to a vinegar cruet. She ran her fingers across the word, Vinegar. "The letters are so clear. Even the stopper is in excellent condition."
I thought I'd racked up a $150 sale, but she put down the cruet and picked up a wedge-shaped refrigerator dish that cost only forty bucks.
"This piece is in excellent condition," she said.
"Yes, m'am." Just buy the darned thing so I can get out of here.
"The vinegar cruet is so lovely." She let out a small sigh. "Decisions, decisions."
"They're both fine pieces and at very good prices." I sounded like my mother. I was hoping she'd quit thinking and buy both. I wasn't handing her a load of bull. I'd been helping out in the shop for years and knew Mom's prices were fair.
"You know, I can't decide. I guess I'll just have buy them both!"
"Yes, ma'am." I said in my best business-like voice. "Is there anything else I could show you?"
"Oh, no, thank you. I think I've spent enough!"
"Okay. That'll be $190." I rang up the sale on the antique brass cash register. Nothing too modern for Mom, especially in her shop. I guess I should be glad we had electricity and running water. I pulled out some old newspapers to wrap the purchases.
"Wait, Mildred, I'm getting this too." Harold plunked down an old brass plumb bob.
I checked the price. Ninety-five dollars. Whoa. I was racking up a bigger sale than Mom did yesterday with that old whale oil lamp Mrs. Carlson bought. "Okay, let's see, that'll be $285."
Harold laughed as he pulled out his wallet and handed me cold hard cash. "Well, Mildred, at this rate we'll have to cut a couple days off our vacation."
Mildred smiled. "It isn't every day you find just what you're looking for."
"Of course, we didn't know it was just what we were looking for until we found it," Harold said.
I actually found myself smiling as I closed the cash register. I figured I'd have to bug Mom about what a great salesperson I was.
I decided to hang out in the store for a while, in case more customers dropped by. There were a couple of lookers, then a woman came in, browsed for a while and was just about to leave when she picked up a painting. It was just a picture of the lake done maybe fifty years ago by some local guy. It ended up in a garage sale and Dad picked it up, thinking it might be something for Mom's store. It wasn't really an antique, but Mom thought it was good folk art. The area around the lake was way less developed back when the painting was done, so it was sort of a piece of local history too.
The woman came up to the counter. "I'll take this."
Even though it was a fairly large painting, it was only fifty dollars. This put my sales up to three-hundred-eighty-five dollars. I wrapped the painting in newspaper, then covered it with brown paper and tied that up with string. "Would you like some help with this out to your car?"
"Oh, yes, thank you!"
The painting fit perfectly in the trunk of the car. As I set it down, I suddenly felt as if there were dark shadows around my eyes. It was as if I'd packed up a little piece of Dad and sold it. Totally dumb thought, but there it was.
I stood in the doorway and watched as the woman drove away. As I turned to go back inside, I saw something out of the corner of my eye. It was Glynnie riding slowly by on her bike.
A black pickup pulled up next to her. A guy was driving, so I decided to wait—just in case there was trouble. I could see that he said something to Glynnie. She said something back. He drove off. Probably he was just asking for directions. For a second it looked as though Glynnie was heading to the shop, so I tried to look as if I was busy rearranging some of the stuff out front. She sped up and rode on by.
Maybe Rolf was right. Maybe we should've stopped and invited her to lunch. If she was going to interview me, doing it in the kitchen with Rolf and Kirstin there would've been more relaxed than some one-on-one thing.
On the other hand, who said I had to let her interview me, anyway?