The Laird-Wild Heather Book 1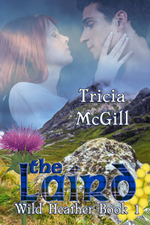 Andrew, a wealthy Australian architect, takes life too seriously, whereas his PA Elizabeth is outgoing and fun-loving; a perfect foil for her sombre boss. She is passionate about Celtic lore and language. With great reluctance Andrew answers a plea from his two elderly aunts to travel to Scotland before his uncle dies. He has no desire to visit the land his father left under a cloud many years ago, but Liz persuades him to take her along.
In the draughty and dilapidated castle, while exploring a disused attic, the pair set off a course of events that propel them back in time to 1050 where they meet Travis, coincidentally Andrew's double.
Review snip:
"I enjoyed every minute of this book. Tricia McGill perfectly pulls the reader back in time along with Andrew and Liz, describing the castle and its inhabitants in such detail they fully come to life. Andrew's aunts, Tilda and Kitty, are gems whose unsolicited advice made me laugh out loud! The dialogue in this story is one of its strongest features, and coupled with an intriguing plot it is a winning combination." Marlene FAR 4 ½ angels