THE PRICELESS GIFT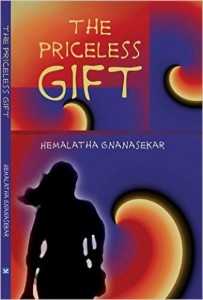 Priya was on her toes the whole morning ! Her introvert son was bringing home a friend for lunch and she was curious to see him. But when her eyes fell on the man who accompanied her son, Priya was stunned. For he was the man she never wished to see again in her life ! He was the one, who had ruined her life by shattering her dreams ! He was the one who had been the cause of her mother's death ! More than anything else, he was the Father of her son!
Though Twenty long years had elapsed, the old trembling fears returned instantly. This time, Priya was not willing to be cowed down by his threats. After all, Fate's severe blows had taught her to be independent in life. By being self-dependent, she had learnt to enjoy life's blessings without getting retarded by the tears it also thrust in her eyes. Gathering up courage, she asks him to get out of her house. Vijay, a subdued person now, obliges her and silently walks out of her house. However, a few months later, he comes back to see her with a Priceless Gift. Does this change Priya's mind?
Review of  "The Priceless Gift" by Ajuli Tulsyan
Chapter Excerpts
The Priceless Gift - First Chapter
 The Venkateswara Quality Inn was as usual bustling with  activity ;  with people coming in and going out continuously.  Vijay,  the owner of the  hotel was silently sitting,  watching the goings on.    All of a sudden,  his eyes fell on the young lad, who was just entering and at once his entire system revved up.    The boy,   probably in his early Twenties  was new to  this area and  was coming here  regularly  every night  for over a  week.    Vijay was  rather perplexed  as to why his heart was going out to him whenever he  happened to see him.   He could also not understand  why he was engulfed with strong feelings of  love and affection  towards this boy ; as  if he had known him all his life !  Today,  he was inclined to find out, more than ever.  For the first time in two years, Vijay  felt an urge to talk to someone !    Slowly, he got up from his chair and  started walking towards the table where the boy was sitting.
Being a mother-less child, Vijay was brought up by his father who had spoilt him enough with too much love and pampering  so much so that he  had all along got  everything done his way.    Even in his mid Forties, he  lacked the dignity of manners  and  had never learnt to  be poise.     He was puffed up with self conceit and pride and thought that he had everything in his life that one could ask for.  Vijay had never known what it was  to be in need of something until the day when the tragedy struck him………
It happened on the day when  Ramya was celebrating her Thirteenth birthday.  Vijay had  taken his daughter to the Marina beach to watch the sunrise.    Swathi, his wife was keeping a watch over her,  sitting on the shore.  Vijay was walking around with his cell, talking to one of his close friends.    Ramya was enjoying  the tickle of sand and water under her feet, when she saw a few catamarans  far off.    Within a few minutes, the catamarans reached the shore and the fishermen embarked from them with their huge catches.   Curious to see the fishes, Ramya followed them.  Immediately the men squatted on the sands and divided the fishes into various categories.  Several wholesalers surrounded the fishermen and started bidding for them.   In a jiffy they  sold all their fishes and left the place after tying  up the catamarans together on the sand.     Ramya quickly jumped into the catamarans and began playing inside.  She called out to her mother to join her and as she walked towards her daughter,  Swathi pointed out the rising sun to her.    "Wow ! Look at that daddy.  It looks as if the sun is coming out from the sea !" Ramya  shrieked in excitement on seeing her father return to them.  Vijay joined in her excitement and after a few minutes told her that it was time to return home.  But Ramya pleaded with him that she wished to play in the water for some more time and he relented.
Ramya ran and dipped her feet in the cool water once again and shortly was joined by both her parents.    Swathi noticed that the waves were getting violent suddenly and she warned father and daughter not to go far into the sea.  Just as she was saying this, she saw huge waves rising so high in the middle of the sea forming giant walls.   Slowly, it was coming closer and closer to them.  All around, people started running helter skelter screaming aloud in fright.   Filled with panic, Vijay lifted up Ramya and ran towards the catamarans, holding Swathi's hand.  He held the catamaran in a strong grip while his wife and daughter held on to him for support.  As they stood huddled together, with their heart in their mouth, the violent waves were already close behind them.    The  catamarans started  ripping apart by the strong  force of water and  even before comprehending what was happening,  Vijay saw his wife and daughter cart-wheeling, away from him and  abruptly  drawn into the deep sea.  He  ran behind them for a short distance, screaming aloud and  was very soon  dragged into the ferocious sea in a similar manner.  But as luck would have it, Vijay was swept back to the shore by another violent wave and he lay there  unconscious  for a long time.  When at last he  regained  consciousness, he made an attempt to slowly get up.    Confused  over  the clamour and din around him, he  stood there paralyzed  in shock  at  what he saw.    There were dead bodies everywhere  and  people were wailing aloud for their dear ones.  Vijay immediately made a frantic search for his wife and daughter.    There was no any sign of them.  Having lost all hope, he sat down on the sand letting out an ear-shattering scream, "Oh God !  How can you be so cruel and heartless ?  Why did you take away my loving daughter and wife,  leaving me all alone ?   Why did you spare me ?  I should have gone along with them too !  Why am  I still  alive ?"
The tragedy had turned  Vijay's life  into doldrums.  He was constantly  in a state of distress for he had no soul, whom he could call his own now.  His mother died when he was just five years old.  His father passed away soon after his marriage.  And now his whole family was gone.   Very often the question as to why God had saved him kept passing in his mind.
The incident however transformed Vijay from a very dominating person to a much subdued one.  His workmen who dreaded even to face him were now feeling sorry for his loss and were filled with empathy towards him.
Though the wheel of time had taken a quick turn and it was almost two years now, Vijay continued to  be in a melancholic mood.  He was still having  nightmares and woke up in the middle of the night with a cold sweat and his heart thumping.   He kept hearing the waves crushing around him and the heart rending cries of  his wife and daughter as they were forcibly swept away from him.
Withdrawing himself into a shell, he often remained aloof hardly speaking to anyone.  But of late, he was surprised that his heart was melting at the sight of this boy  and  he was determined to find out the cause today.
The Priceless Gift - Second chapter
2.
"Are you  new to this place ?" Vijay asked  as he approached his table.
"Yes" the boy nodded.
"Where do you hail from?"
"Mumbai"
"You are a Mumbaite and you  understand  Tamil ?"
"We belong to Chennai only.  We had to go to Mumbai to eke out our leaving.   Now that I have got a job here, we are back home."
"I see !  What's your name you said ?" Vijay asked  rather absent-mindedly.
"I never told you my name  yet",  he said flashing a grin as he stood up.  And before taking leave, he added, "my name is Vikram."
The next day too, as soon as  Vikram turned up, Vijay  smiled at him.  He was  anxious to continue his  chat with him.   He got up swiftly and following him, he said, "you seem to have come late today."
"You are indeed right."  Vikram said as he sat down.  "I  had been sleeping and  my mother did not bother to wake me up.  When I shouted at her, she cooly  told  me that she did   not wish to disturb me."  Vikram further  explained.
"Sleeping ?  At this odd hour ?" Vijay was getting  curious.
"Ofcourse.  My biological clock is tuned up like that now.  I am working in an IT company and  I have to slog the whole of  night and  sleep during the day."
"Don't you like your mother's cooking ?  I see you  here almost every day" enquired Vijay.
"Actually,  she cooks hot meals  in the morning.  In the night, she takes the left overs  and has to prepare tiffin just for me.    I  told her not to strain herself and  hence come here for  dinner every night.  Afterall, my mother had undergone a lot of  hardships  in order to educate me and now it is my turn to keep her happy."
"A responsible son indeed !"  Vijay patted him on his back  as he  turned to leave.
They bonded  very easily and were in sync with each other.   Vikram did not mind his nosiness and patiently answered all  his  questions.  Whenever  Vikram walked into the hotel, Vijay made it a point to exchange a few words with him.  Their friendship blossomed day after day  so much so that Vijay looked forward to this time of the day when he could have a small talk with Vikram.
The Priceless Gift - Third chapter
3.
One evening, the clouds started gathering and it began to rain heavily all of a sudden.  Vijay was standing  at the entrance of his hotel,  basking in the unusual summer rain after a rather hot day.  The downpour very soon created puddles of  water on the roads.  As he stood there blankly looking into the dark night, he saw Vikram maneuvering  his way in the puddles of water.  Despite carrying an umbrella, he was fully wet and Vijay directed him to sit under the fan so that his clothes would get dried quickly.  Further, he took out his handkerchief  from his pant pocket and offered it to him.   Vikram thanked him for his kindness and started rubbing his hands with it first.  Then as he was wiping his face, Vijay was surprised to see a golden watch  glittering on his hand.
"Is that a new watch you are wearing ?" He  asked continuing to admire the watch.
"Not really !  In fact, this watch is as old as me.  Actually, my mother doesn't like  to give this to anyone.  She would often tell me that it is a priceless gift that my father had given to her before his death.  Hence, she treasures it in her bureau; never letting me lay my hands on it.  Today, being my birthday, she asked me to wear it to the temple."
"Can I have a look at it ?" Vijay extended his hand.
"Oh Sure !"  Vikram said as he unfastened his watch and handed it  to him.
Vijay examined the  golden watch closely ; turning it from side to side.  When he saw the name "G.Venketeswaran" embossed on the rear side of the watch, he became stupefied.  That was his father's name;  after whom this hotel was named as "The Venketeswara Quality Inn".  What baffled him was the fact as to how it had landed on this boy's hand.  He stood there rooted to the ground, lost in thought.  Slowly things unfolded before him.    He remembered  the day when his father had painfully given away his costly golden watch to  Parvathy, who had worked here as a cook for over fifteen years.    It was his ancestral property which was so dear to him and which he had all along considered a symbol of luck.
Vijay became dumbfounded.    He stared at  Vikram in utter disbelief.   The memories of  Priya who had worked under him for just a month, came flooding to his mind.  Suddenly, Vijay was unable to think coherently.   Returning the watch to Vikram, he said, "It's a nice watch.  Keep it safely."  He then abruptly turned to leave, without his usual chat with him.