The Sex Slave Murders: The True Story of Serial Killers Gerald and Charlene Gallego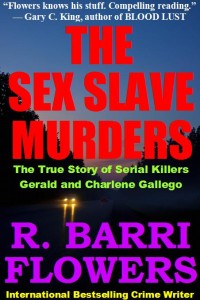 The Sex Slave Murders is an internationally bestselling true crime book.
A marriage made in hell…
Barely five feet tall, sweet and innocent looking, Charlene Gallego used all of her charms to beguile pretty teenage girls and young women into the back of a van, where her lethal husband, Gerald, lay waiting.
A killer couple bound together by secrets, lies, and sex slave fantasies…
Married multiple times and still in his early thirties, Gerald Gallego found the perfect companion in Charlene. Over a grisly period of twenty-six months, their bloody and brutal rampage of kidnapping, rape, and murder spanned three states and claimed eleven lives.
In this much more frightening than fiction tale of domination, depraved lust, substance abuse, violence, and murder, award winning, bestselling criminologist R. Barri Flowers tells the whole story of a couple's twisted relationship, their ghastly crimes and ability to elude the law, how they were finally captured, and the two riveting trials that ultimately pitted wife against husband with the stakes higher than either once imagined in their murderous bond.
"Selected as one of Suspense Magazine's Best of 2011 books." — John Raab, CEO/Publisher, Suspense Magazine
"A gripping account of the murders committed by husband-and-wife serial killers Gerald and Charlene Gallego… Compelling reading." — Gary C. King, true crime author
Chapter Excerpts
Chapter One
PROLOGUE
Gerald Albert Gallego was nineteen when his son Gerald Armond Gallego was born on July 17, 1946. The elder Gallego was serving time in California's San Quentin prison for auto theft and writing bad checks. He was paroled in February 1949, after serving three years and three months.
By April 1950, Gallego was back behind bars at San Quentin, this time for second-degree robbery. Paroled in October of 1953, Gallego's parole was revoked a few months later, but he managed to evade the law long enough to flee California.
He ended up in Mississippi. On May 27, 1954, Gallego was arrested in Ocean Springs, Mississippi on a charge of drunkenness. As the town's single peace officer, Night Marshall Ernest Beaugez was opening a cell in the Pascagoula, Mississippi jail when Gallego overpowered, disarmed, and kidnapped him.
Beaugez was found murdered by his own gun a few days later. Gallego was apprehended following an armed robbery in another Mississippi town. He was tried, convicted, and sentenced to death for the Beaugez murder. Gallego's execution date was set for March 3, 1955.
On September 10, 1954, Gallego and another death row inmate, Minor Sorber, escaped from the Hinds County jail where they were awaiting their dates with the executioner. In the process, Gallego threw blinding acid disinfectant into the eyes of the jailer, Jack Landrum, and proceeded to severely beat him into unconsciousness. He died four days later.
Gallego and Sorber were recaptured the same day Landrum died. On March 3, 1955, Gerald Albert Gallego, now a convicted murderer of two lawmen, became the first person executed in Mississippi's Parchman Penitentiary's new gas chamber (it replaced the electric chair).
Gallego apparently underwent a religious conversion before he died and became a born again Christian. As he took his last walk to the gas chamber, Gallego handed Sheriff Leo Byrd of Pascagoula, Mississippi a letter.
It read in part:
Sheriff, if at any time you should have young men in your jail, please tell them that I was once like them, and should they continue, there is no reward but hardships and grief for their parents.
Show them the way to God, for God forgives all our sins, and tell them it's nothing to be ashamed of and to humble yourself before God. May my words help those who are on the wrong path…
Yours in Christ, Gerald A. Gallego
The father and son were never to meet among the living.
CHAPTER ONE
It began as a fairly quiet early Sunday morning on November 2, 1980 in California's capitol city. By the end of the day, two lives would be lost forever and many others changed indelibly.
A gateway between the bustle of the San Francisco Bay area, the idyllic beauty of the Sierra Nevada and the gambling meccas of Lake Tahoe and Reno, Sacramento offered perhaps the best of all worlds. It retained much of its cultural and rural past while steadily becoming an urban and suburban center with an eye on the future.
Arden Fair was an indication of Sacramento catering to its middle class and modernization with nice homes, popular stores, and new businesses popping up. On this tepid Saturday night, the Arden Fair shopping center was the place to be, particularly if you happened to be a fraternity or sorority member at California State University, Sacramento (CSUS). The Carousel restaurant, located on the east end of the shopping center, had been transformed for the night/morning into a Founder's Day dinner-dance celebration, courtesy of Sigma Phi Epsilon.
Among those attending were CSUS seniors Craig Miller, twenty-two, and Mary Elizabeth Sowers, twenty-one. The attractive, All-American couple was engaged to be married on New Year's Eve 1981. For Sowers and Miller, hope seemed eternal.
Mary Beth Sowers fit all the adjectives of admiration or envy: beautiful, bright, outgoing, ambitious, warm, sensitive, in love with the world around her and the man she planned to marry. "She was somebody that had a lot of bubble and a lot of sparkle in the way she talked," said a close friend and fellow member of Alpha Chi Omega, the sorority Sowers joined in 1979. "You got more than just words when she talked. You got her feelings and her thoughts."
Mary Beth graduated from Sequoia High School in Redwood City in 1978. Her father was a nuclear physicist at ITEL Corporation in Palo Alto. Following graduation, she moved to Redding, California to attend junior college. There she won the title of runner-up in the Miss Shasta County contest.
Sowers began her junior year at CSUS, majoring in finance. Despite a full course load, she worked during the week at Arco Financial Services and on weekends at J.C. Penney to support herself. Later, she worked as a ski instructor on weekends at Boreal Ridge, a ski area east of Sacramento. Her talents also included being an expert seamstress, one weekend tailoring three suits.
Mary Beth began dating Craig Miller in late fall of 1979. Theirs was described by friends as a relationship of equals. Noted one friend: "It's so hard to find two people in the same relationship who are that much alike. So dynamic, outgoing, and personable."
Craig Miller graduated from La Sierra High School in 1976. Two years later, he graduated from American River College before attending CSUS, where he was on the dean's list. Like Sowers, he seemed tireless with the sky the limit. Aside from being an accounting executive at Miller Advertising, Miller was vice president of the campus chapter of Sigma Phi Epsilon and the 1979 Man of the Year.
When Mary Beth turned twenty-one on October 21, 1980, she and Craig Miller had been dating for nearly a year. With a spring graduation coming up, marriage plans did not seem premature. New Year's Eve 1981 seemed the perfect wedding day for the couple because New Year's Eve was Mary Beth's favorite day.
* * *
On the night of the Sigma Phi Epsilon fraternity function, Craig and Mary Beth arrived late, favoring some quiet time together over the dinner that started three hours prior to their arrival.
That didn't mean they weren't looking to make the most of their outing in the spirit of true fraternity and sorority members. From every indication, Miller and Sowers were happy and content on this night. According to dance attendee Sheryl Arkin, neither shied away from attention. "She had barely gotten in the door," said Arkin of Sowers, "and five of the Alpha Chi pledges were around her in a circle. She was just talking away."
Nevertheless, Craig and Mary Beth's stay was relatively short. They left the Carousel restaurant just after midnight. Shortly thereafter, a fraternity brother happened by chance to notice them in the back of an Oldsmobile Cutlass rather than Mary Beth's red Honda.
After an exchange of words between the fraternity brother and the front seat occupants of the car—a woman was in the driver's seat with a man beside her—the Oldsmobile sped off with Craig and Mary Beth still in the back seat.
That was the last time they were ever seen alive.
* * *
That afternoon, Craig Miller's body was discovered alongside a gravel road twenty miles from Placerville, near Bass Lake in El Dorado County, California. He had been shot three times at point blank range. An autopsy performed the following day revealed that Miller had been shot once above the right ear, once in the back of the neck, and once at the right cheekbone—apparently at the site.
Mary Beth Sowers was still missing.
* * *
As with many non-domestic crimes of violence, solving such crimes often takes a combination of painstaking police investigative work and a bit of luck. In this instance, the luck came with a license plate number taken down by a concerned friend who thought it unusual that Craig Miller and his fiancée, Mary Beth Sowers, would take off with strangers in the wee hours of the morning of November 2, 1980 from the Arden Fair shopping center parking lot, leaving her Honda behind.
When the couple failed to return to the Honda by that afternoon, the friend and fellow member of Miller's fraternity reported them missing. Tracing the license number of the car Miller and Sowers disappeared in, the police discovered that the car—a silver 1977 Oldsmobile Cutlass—was registered to Charlene A. Williams or Charles Williams, her father. This was the second big break.
In the meantime, Miller's mother worried that her usually dependable son and future daughter-in-law were missing. A friend of Sowers had phoned Miller's mother early Sunday morning looking for Miller. "I don't want you to worry," the friend had said, "but something really strange is going on. Nobody has seen Mary Beth or Craig since last night."
When Miller failed to show up for his 10:00 A.M. shift at a paint store in Carmichael, his mother telephoned police.
* * *
After learning from the Department of Motor Vehicles that the Oldsmobile Cutlass belonged to Charlene A. Williams or Charles Williams, Detective Lee Taylor and Detective Larry Burchett drove to the home of Charles and Mercedes Williams on Berrendo Drive in Arden Park.
The parents told the detectives that the Cutlass was their daughter Charlene's, and that she had left home about 6:30 P.M. Saturday to go to a movie theater with her boyfriend, Stephen Robert Feil. During the conversation, Charlene drove up in her silver Cutlass. This was the third big break, although it did not seem like it at the time.
Charlene, twenty-four, was blonde, pretty, petite, and seven months pregnant. She coolly denied any knowledge of the disappearance of Sowers or Miller. She allowed the detectives to search the Cutlass. They found no indication of foul play or otherwise incriminating evidence that a crime had been committed.
Charlene complained of being sick because of her pregnancy and suffering from a hangover. She gave few details about her boyfriend, Stephen Feil.
The detectives, unaware that Miller's body was soon to be discovered and having no other reason to detain the ill Charlene further, promised to return later that day to photograph her. She, in turn, hoped to have recovered somewhat and be more cooperative.
* * *
It was not until the following day that Charles and Mercedes Williams admitted to the detectives that their daughter was married to Stephen Feil and that this was actually an alias used by Gerald Gallego, thirty-four, who was wanted on incest and other sex charges.
Suddenly some frightening pieces of a bizarre puzzle began to fall into place. Not only had the Gallegos become the chief suspects in the murder of Craig Miller and disappearance of Mary Beth Sowers, but neighboring Yolo County authorities were also investigating the connection of a Stephen Feil to the kidnapping-murder of Virginia Mochel, a local bartender.
Unfortunately, by now the Gallegos, sensing trouble, had fled to parts unknown. On November 5, 1980, El Dorado County filed charges of kidnapping and murder against Gerald and Charlene Gallego. The following day, a federal fugitive warrant of unlawful flight to avoid prosecution was issued against the Gallegos to allow the FBI to join in a nationwide search for the fugitive couple on the run.
That search came to an uncomplicated end twelve days later. On Monday, November 17, 1980, Gerald and Charlene Gallego were captured by FBI agents in Omaha, Nebraska while they were attempting to pick up money that had been wired to them by Charlene's parents at a Western Union office in downtown Omaha.
The arrest came without incident and brought to an end what was later discovered to be a twenty-six month reign of sex-motivated brutality and cold-blooded murder.
Yet this was only the beginning of a bizarre tale of sexual fantasies, domination, and sheer terror that was to unravel and take three and a half more years to bring to a conclusion.
# # #
Excerpted from "The Sex Slave Murders" by R. Barri Flowers. Copyright (C) 1995 by R. Barri Flowers. Excerpted by permission. All rights reserved. No part of this excerpt may be reproduced or reprinted without permission in writing. Excerpts are provided solely for the personal use of visitors to this web site.