The Well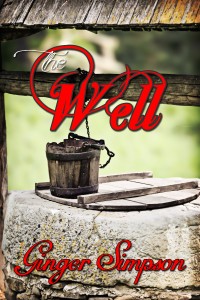 WORK IN PROGRESS -Cover by Charlene Raddon. An accidental fall into the family's old well and a surprising rescue leads Harlee on a hunt for her family. They were there when she went to fetch water so why didn't they come when she called for help, and who covered the well? Where did they go? Following a clue, her rescuer, Logan Carruthers, leads her across treacherous terrain in search of her parents and sister, but Harlee doesn't consider the trip as dangerous as the strange tingles she feels whenever he's near. Will they find Harlee's family or discover love? Logan is determined to do both.
Chapter Excerpts
This is just a sampling
Harlee turned her attention back to the chore at hand. The bucket crested the well's top, only half full this time. The water used to be so high, she often bent over and stared at her reflection. Doubtful she could see it now, she crawled up on the stone ledge and peered over, searching for any hint of her likeness. Stretching more…she still saw nothing but emptiness. The old stone beneath her grip gave way, sending her tumbling into the black abyss. Numbed by shock, her scream froze in her throat.
Harlee hit the water, creating a splash, although not a very big one. Pain shot through her head, and she grabbed her scalp to soothe the ache and found a huge lump had already formed. Something dripped down the side of her face. Was it water? She licked her hand and confirmed by the salty flavor–blood. Her attempt to choke back tears failed when the throbbing intensified and matched each beat of her heart. She cried until she got the hiccups, and leaned her head against the wall, waiting for them to stop.
She jolted, opened her eyes and stared up, noting the sun for directly overhead. "I must have dozed off."
Raising her hand, she checked her head and found the bleeding had stopped. "Oh, thank you God, I needed something positive about this day."
The light cascaded down the well and highlighted the greenness of the walls and the murky color of the water. Gathering her wits, Harlee struggled to her feet, wiped sodden hair from her face and gasped when the water's depth barely reached her thighs. "Oh, Lord, we need this precious liquid for so many things, but taking a swim wasn't one of them."
As the shock of her fall faded, she faced an even greater fear than how injured she was–how to get out of the well. "Help me. Ma! Pa! Hannah! Someone! Heellllppp!" She yelled until she had no voice left, but her cries went unanswered.
Time ticked by and she grew weary. Her elbow, evidently skinned during the fall, joined the dull ache in her head, and her knees begged her to sit. The blue sky above darkened with the approaching nighttime, and Harlee sagged into the water again letting it lap to her chin while she rested against the stony interior. Why hadn't someone come to look for her? Especially her impatient little sister?