The Witch Hunter's Amulet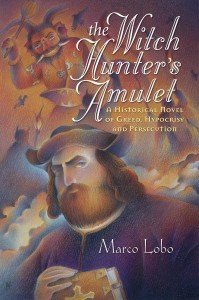 Portugal's violent occupation of India in the sixteenth century was much more than a plunder of the country's great material wealth. The Portuguese also sought to stamp out the ancient traditions of Hinduism and Islam throughout their Asian territories everyone living in Portuguese India, centered in Goa, was forced to convert to Catholicism.
The Witch Hunter gets wealthy by arresting women accused of being the consorts of Satan. As an official, but very much the showman, Andrade is sent to Goa to work for the Office of the Inquisition. There his life is thrown into turmoil when he is convinced that he needs to possess a navaratna, a jewelled amulet.
In this historical novel, we follow the Witch Hunter on a Quixotic journey through colonial India. Oblivious of the true conditions of the world which he has entered, he clings to his old ways as he tries to create his own reality. He is poisonedsick and half-crazed, he goes in search of the jewels that he believes will restore his health. He blunders through a tiger hunt, goes to war, does his work in the torture chambers of the Grand Inquisitor and presides over a farcical witch-trial gone wrong. Eventually, he too is thrown into the inquisitors dungeons to face trial for heresy.
See more at: http://christophermatthewspub.com/the-witch-hunters-amulet/#sthash.owbbVbws.dpuf