Travis–Wild Heather Book 2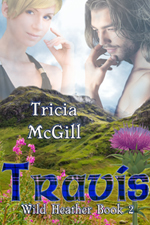 Beth Anderson travels to Scotland to help her Australian friends, Liz and Andrew, renovate the dilapidated castle he inherited from his uncle. Beth shares Liz's passion for all things Celtic and knows the ancient language well. Liz tells her an unbelievable story of how she and Andrew were swept back in time to 1050, to a hostile world, where Andrew saved the life of Travis, his ancestor, a lovable rogue.
Beth decides to explore the castle attics and unwittingly discovers their method of time-travel. But the Travis she meets is a changed man, now driven by revenge and set on annihilating all his enemies. He has too much violence and bloodshed to contend with and has no time in his life for another woman from the future. Despite this a great love grows, a love that must overcome many obstacles before reaching its conclusion. In Book 1, The Laird, we met Travis, his family, and his clansmen, in Book 2 Travis, we are reunited with them.
Chapter Excerpts
Chapter Two
She put her feet to the floor and went to sit on the rug before the hearth. Liz's story was spellbinding, and so unbelievable she had no hope of getting any sleep this night.
Every sensible bone in her body told her it just didn't happen; nobody travelled through time. But Liz made it sound so convincing, and so real. Andrew and she went up to the attic in this jumble of buildings and found a cloak and badge in a chest that had somehow whisked them back to meet this Travis, who sounded a thorough rogue.
No wonder Liz went all soft at the mention of the highlander, he was gentle-hearted and lovable while being tough enough to rule his people and fight his enemies with cold-blooded skill. Liz admitted to being frightened of him at first when he'd put on his barbarian act, but soon found it was an act.
Beth now fostered the most intense yearning to meet this man. Saul possessed not one heroic characteristic. They'd met at university, but hadn't started dating until her twenty-fourth birthday, two years ago. He'd walked into the pub where her few friends were celebrating with her, and sauntered over. Not a handsome man, he nonetheless possessed a certain charm which bowled her over. Beth had never dated seriously, and was a virgin on their wedding night, which amused Saul. He'd stopped touching her intimately a month after their wedding day.
Beth sighed as she went back to bed. Snuggling beneath the covers, her thoughts returned to Liz's story. What would it be like to be loved by a man like Andrew, or this Travis? It was likely she would never know; likely she would never meet anyone like them.
Many times Saul had told her she was a bore, was plain and dowdy, and no man in his right mind would want her. When she'd queried him as to why he had wanted her, seeing as he considered himself of sound mind, he'd prevaricated. At his funeral, she'd learnt the reason.
Saul's real love was there, frantic with grief, sobbing fit to die. A relative of Saul's broke the sad truth to her. Saul married her simply to keep his position in the company he worked for. The senior partners in the law firm would not employ homosexuals. She had simply been a cover.
Punching the pillow, Beth willed herself to sleep.
* * *
Beth yawned and stretched. When her toes encountered a cold patch at the bottom of the bed she pulled her knees up to her chest and opened her eyes. The small clock by the bed said it was nine-o-clock. Sunlight streamed in through the long windows.
She tossed back the covers and pulled on her dressing gown, then saw a note on the bedside chest.
"We've all gone to the market. You were sleeping so soundly we didn't want to disturb you. There's plenty of hot water for a bath. Help yourself to breakfast. Be back about eleven." Liz had signed it.
Beth pulled out fresh undies and a warm T-shirt and jeans, and made her way along the hallway. Eager to look around the castle, she didn't dally long in the bathroom, and was soon down in the kitchen making toast.
By the time she'd washed her mug and plate and wandered about it was still only ten. She went up the staircase and stopped by the portrait of the man who looked like Travis. What wonderful eyes this ancestor of Andrew's had. There was mischief in their brown depths, but something else. A deep knowledge. They were the sort of eyes that seemed to look into her soul—delved deep to find the sadness and loneliness dwelling there.
It was cold in the hallway. A gnarled old man, who Liz explained did the odd jobs, was lighting the fire in her room. After nodding her way he went back to his task. She pulled a thick sweater over her head.
As she wandered along the hallway Beth studied the other paintings. A few of the other men also looked similar to Andrew and Travis. One portrait of a woman intrigued her. There was something vaguely familiar about her, but Beth couldn't put a finger on who it possibly reminded her of. Fair-headed and dressed in a simple kirtle, happiness shone from her eyes. She seemed to be smiling at the artist—or someone standing behind him—a smile of a woman in love.
As if her feet were guided by a will of their own, Beth found herself by a door at the end of the hallway. A door Liz said led to the upper part of the house. The part where they'd come upon the articles that propelled them back in time. A compelling force made her open the door and mount the stairs on the other side.
The house was a maze of corridors, staircases, and doors opening onto more staircases. Without considering where she was going she let her instincts guide her. Up in the attics she came to a door where a strange feeling overwhelmed her. It was as if a force again directed her actions.
Beth pushed open the door. The room beyond was dim, with one high small window throwing a little amount of light in. Old trunks were lined up along one wall. She flicked a switch and a single light bulb sent a dull glow onto the dusty space. Instinct told her this was the attic where Liz and Andrew were propelled back in time. Her heart raced, her palms itched. Unafraid, even though she knew deep inside she should be, Beth walked over to the nearest trunk. The lid lifted easily. A damp, musty odor rose and she wrinkled her nose.
Was the folded cloak the one Liz had taken out last year? Beth fingered the animal hide, and then lifted it. The garment was heavy, and as she shook it gently dust flew up, making her sneeze. A metal clasp secured the long roll collar, and Beth took both cloak and badge over beneath the bulb so she could examine it more closely. There were some letters engraved on the metal plate, but she couldn't make out the words in the dim light. But an unmistakable cloverleaf was scored into it.
Her hands and knees shook. This was most definitely the garment and badge Liz and Andrew had found. It was doubtful she would be going anywhere though, it must have needed the chemistry between her friends to set off the strange cycle of events. She chuckled, the small sound echoing about the dusty room. What was she thinking? Liz was probably having her on. Perhaps they told the same tale to all visitors to the castle. It helped set the mood.
Yet Liz did seem sincere. And if it was the truth, Andrew was drawn back through time to save Travis, his ancestor. Liz happened to be there with him, probably needed to encourage Andrew into the attics.
Half afraid, half skeptical, Beth put the cape about her shoulders, her slim frame nearly collapsing beneath its immense weight. She peered down at the badge, rubbing her wrist over its surface.
The room vibrated as a flash of light coursed through the window, then seemed to run through her body. Her first thought was that a bolt of lightning had hit her. Then reason returned and she remembered it was sunny outside and there'd been no sign of a storm. But perhaps Scotland was prone to sudden storms. That seemed the likeliest explanation. With a spurt of laughter she shook her head.
Then the floor shuddered. Beth screamed as the ground opened beneath her. Flinging her arms out she tried to catch onto the nearest solid object, but found none. She was hurtling into a vortex, sure it must be an earthquake. But if that were so the walls would be caving in—yet all she felt was a dark emptiness. Her screams vibrated in her head, while her whole body trembled. Or was it the air surrounding her? Panic overwhelmed her until she felt sick with it.
Blackness like nothing she'd known before surrounded her as she fell into an endless pit. Arms scrabbling for a hold reached out but still touched air, and strangely, her legs felt detached from her body and dangled below her.
She was going to die, she just knew it.
But didn't people see a light above them when they spoke of out of body experiences and before death visions, not this darkness? She was unbelievably cold, yet feverish at the same time. Was she having a stroke? As if caught in a whirlpool her body fell, and fell, and fell, as her screams grew louder.
* * *
Beth lay motionless. If she'd died, then when she opened her eyes she would be at the pearly gates. Every muscle in her body ached. It hadn't hurt this much since she'd fallen off a horse as a child and bruised every part that touched earth.
A buzzing in her ears made her dizzy, but a bird singing sweetly nearby comforted her. At least she wasn't dead. Unless they had birds in heaven to serenade you. Good grief, now she was raving nonsense.
Warily she opened her eyes. The branches of a tree curved above her, not clouds. With a hand to her temple Beth slowly turned her head, first one way then the other. She lay out in the open, and the tree above her was one of half a dozen in a small glade. Bracken grew waist high all around her. The air was crisp, the grass beneath her cold and damp. She shuddered.
Perhaps she'd had a funny turn and passed out, then wandered outside in a trance. What was she doing when she began to feel dizzy? Ah yes; the attic and the cloak! Peering down warily, she ran a hand over her front. She still wore the strange garment.
This couldn't be happening. She was going mad. This wasn't a glade, and these weren't real trees. She must have bumped her head and was hallucinating. That was the only explanation.
Her mind veered away from the obvious answer.
She'd been studying the engraving on the badge before the lightning flash. Touching it, she twisted it until she could read the inscription and clearly see the markings. Was it like Aladdin's lamp, one rub and a genie appeared? Or in this case, you were propelled into another dimension.
No, that was just plain silly. The likeliest explanation was that she'd had some sort of blackout and wandered out of the castle and into the surrounding countryside. She wanted to believe that one. The first person to pass would verify the date and time and that this was the month of May.
She sat up, massaging her thighs. At least her legs felt normal now, although her muscles still ached as if she'd run a mile. The dizziness had subsided and the ringing in her ears was gone. Rubbing her face she glanced around. Everything seemed normal and the few cattle grazing about a hundred meters away added to that normalcy.
Beth tried to remember the lie of the land on their drive back from the airport but couldn't recall seeing any cattle near the McAlistair's castle. But that didn't prove anything. She could have wandered aimlessly on the far side of the estate while in this stupor, or whatever ailed her. It certainly looked wild and rugged—but perhaps the countryside was like this over most of Scotland. In Australia you only traveled a short distance from some towns to find oneself in the outback.
She must have passed out. This was the only feasible answer to the feeling of flying helplessly through that vortex. Between the hurtling sensation and the blackness, all she could recall was the cold. And it had been freezing when that strange wind blew up.
"Come on, be practical." She stood and slapped at her sides. She'd always been level-headed. Boring and unimaginative, that was Beth Anderson. She steered away from the answer that was emerging, crying out to be heard.
"No. I'm still near Liz and Andrew's estate. As soon as someone comes by I'll prove it."
With a definite nod of the head Beth looked about, trying to get her bearings from the position of the sun. What time could it be? It was just after ten when she left her room after donning the thick sweater. So, depending on how long she'd been in this strange state, it could be anywhere between ten thirty and eleven. The sun wasn't quite at its height, which proved she was more or less right. It was streaming in her window this morning, which meant the castle had to be…
Beth turned about. This was so stupid. How on earth could she work out which direction to take? A city girl didn't have to worry about such things. There were street signs in the city and always someone to ask for directions. Here she was surrounded by trees, the few cattle, and bracken. As she pondered which way to walk, the thundering of hooves disturbed the tranquility. Thank the lord. Beth breathed a sigh of relief—now she'd find out where she was.
A hand shielding her eyes, she faced the rider.
A giant of a man rode one of the biggest horses she'd ever seen. Black flowing hair streamed out behind him, and he rode as if all the devils from hell were on his heels.
As he neared Beth saw that he had a beard as black as his hair. He wore some sort of strange garment, like a philabeg, the old Gaelic version of a kilt. A claymore hung at his side, and leather strapping bound his calves.
It was Andrew.
Relief flooded her. Why hadn't Liz told her he was taking part in a highland pageant? She laughed out loud as he saw her, and lifted her hand to wave.
He skidded the horse to a standstill. It was then, as the man controlled the wild, panting beast, Beth recalled something Liz told her last night. Andrew wasn't a good rider. Her throat dried up, and she couldn't swallow. The rider stared at her as if she was a ghost just risen from the earth. His mouth worked but no words came out.
Some sixth sense told her exactly who this stranger was.
"Travis." A hand covering her mouth, Beth whispered the name hoarsely. Dizziness swamped her, and vaguely she heard him use a Gaelic curse before she toppled into oblivion.