Twelve Dates of Christmas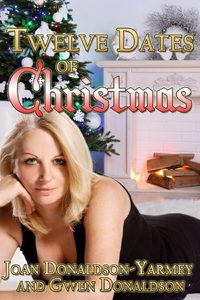 Stacy Martin, who has been married three times and had many relationships, doesn't want a man in her life right now but her friends have other ideas. As a forty-ninth birthday present they pay for her to join three dating sites on the Internet. She just has to fill out the forms and pick the men she wants to meet. The only stipulation is that she must find a man by Christmas Eve so that the two of them can join Kate, one of her friends, and her boyfriend in Hawaii for New Year's Eve.
"All you have to do is pick twelve men to date in December," Kate said. "After the first date you can decide if you want to see each again. In the end you should be able to choose one for our Hawaii trip."
Stacy has a full life with owning a flight attendant school, owning a rental condo, and owning a cat. Will she choose a man from a dating site, the man who has accused her female renters of being prostitutes, or a stranger she meets as he is leaving the rental condo building?
Chapter Excerpts
Chapter One
Chapter One
"I'm giving up trying to be classy," I said, staring at myself in the mirror. It actually wouldn't have been a bad image if it hadn't been for the sweater on inside out and backwards. How could I have not noticed it this morning when I put it on?
The doorbell rang. I knew it would be Kate, my best friend. I slouched down the hall to the door and opened it. I don't know if it was the look on my face that made her glance at my sweater, or if she instinctively knew, but she immediately burst out laughing. Sometimes, I wondered about her sensitivity towards my problem.
"Well, at least you didn't wear it somewhere," she said, as she stepped through the doorway.
I turned and we went back to the bedroom. "What makes you think I put this on for tonight?"
"Oh, no," she smiled. "Where did you wear it?"
"How about to a meeting with my staff, a luncheon with my ex-mother-in-law, and three interviews with new students."
"Oh, a full day."
I nodded as I pulled off the offending sweater and threw it in the laundry basket in the corner. It wouldn't be so sad if this was the first time that an item of my apparel or an accessory had sabotaged my day, but it wasn't. I have had the fine experience of wearing two different shoes of similar color, catching the back of my skirt in my underwear, walking out of a washroom with toilet paper on my shoe, and not noticing two runs in my tights. I even wore my pants backwards one day. Who knew that on these pants the zipper didn't belong in the front and pockets shouldn't be in the back. I still don't know how I never felt the difference.
I don't mean to sound bitchy but I hoped other women had gone through the same experiences, and I wasn't alone in my oddity.
I donned a blouse and covered it with a cardigan, checking to make sure it was right side out and the buttons were in the right holes with no corner hanging down. I didn't really feel like going out again after the long day, but Kate had informed me two weeks ago she was taking me for the first year celebration of my 49th birthday.
The restaurant was only two blocks away and we were going to walk. It was the 25th of November in Vancouver so the weather was cool and rainy. I pulled on a water-resistant coat and grabbed my umbrella.
When we entered the restaurant, I was surprised to see a table full of my friends. They all stood and yelled "Happy Birthday, Stacy!" embarrassing me in front of the other patrons. I could feel my face turning red as I turned and glared at Kate. I had specifically told her I didn't want a party and she had agreed, saying it would just be a quiet night out. She smiled sweetly back.
"When have you ever known me to listen?" she asked.
I sighed. She was right. If I hadn't been so busy this past month I would have suspected something like this. But it was done, and I was actually glad to see my girlfriends. The only time we managed to get together as a group was for my annual all girls Christmas party at my place.
I grinned and sat at the head of the table where a large glass of red wine waited. Before anyone else could do it I picked my glass and held it in the air. "To all my good friends. Thank you for coming to help me celebrate my birthday."
They raised their glasses in return and we drank to our friendship. I considered myself lucky to have such wonderful women in my life. Pauline, I have known since school in Edmonton. She moved to Vancouver before I did and works in television. Lisa works for me. She is the athletic one of my friends and keeps trying to get me in shape. I'm afraid she is failing miserably.
Val, Mary, and Mona I met soon after I moved here. Val has bright red hair and is a real estate agent. Mary and Mona are twins. They were born in Japan but moved here when they were young. They each run a spa in the two hotels their father owns.
And what can I say about Kate? She is a professor at Simon Fraser University. We met at a barbeque put on by a mutual friend and have been close ever since. We have travelled together and shared breakups with boyfriends together. Right now she is in a relationship with a man she met on a dating site. He lived in Chilliwack but with her teaching at the university and him travelling back and forth to work as a contractor in the Alberta oil patch, they haven't met yet. But they have both professed love for each other and she is planning to finally meet Charles in Hawaii for New Year's Eve.
"I pre-ordered some dishes for us all to share," Kate said. "They'll be out in a few minutes. Meanwhile, here are your birthday presents from us."
Kate handed me a large manila envelope. I opened it and pulled out a sheaf of papers and a credit card. I scanned the first paper. It showed that I had joined the Meet and Match dating site for a month. The next one was for Be Mine, and the third for Don't Be Single. I stared at them not sure how to react. I'd already been married and divorced three times and survived many unsuccessful relationships. Did I really want to continue trying to find the right man for me?
"We know you've gone on dating sites before and they didn't turn out well," Pauline said. "But we decided it was time you tried again. You deserve happiness and we want to help. These are sites that you haven't tried yet."
"I don't think this will be any more successful than the way I've been meeting men," I said. Just recently there was John who complimented me on my boots while we were in line at Starbucks. We chatted and he asked if I wanted to go out for dinner. I accepted and we dated for about a month before he texted me that he didn't think we should see each other anymore. Before him was Ben who I met at a seminar. We saw each other for about two weeks before I pulled the plug on the relationship. I don't date married men. These were typical of the men I usually met and from past experience I knew many of the men who joined the on-line dating sites would not be better specimens.
Besides, I had Vince, a man I first made contact with while I was on a dating site two years ago. Vince and I texted and talked on the phone a few times. Then I had met Big Al, a man I wanted to spend time with. I told Vince I was going to quit corresponding with him. He hadn't been very happy with our breakup. But, while Big Al and I had a strong attraction for each other, he decided to end our relationship at the end of this past summer. It had taken me a while to get over it. In October, I sent Vince a text and he happily welcomed me back. So far, though, like Kate and her Charles, I had never met Vince in person.
"I drew up a plan," Kate said.
"I'm sure you did," I muttered. Kate was a big planner. She never did anything on the spur of the moment. Everything had to be laid out right down to the last detail. I imagined it had taken her at least a month to organize this party. "But I don't know if I want to hear it."
"You do," Kate continued. "You have signed up on these three sites for a month. During that time you will pick twelve men to date in December. That credit card is prepaid so you just give the number when you want to check a guy out. After the first date, you can decide if you want to see any of them again. Hopefully in the end you can pick a man to join you in Hawaii with me and Charles. I'm even calling the plan, Stacy's Twelve Dates of Christmas."
"You mean I have to go on a twelve dates with twelve different men in December?" There was no way I could do that.
"I was thinking more of meeting the men for dinner after work. That way you save time each evening by not having to cook."
The food arrived before I could comment on the logic of that. Kate had chosen chicken and ribs, garlic potatoes, four cheese toasted bread, Caesar salad, and various vegetables. We dug in and it was a fun evening. The ladies told me the story of how Kate approached them and how they actually met to discuss what dating sites to register me on and for how long.
"We thought about Plenty of Fish for you," Val said. "It's free and you could go on there and chat with anyone you want."
"Except a friend of mine says the men on it only want one thing and aren't afraid to ask for it." Mary added.
"And since you are getting older," Pauline grinned, "we also looked at Cougar Life."
"My older sister, who is fifty-eight, tried it," Lisa told me. "She had a man tell her he loved older women and after they texted for a week he asked her to marry him and help him raise his seven-year-old daughter."
"We discussed setting you up with him then figured it would be too mean." Mona laughed.
It seemed they had a lot of fun at my expense.
"What makes you think a man I have just met and only had one or two dates with would want to, or even be able to, go to Hawaii with me on such short notice?" I asked.
"We don't," Kate said. "But it's worth a try and I really want another couple with Charles and me. Vacationing is so much more fun with four."
* * *
Later in my condo, Kate showed me what she posted in order to get me started. I didn't know what to expect but was happy when it said I was a woman seeking men between the age of 45 and 65 and within eighty kilometres of my home.
"Your user name is Sam for Stacy Ann Martin and your password for each site is twelvedates. I think these sites are just like the others. Once you have filled in the questionnaire they will match you with men who meet your requirements. Then pictures of men will start coming through with profiles and comments. These will either be real comments from the men, or they will have chosen something from a list of "canned" suggestions. You can click on 'smile' if you like them and see what they do. If they like you, they will respond."
After Kate left, I changed into my nightgown and petted Ginger, my long-haired, orange tabby. Then I opened a bottle of wine and poured a glass. I needed some more fortification before looking at the first site, Be Mine. What I'd drunk at the restaurant just wouldn't do it. I downed half of the glass before starting.
Right off the bat they wanted to know my education level. Well, after high school I went on to finish a beautician course at a post-secondary college and I grew up in Edmonton, Alberta.
The next two were 'my occupation' and my 'salary range'. I wasn't sure how much of that I wanted to admit. I own a business, a very successful business. And as such, I have a very good income. I sipped from my glass.
But I am a private person. None of my family or friends know my true income, so why would I want to admit that to a bunch of strange men? I certainly didn't want some man thinking he could move in with me and have me look after him. I've heard of the new term 'mansession' where men are looking for a free ride, where they find women who will support them so they can lay around the house and do nothing. And nothing means not even housework. They may start out with a job when trying to attract a woman but soon lose it or quit after marriage and, for some reason known only to them, can't find a job they want to do or in the pay range they think they deserve. So they freeload off their wives and have no guilt about it.
I put in what I thought sounded like a reasonable, but not excessively high, amount and added I worked at a Flight Attendant College. I didn't admit I owned it. For my height, I wondered if I should put it at five foot, five inches or the five foot eight I am in my heels. I settled on my real height. I finished my glass of wine and refilled it.
Eye and hair colour. Blue and light blonde, after a trip to my hairdresser.
How would I describe my body type? Should I be truthful? Everyone knew that men only want slender, big-breasted women. I began to mentally list the body types I wasn't. I wasn't athletic, I wasn't statuesque, and I wasn't slender. I took a drink.
Would I call myself voluptuous? I stood and staggered a little. Well, what did I expect after the half bottle at the restaurant and a glass and half while filling out this questionnaire?
I went and scrutinized myself in the mirror on my closet door. I nodded. Voluptuous sounded good. I added more wine to the little left in my glass then filled in voluptuous for my body type.
Ginger jumped up on the table wanting my attention. I pulled her onto my lap where she curled up and purred.
What type of exercise did I like? Well, geeze, the answer to my body type should be an indication of the exercise I liked.
I don't verbally speak any language other than English, but I do know sign language which I've heard is now considered a second language.
And so it went. I listed my favourite sports as none, my hobbies as none, and my weekend evening activities as watching movies. I liked pets, I smoked cigarillos and drank wine and I didn't have children.
Then I had to describe what I wanted in a man. What was he supposed to look like, what was his education, his income, his hair colour, did he drink or smoke and so on.
And finally it was time to write my headline. Their tips were: don't make it too long; show your humour if you wish; use your favourite one liner; just be natural. Then I was told, your headline is a great way to grab someone's attention. It's displayed at the top of your profile in search results.
It listed what other people had written: Friend, possibly more; email me, I will respond; I'm a goofball with a camera who will make you happier than a bird with a French fry; you only live once so live it with someone who makes you happy.
I finished what was in my glass and put the top back on the bottle of wine. I wrote that I was looking for a man to share good times with.
At last I got to where I was supposed to add my photo or put a face on my profile. Their tips were: smile in your picture; focus on you, not a group; use a recent picture; blurry is bad, well-lit is good.
In the photo square there was the warning: no photo equates to no attention.
My goodness, did they think we don't know anything?
I went through my pictures looking for the one that would show me in the best light. They were a little out of focus but it could have just been the wine. I finally picked one showing me ready to tee off at a fundraiser. That would show what type of sports I was into. It also showed me smiling and it didn't have other people in it. I added a head shot and one of me with my ninety-year-old mother.
If anyone was interested I could ask them which one they thought was me. Maybe they would like the fact that I would post one of my mom and me. Hopefully, they might think it was very thoughtful. That would last at least until they met me.
Finally I was told my profile would be reviewed within the next few hours and they would shoot me an email the moment it was live. But it wasn't through. It showed me some photos of men and asked if I saw anyone interesting.
By then I really didn't care. I slammed down the lid of my computer, had a large drink of water since I know that drinking alcohol dehydrated the body and that is why some people have headaches in the morning. I crawled into bed and pulled Ginger under the covers with me.