When Destiny Calls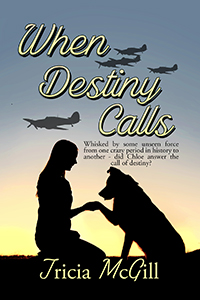 From one crazy period in history to another.
Whisked by some unseen force from the Covid-19 ridden world of 2020 in Australia, to an equally horrific time in the past, carer Chloe Simpson finds herself in North London during the Blitz of 1940. Could be that Chloe became too immersed in the stories related to her by Minnie, a woman in the Australian nursing home where she cares for elderly people? Stories about the dreadful days and nights endured during the Blitz.
Engrossed in the stories surrounding photographs in 98-year-old Minnie Clacton's cherished album, back in time Chloe meets up with the young Minnie plus her own Great Great Grandmother Aggie.
In the midst of an air raid, Chloe is discovered, wet and confused, by a man and his dog. A man and his canine companion who coincidentally appeared prominently in the photo album alongside the young Minnie and Aggie. Did Chloe simply answer the call of Destiny?
Chapter Excerpts
Chapter Two
The grass beneath me was very wet, and I lay staring up through the branches of a nearby tree, as the thought crossed my mind that it was very dark. I could have sworn there were a few lights on in the park, and I recalled that I was on the way to the car park when I fell—or was pushed. In fact, my car was in sight just across the road, and hadn't I pressed the unlock button?
I heard what sounded like the drone of a far off plane—or perhaps it was the police helicopter doing its usual sweep over the city. I rubbed my hand over my forehead, shocked when I realised it was sticky with blood. Wanting to see what was wrong, I scrabbled about in my pocket for my phone. It wasn't there. Panic set in then. My attackers must have stolen it along with my car.
Confused and sore, I pushed myself into a sitting position when a dog appeared in front of me. His wet nose touched my chin and then he swiped his tongue over my face. "Hello boy," I said, sounding croaky, "Where did you spring from?" I had not seen many dogs in this park before, and certainly none without an owner at the end of their leash. I looked around and frowned. Surely, I had been sitting on a bench—it couldn't have disappeared while I fainted, or whatever I did before landing on the grass. Then I recalled that I was heading for my car when I saw that one of the thugs held a knife and was about to hit me—or had he pushed me? Perhaps the dog had been with them and I hadn't noticed. I stared into the darkness, which was beginning to give me the shivers.
"Hey, Tiger come away boy. What have you found there?" The man's voice did not sound menacing in any way. I could not see his face for he pointed a torch at mine. I put my hand up to shield my eyes but all I could see was his shape, and he looked very large from where I sat. "Sorry, miss, he is always too friendly. Are you all right? What the hell are you doing sitting there, you must be soaked through, and why aren't you down the shelter, didn't you hear the siren?"
What in heavens' name was he talking about? Stupidly the first words that came to mind were, "You're not an Aussie." That much was clear by his accent that I recognised as probably English—maybe from London.
His laugh was pleasant as he asked, "What on this earth is ossie? I come from these parts. Where are you from? And I repeat, why aren't you down a shelter?"
"Just what is this shelter you keep rambling on about?" I struggled to rise and he offered me a helping hand. Oddly, I did not feel intimidated by him, even though he certainly was well built. Once on my feet, I moved away from him, and remembering I had tossed my car keys down, I began to search around with a foot.
"What are you looking for?" he asked as he moved the torch around in a circle. When the shaft of light picked up the alarm clock lying a few inches away, he stooped and retrieved it asking, "This what you're after?"
I shook my head, which still hurt as a pain sliced through it. "No, I was looking for my car keys. My car is parked just over there in the car park in front of the nursing home." I pointed in what I thought was the buildings' general direction, and took Minnie's old clock from him.
Then I felt the album beneath my parka and sighed with relief. At least the thugs hadn't taken that. "I was attacked you see by these two young thieves and I tossed my keys down in the hope they would just run off. Looks like they have probably stolen my car." Tears began to stream down my cheeks, whether from delayed shock or losing my precious little car I had no idea. "And my phone's gone," I added with a soft hiccup.
"Look miss." He sighed as he looked over a shoulder. "I think you had best come home with me. Seems you've had a bit of a shock. There are no buildings over there. This is the park and there are just trees at this side. Yonder is the kids' playground. The houses are on the other side of the road, and you can't see them in this bit of a fog.