A Step Beyond Book 2 The CornwallAdventures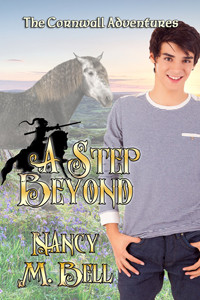 Legend says that land once stretched from Lands End in Cornwall as far as the Isles of Scillies, thirty miles out in the Atlantic. To this mythical land Gort Treliving escapes when his Uncle Daniel beats him senseless. He steps away from his corporeal body and walks into the mist of oblivion, seeking only to escape the pain. To Gort's surprise, he finds he is Sir Gawain, one of King Arthur's knights. He is also the partner of a wonderful grey war stallion who can telepathically speak to him.
While he is caught up in a wild chase across the countryside to rescue King Arthur's kidnapped queen and her lady, Gort as Gawain, tries to puzzle out the strange visions of another life that assail him at the most inopportune times.
There is intrigue, mystery, sword play and a dash of romance. A Step Beyond is a rollicking romp of an adventure that borrows inspiration from the Arthurian legends with a decidedly quirky cast of supporting characters.