Ally Cat; A Tale of Survival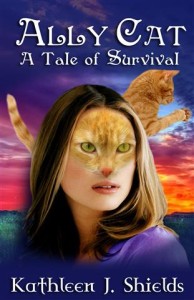 Ally Cat, A Tale of Survival is a story for all ages.  Allison Catsworth discovers she has a problem…
While falling to her death she sees not her life flash before her eyes but her reflection.  A moment of fear brings about transformation into a cat that enables her to land on all four paws, which saves her life.
Yet it is in that moment, that everything for Ally changes. A search for answers leads to hypnotic life regression, where she discovers past lives of a lab assistant connected to World War II and feline DNA that is changing her own DNA.
While dodging the press and various cults she starts ticking down her 'nine lives' in hopes of finding the answers and the solutions to this mystery before her time is up.
Chapter Excerpts
Ally falls to her doom
"Ally walk away." Jim pressed as the four guys began their forward assault. But Ally didn't want to see anyone fight. As one guy threw a punch and another grabbed for a nearby stick, Ally ran in the middle of the fight. However one of the guys, pushed Ally away and when he touched her Jim blew his cool. He jumped into that group of guys fists blazin' which when Ally saw this she became even more worried about Jim. When she ran back to him he was just receiving a massive blow to the chin and when he stumbled backwards, he bumped into Ally hard which made her loose her balance.
When all five guys noticed that Ally was stumbling and how close she was to the edge of the cliff, their thinking switched and as they watched her in what seemed to be slow motion loose her footing and teeter over the edge of the cliff, screaming, Jim leapt to his feet as fast as he could and ran towards her. But just as he reached for her hand gravity pulled her over and he fell to the ground, peering over the edge as he watched Ally falling.
After that everything seemed to slow down. She saw the fear on his face so detailed as she looked up from her fall. He was so scared and so sad, she could almost see his heart breaking through his facial expressions. She saw the drunk guys looking over the edge with complete shock on their face, an empty whiskey bottle still tightly grasped in one guys hand. Then she turned, tumbling in the air, now facing the water, fast approaching, she saw her reflection in the shallow water getting closer and closer. Her scream grew hoarse, almost like a growl. Then it happened. Ally saw her reflection in the mirror-like lake change. She saw weird things happening. She looked at her hands, they looked like they were shrinking, and for a second she thought she was losing her mind. That the fear and near death experience was playing tricks on her. But hair, no, fur was growing on her hands, soft golden fur. She felt sick inside, she was screaming for help, but everything sounded like a cat's scream. Was she turning into a cat? She must have been hallucinating, because after that she blacked out.
Jim watched as his love fell to her doom. There was nothing he could do. Nothing anybody could do. However, he couldn't quite believe what he was seeing ether. He saw her arms and legs shrinking, he saw her body turn small and furry, he saw a golden cats tail protrude out of her buttocks. Within mere seconds after a bright flash of light, Jim saw his precious Ally transform from a living woman, into a cat, not falling to her death, but twisting around in the open air like a small speck of dust searching for the perfect place to land. Then finally, ready and waiting to land on all fours, she did.
Ally the cat landed ferociously fast on a hard rock that protruded from the far left edge of the lagoon, then bounced back up from the velocity of pressure and then landed once again on her side in the water knocked out from the shock and quickly beginning to sink. As Jim's eyes focused on the creature which nearly instantly transformed back into Ally, Jim found the courage to leap from the cliff himself, aiming right to avoid the rock and try to hit the deep end. As he dove into the water, many kids from the shore were intently watching; had heard the commotion and screams moments earlier; had watched Ally fall from the cliffs edge; had seen something weird happen but couldn't for the life of themselves believe what they actually saw, and as they neared the shoreline, waiting with baited breath to see if Jim emerged from the water and to see if he had Ally in his arms; the night grew silent. Cindy and Joyce ran up to the shoreline, all were holding their breath, including the four guys looking down from the top of the cliff, panic-stricken.
The time ticked by slower than molasses, you could have heard a pin drop as everyone waited with baited breath, then finally, what seemed like absolutely forever, Jim shot up out of the water, Ally's limp body grasped tightly in his arms. As soon as some of the guys from the shoreline saw the two of them they jumped into the water to help bring the two to land. Ally was out cold, and a voice could be heard calling for anyone who could do CPR. Ally's body was dragged onto the shoreline, some people crowded, others backed away to give space. One of the guys from the medical department came running up and immediately began CPR as Joyce and Cindy went to Jim with towels and tried to inquire as to what happened.
Jim on the other hand was out of breath exhausted and beside himself in worry. Ally still wasn't breathing and as the seconds ticked by like minutes, Jim's worry increased. His heart was beating rapidly, every muscle in his body was tense and as he watched the med student continue compressions on Ally's chest and breathe into her mouth, Jim's knees began to tremble. As he fell to his knees, and Joyce began to feel the tears filling her eyes and the murmurs began quietly around the crowd, Ally gasped for her first breath.
—-
"Oh thank God! She's okay!" Johnny exclaimed with so much conviction it made his grandmother burst into laughter.
Jenny on the other hand was exploding with curiosity, "Did she really turn into a cat? Grandma, did anyone record it?"
Grandma looked at her sweet granddaughter and smiled, "Remember this was long before digital cameras and video recorders. Long before cell phones and laptops too." She watched as Jenny moped a bit and then looked forward to the next part, certain about this even though it hadn't been said yet. "But someone did get pictures."
"They did?" Johnny questioned curiously wondering when he missed that.
Grandma smiled and slid her finger under Jenny's chin to show her how proud she was, then continued the story.