City of the Gods: Guardian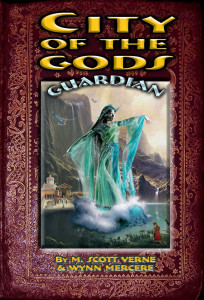 Forced by a mystical bond, the tracker D'Molay and the compassionate goddess Mazu travel across the Gods' Realms in search of Circe, the greatest sorceress of Olympia. But finding her is only half the battle, for they must also rescue one of Circe's victims and return her safely to an impatient deity. To make matters worse, D'Molay begins to doubt his own sanity as he begins to hallucinate and grows convinced that someone or some thing is stalking them. What is Circe's secret task, and what unspeakable horror threatens the very existence of the City of the Gods?
Chapter Excerpts
Chapter 1 - Excursions and Encounters (excerpt)
"I swear by Mithras you've had that ugly belt for 30 years."
The warm morning sun beamed through the open doorway and cast a pale orange glow upon the tavern room of the Jolly Rajah. D'Molay rarely visited this early, but he was comfortable in the shadows that stretched across the floor from the low angle of the light. His companion at the well-worn oak table was his old friend Sergius, who had just finished a jocular critique of D'Molay's wardrobe and kit. D'Molay wore dark leather boots and a matching vest. His beige cotton pants were tucked into the boots. Underneath his vest, he wore a loose fitting, long sleeved tunic that laced up the front. On the floor sat a traveling bag and a larger knapsack with a strap running along its length. There was no doubt that he was a man on his way to somewhere beyond the City walls. Sergius was a stark contrast; he dressed in a more decadent style that proved his tavern, and other under its tables pursuits, paid him well.
"So, where are you headed? Some new mission for the Council?"
D'Molay shifted in his uncomfortable chair. "Not this time. I made a bonded agreement, and now I have to honor it," he tried to say as casually as possible.
Sergius leaned toward him. "You bonded yourself? I thought you said you'd never do that again after what happened last time."
"It couldn't be helped. I needed some information. A bond was all I had left to offer in order to get it."
Sergius gave his old partner an appraising look. "Well, that's just one more reason I got out of the business and took over this place. I don't have to pledge my life to get a delivery of ale or wine." He leaned back in his chair and balanced it on the two rear legs, resting the chair against the wall as if to reassure himself that his tavern was still there. "What's this bond all about? Are you even able to talk about it?"
D'Molay took a sip from his mug. "I can talk about it. I have to find Circe and try to get her to reverse a spell she cast long ago."
"Circe? I've heard she's a sorceress who turns men into beasts."
"Yes, so have I. And worse. Have you heard any rumors about where she is these days?"
Sergius gave his familiar exasperated look, one that signaled disbelief that he would know the answer to such a question. "No . . . no, I can't say that I have. Are you sure she's even in the realms of the Gods? I mean, is she even a goddess? Maybe she died back on Earth, eons ago."
"Give me a bit of credit," D'Molay smirked back. "I checked the Great Library. Circe's listed in the book of the favored, and that means she was definitely here at some point. I just haven't been able to track her down yet. You'd think finding a sorceress would be easy, but it's almost if she has gone into hiding or retired."
"Well, if anyone can find her it'll be you. Still, I think you're crazy for taking on something like this." Sergius tipped his chair back into its proper position as one of his serving girls brought a pitcher to refill their mugs. He glanced up at her and was reminded of D'Molay's last visit to his bar. "Hey, did you ever find that slave girl you were looking for?"
"Yes. I found her and freed her. Then she was killed at a battle at Ares' Fortress about a month ago. She sacrificed herself so that I . . ." His voice trailed off as the painful memories took over. D'Molay looked down at the table, unable to hold Sergius' gaze.
The sadness that burdened D'Molay did not go unnoticed by his old friend. "I'm sorry. I had no idea." They sat in silence for a moment. "Did she ever regain her memories and find out where she came from?" he finally asked.
D'Molay raised his head. "At the very end she did. But…" D'Molay seemed to almost be at battle with himself, like a stutterer unable to form a word he wanted to say. His entire body tensed up and his face started to turn red as he tried to speak. Finally he stopped and caught his breath. It was more a sigh of resignation as he accepted the fact he would not be able to say any more on the matter. Such was the power of the Council's magic. "I – I can't tell you any more than that, Sergius. It's tied up with matters the Council has ordered me not to speak of."
"A pox on the Council. See how they mess with our minds, our souls and our very existence? That's why I left. Being a pawn in their endless games is no way to live. I never knew if a task was really of use, or just some petty power play. I don't know how you continue to put up with it." Sergius picked up his refilled mug and took a deep drink from it. D'Molay merely stared into his own ale as he answered.
"Maybe I just stopped caring. I was a good soldier. They gave me a task and I just did it. I never worried about the rest. It was a job and they paid me, regardless of the reason. I think that's why the death of Aavi hit me so hard. I cared about someone once again. I can't blame the Council for her fate, though. They had nothing to do with it. She died because I took her into danger and failed to protect her."
"Ah, you can't blame yourself for that. Only the gods can know the future, and I often have my doubts about even that."
"I should have known Sergius. I should have . . ."
"Don't play the martyr. From what I've heard, you did enough of that back on Earth. What happened, happened. You can either move on or spend the rest of your life staring into a tankard of ale. I did that for years and I don't recommend it."
D'Molay looked up at Sergius. "Perhaps it had to happen. I'll never know for sure. I just need some time to get over her loss and my part in it. Maybe a hundred years or so."
Sergius decided it was time to change the subject. "So, where are you going next on this search for Circe?"
"I'm meeting Mazu at the North Docks and then we travel back to the Olympian Realm. We have a few leads there to follow up on."
"At least you have a plan."
Just then a delivery man called out from the back of the tavern. "Where's the tavern master? I got a shipment of wine on my cart."
Looking up from the table, Sergius bellowed out, "Be right there!" He stood. "My day begins. I have to go. Be careful, D'Molay. If Circe is hiding from the world, she might not want to be found. Be wary of who you trust."
"All right – I will. Thanks for just being there old friend."
"Always. Well, except for now." Sergius waved farewell as he followed the man into the back of the tavern.
D'Molay finished his ale in one swig. He slung the large bag over his shoulder and picked up the smaller traveling bag he and Aavi had used just a few weeks ago. After walking out of the Jolly Rajah in into the morning streets, D'Molay hailed a carriage driver.
"Where to sir?" the man asked. D'Molay wondered how many centuries the thin old man had lived. In this world, he could be seventy years or centuries more than that.
"Take me to the East Gate." As D'Molay loaded his belongings into the high compartment behind the driver, he heard the man sigh in response to the announced destination. The gate wasn't that far from the tavern and the  fare would be accordingly low. D'Molay paid his coins and climbed into the carriage box.
The carriage rolled off, stopping only once to pick up another passenger by the Roman slave market. As a portly merchant boarded, D'Molay gazed out the window at the abandoned temple across the street. His trained eye caught the movement of several people ducking out of sight, retreating deeper into decrepit doorways. D'Molay knew the site was a haven for thieves. He frowned at the foolish risk the driver was taking by even stopping near it. Luck was with them, however, and the carriage moved on without incident. The merchant, after settling himself into his seat with a great deal of huffing, puffing and rearrangement of his wares, promptly closed his eyes to nap. D'Molay was grateful that the man had no interest in small talk.
Five minutes later they reached the gate. D'Molay eased out of the vehicle so as not to awaken the snoring man and retrieved his bags. He hoped that switching from the carriage to a boat might throw off or reveal anyone who might be following. Noticing the gate was relatively free of traffic he hurried toward it. Sometimes the entry was quite clogged with heavily loaded wagons delivering food from the agricultural dock and the sad procession of slaves from the single pier that allowed chattel to be offloaded into the City. D'Molay wondered if perhaps today was a holy day that restricted business. For the life of him, he could not keep track of all the festivals and random observances that affected affairs in the City of the Gods. But he appreciated his good fortune as he swiftly cleared the gate and headed toward the boat rental dock. D'Molay approached a middle-aged woman in an elaborately decorated Babylonian gown, who had constructed a podium of sorts out of a stack of empty crates, and hung upon it a sign painted with glyphs of people riding in ships. D'Molay was struck by her beauty, and wondered why a woman of her obvious good breeding was operating a boat rental station. Thinking quickly of his own unusual history, he suppressed his curiosity. Everyone in the City had a past that was probably as amazing and unconventional as his own. The woman looked up and smiled at him.
"Do you have a short-runner to the North Dock?" he asked.
"Of course." She glanced toward the water. "My green boat is waiting for you." The woman pointed to the top of the box she stood behind, and D'Molay looked down to see a rudimentary chart of fares. A splotch of green paint had been applied next to a drawing of one of the City's coins. Nodding, he fished a matching coin out of his belt, realizing that perhaps Sergius had a point about its over-worn condition, and passed it to the Babylonian. In exchange, he received a small stone with some cryptic symbol on it. Assuming this was his ticket, D'Molay expressed his thanks and made his way to the small craft she had pointed out. Three other passengers were already on board, but he paid them no heed.
It was crewed by two young men who gestured eagerly to him as he came near. D'Molay held the stone between thumb and forefinger to show them what had been painted on it. The sailor with a tattoo of a roaring lion on his shoulder then pointed toward a pot with a hole in its lid. D'Molay dropped the stone through the hole and sat down on a ledge-bench that ran along the side of the boat. Chattering to each other in Panthos, the common language of the realms, the sailors put the craft quickly out on the lake and raised its sails to catch the wind that would propel it to the northwest. The boat carried him past the dense forest that shielded the northeast shore of the City. D'Molay allowed his thoughts to roam during the trip, imagining what mysteries the thick trees were hiding under their boughs.
When they reached the bustling North Dock, D'Molay held tight to his kit and climbed up a short ladder as the young men held the boat steady against the pier. When his head popped up to dock level, an Asian man strode over and chastised the rental boaters for not tying their boat up properly. D'Molay laughed to himself as they bickered, the dock's man wanting payment for the use of his facilities, and the sailors insisting that they owned nothing for they hadn't actually docked. Their heated negotiations faded into the background as D'Molay moved on toward Mazu's boathouse. From the looks of it, little had changed since the last time he had been there.
To anyone else, the bright red octagonal building and surrounding garden was a serene way station overlooking the great lake. But to D'Molay, it was a reminder of the man he had murdered here less than a month ago and the pain that act had caused. Aavi had almost lost her sanity when she realized he had killed someone for her. At the time, her acute distress was perplexing; now knowing what she was, it made more sense. An angel wouldn't want others to die or kill for them. He looked up briefly at the clear blue sky as he remembered Aavi.
The first thing he noticed upon entering the boathouse was that its polished wooden floor was clean and shining. It showed no sign that it had been bathed in the blood of a Mayan warrior. Behind the familiar counter stood a bald Asian man wearing a small red cap and matching silk embroidered jacket. He looked like he was in his late twenties and was stooped over, reviewing a stack of papers. D'Molay wondered how the man might react if he knew that the assassin who left a dead man by the front door here had just returned.
"Good morning. I'm looking for Mazu," D'Molay said, walking up to the counter.
"If you need passage across the lake, I can arrange a ferry for you. Mazu is unavailable, venerable sir." The man rattled off this solution without moving his attention from his papers.
The hairs on the back of D'Molay's neck prickled as he recalled the similar conversation he'd had at this same counter with the Mayan. Instinctively, his hand rested on the hilt of his knife, which was ready and waiting in its leather sheath. He responded in a calm tone. "I don't need passage. I'm supposed to meet Mazu here this morning. Do you know where she is?"
The man shuffled his papers for another infuriating moment before looking up. "Many seek the goddess Mazu, but only the worthy find her. She has departed on a long journey and will not be returning soon."
D'Molay fixed his eyes on the smaller man. "Is that so," he said, feeling certain that the answer was a brazen lie. His challenge was met with silence and a smug smile.
Just then another older man dressed in similar clothes walked in from an adjoining room. "I recognize that voice. You are . . . D'Molay?"
"Yes. Do you know where Mazu is?" D'Molay turned toward the newcomer, whom he recognized as one of the men he often saw mending nets and sails around the boathouse. "What's going on here?"
The older man looked at D'Molay for a few seconds as if to size him up. "You can take him in, Quan. She's expecting him." Without another word the older man walked out the front door.
Quan tucked his papers beneath the counter and beckoned to D'Molay. "Come. I will present you to the goddess."
Still wary, D'Molay followed him through an arch and down a short corridor into a larger room. Ornate nautical instruments and fishing supplies were stacked on shelves and hung from hoods. In the corner were a dozen wicker floor mats and a square stone fountain. Burning incense smoked up from pots set on the rim of the fountain. The light of many large candles cast a serene warm glow around the room. The juxtaposition of fishing supplies and a shrine drove home its purpose.
"Is this Mazu's chapel? And these things contributions to the goddess?" he asked.
Quan led D'Molay to the corner. "As you say. Please, sit. Mazu will attend to you when she is ready." He gestured to the mats. D'Molay picked one from the top of the pile and spread it on the floor. He lowered himself to sit, feeling a bit awkward.
Quan bowed and left the chapel as D'Molay sat on the floor, facing the only exit to the room. He waited, hoping Mazu would soon come walking in. After some time passed he began to worry about the delay. The room held no answers save the calm steady trickling sound of the water in the fountain.
D'Molay decided to try to relax, something he rarely did outside his own home. He closed his eyes and ignored the many questions that kept flitting through his mind. There was something about the soothing sound of the fountain and the feeling of security from the position of the chapel in the center of the building, protected from the outside, which put him at ease. For a few moments, D'Molay felt a serenity that had hadn't enjoyed in quite some time.
"I see you have learned some measure of patience during these long years in the City of the Gods."
Startled, D'Molay opened his eyes and turned to see the water in the fountain rising up in a column and starting to take human shape. "Mazu, were you hiding in the water the whole time, waiting to see how long it would take me to get annoyed?" he asked good-naturedly. He was glad to see her, even if she seemed to be toying with him.
"I was waiting to see if you could reach a degree of calm in this peaceful place, and noticing how loosely your clothing fits these days." As she spoke, the column of water continued to become less transparent and take on her familiar form, the elder goddess of the water. She appeared to be as fully physical a person as D'Molay. A thin column of water shot out of the fountain and into her hand. The water turned to a staff of silver wood. Mazu stepped slowly down from the ledge of the fountain, her grey hair tucked under a broad pointed straw hat, her dark teal robe flowing around and behind her. She looked to be a graceful Chinese woman perhaps in her early sixties. Of course, she was in fact thousands of years old, as all the gods were.
Standing up, D'Molay offered his hand. She gently took it as she placed her sandaled foot on the wooden floor. He offered a sly smile. "So, you were packing for our journey in the fountain, were you?"
"In a manner of speaking. I have recently discovered a difficulty if I am to travel with you in our search for Circe."
"You're goddess. What difficulty could there be for you?"
"There is a one word answer to that question. Quetzalcoatl."
"Quetzalcoatl?"
"Yes. He is trying to capture me," she replied matter-of-factly.
"Still mad that you escaped from him, no doubt."
"There is more to it than his godly pride. I stumbled across his plan to take the great beast for himself while we were searching for Aavi. My knowledge of his dark ambitions puts him at risk. I am a loose end he plans to take care of one way or another."
D'Molay frowned, the sense of peace evaporating as Mazu spoke of this new threat. "But why should any of that matter now? The beast is gone and Aavi . . . Aavi is dead."
"Perhaps so. But rumor has gotten about that more gods than Set had a hand in all that led to the battle at the Fortress of Ares. I know that Quetzalcoatl was involved and that makes me a danger to him. He did not rise to take a place on the Council by ignoring potential enemies." She gave D'Molay an earnest look that let him know that this was no idle political intrigue, but a deadly attempt to have her captured, or more likely, assassinated.
"I still say you should go to the Council and tell them what you know, Mazu."
She frowned. "We've discussed this before. I have no proof. It would be my word against his and he is a high-ranking member on the Council. They would take no action against him and I could be accused of making false accusations. I either have to find proof or wait until he makes a move that might prove his true motives to others."
D'Molay could see that Mazu had carefully thought the situation through, but one thing still puzzled him. "If Quetzalcoatl is so worried, why hasn't he just come here and captured you?"
"Because of the one thing in my favor at the moment. If he takes direct action against me it might appear he does have something to hide. Like the snake that he is, he will wait until the right time to strike and then do so quickly, so that others might not even see his involvement in it."
"I'm glad there is at least something in our favor." D'Molay was almost afraid to ask his next question. "Is there any more bad news?"
Mazu reached up and adjusted her hat. "Yes. My servants tell me there is a winged serpent flying overhead as we speak. It is the eyes of Quetzalcoatl, watching to see if I am here and where I might go next."
"So you can't even leave the boathouse? That's going to make looking for Circe very difficult, Mazu."
"I didn't say I can't leave. We'll just have to be careful about how I do it."