Dangerous Times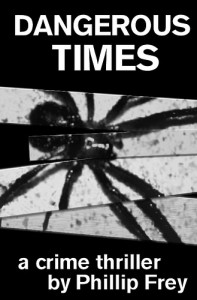 DANGEROUS TIMES is a multicultural crime-thriller with the pull of the unpredictable.
Psychopath Frank Moore has a plan that will drown goodness and grace in a river of blood. He has finally found the key to its success. Frank has found his scapegoat, his look-alike, John Kirk, a close-enough double who lives in the harbor city of San Pedro.
John Kirk wants to get out of San Pedro and leave his troublesome relationships behind. His live-in sweetheart is fed-up with his station in life and has become unfaithful, his mother finds solace from the death of Kirk's father by embracing the bottle, and Kirk's boss at the auto shop is an overbearing, cheap son of a bitch.
These troubles fall by the wayside when Frank Moore comes to town. Frank has switched their identities and fingerprints in government databases, an act that will send the innocent John Kirk through 48-hours of betrayal, violence, and murder—while Frank Moore will learn the meaning of "The best laid plans…"
Chapter Excerpts
Lisa Meets the Psychopath
"Six-thirty." Lisa yawned. She slid her key quietly into the door of Cottage Six. She used her other hand to keep the screen door off her back. Lisa was worried about smudging her cashmere coat. Kirk, she scowled, him and his damn can of oil, squirting it on every hinge and latch he could find.
But then thankful now that he had. There wasn't a single sound as she entered and closed the door. Adjusting her eyes to the darkness, Lisa noticed Kirk's gold-plated trophy was gone from the coffee table. Must have hid it from her, she guessed.
Lisa smiled a little. That had been a good one, making him think she was going to sell it. The only fun she'd had with him lately, teasing Kirk and getting his dander up.
Pretty sure she hadn't woken him, Lisa stole softly over the carpet. She pulled her coat off and stopped in the bedroom doorway. The shadowy bed was empty; unmade, the way she had left it when she went to work last night, her bathrobe rumpled on top of the pillows.
Never came home, she thought. Lisa certain Kirk was punishing her, as he had done before, staying at Beverly's. Poor Kirky-baby, she sneered.
Lisa stepped into the room and snapped the light on. She sat at the edge of the bed, coat on her lap. The closet door was open, the full-length mirror on its inner side angled toward her. Lisa pulled the coat off her lap and watched herself remove her knee-high boots.
She fell back onto the coat and inhaled the cologne that lingered in the cashmere. Shutting her eyes she saw herself in David's arms, saying goodbye. "God," Lisa sighed; could have stayed with him a while longer if she had known Kirk wasn't here.
She opened her eyes, took her socks and tights off, set her bare feet on the bed and spread her arched legs. Wearing nothing under the short skirt, Lisa gazed at her reflection and admired what was awakening. The moist prize sought by every man she had ever met.
She rested her head back on the cashmere coat. She shut her eyes again and pictured the group of them leaving Korky's at closing time. The party they'd had at David's; Dr. David Elkins, rich and single. Waking his live-in housekeeper, and that funny-face clumsy maid, Lisa snickered.
Eyes held shut, she cupped a hand over the prize. Then rubbed gently. She imagined herself with David, the two of them climbing the circular staircase to his bedroom.
Lisa heard a squeak. She opened her eyes and saw herself off-center in the mirror. The closet door had moved, she thought. Kirk and his can of oil had missed a hinge.
The door pushed shut and there he was with his back against the wall.
"Jesus!" Lisa yelped, scooting to the far side of the bed.
"No harm done," he said.
The unfamiliar voice made her gasp, as if she were stuck in a nightmare. The leather jacket, black snap-button shirt and Levi's. It was Kirk—but it wasn't.
"Think I look like him?" he asked.
Lisa stared at the bandaged gauze on his cheek. "Who are you?" she choked, eyes darting around now in search of a weapon.
Clear to him what she was up to, it didn't bother him in the least. "Frank," he answered her. "Sorry, I have forgotten yours," he apologized. "So much has happened to me since I heard it."
"Lisa," she whimpered. "Someone told you about me?" she asked with tears forming.
Frank said, "First things first, Lisa."
Through her tears she saw his hand in a blur, reaching into a pocket of the old marine jacket.
He unfolded the money and tossed it on the bed. Lisa wiped her eyes and gazed at the hundred dollar bills that lay at her feet. "Rape me and pay for it?!" she laughed in a sudden fit of hysteria.
"No, I'm not that funny," Frank grinned. "I'm willing to wait until you warm up to me," he said. "Money's the first log on the fire. You'll be getting more as our business venture blossoms into a solid relationship."
"Business?" Lisa squirmed on the bed, wanting him to disappear, glancing at the thousand dollars she would like to keep.
Frank knew that her heart was an empty purse that needed to be filled. From the first time he had seen her, watching her leave here last night, seeing her again at Korky's; money-hungry, he smiled confidently.
"What," Lisa said fearfully, eyes on the smile.
"I'm pleased with the luck I've been having," Frank said. "John told me about you, when I ran into him the other day. John and I are old marine buddies," he explained wistfully. "The Twins, they used to call us."
John, Lisa thought. "You and Kirk?" she said.
Frank was quick to get her meaning. "As for myself, I prefer John. Not as harsh as 'Kirk,' don't you think?"
Lisa didn't know what to think.
"There are some bad people after me," he said. "When I ran into 'John,' I was blessed with the opportunity to buy my way to safety." Frank sat at the edge of the bed. Lisa slid off the other side and stood looking down at him.
He twisted toward her, laid a hand on the coat and stroked its cashmere. "I gave John ten thousand dollars to take a vacation. So that I could take on the John Kirk role and stay safe. He assured me you would be…" The pause came as he caught sight of the vein on her thigh. His straight razor glistened in his mind.
Lisa shared the pause, thoughts on Kirk and the money he had gotten. Son of a bitch didn't tell her. Sold her to his friend. Then seeing where Frank's eyes were, she tugged her skirt down.
The gesture brought him back on track. "To put it simply," he said, "I'm going to be paying you a lot to stay here," and he showed her his best smile.
The smile dissolved Lisa's fear. The prize between her legs reawakened, stirred by what she saw as Kirk's good looks, gift-wrapped over Frank's self-confidence, tied in with the sexy touch of danger he projected; and the money on the bed, with the promise of more to come.
"Dyed your hair," she said.
"It's that obvious?" he asked.
"Won't be if you let me give it a work-over."
"I'd appreciate that."
"And we'll have to change the gauze on your cheek," she said. "Spot of dried blood on it," Lisa added with her own best smile.
Loss of Memory
Kirk's eyes snapped open. With a suffocating gasp he sat upright in the green glow of the room. The oxygen mask tightened. Its tubes and monitor lines brushed his skin. Kirk's first thought, he was tied and gagged.
He tore the mask off. His hands went to his throbbing head and he felt the roughness of the bandages.
Hospital, Kirk understood finally.
The door opened. The corridor lights brightened the room. A man in silhouette stood at the threshold. He entered, shut the door and clicked the fluorescents on.
Kirk squinted under the glare. A doctor, he supposed, dressed in a suit and overcoat.
Pain subsiding, Kirk settled back on the pillows and watched the square-jawed Asian remove his coat, the sleeves of his suit jacket tight over muscular arms.
"Name's Tommy Shee," he smiled, dropping his coat on the chair. "You know where Ling is?" he asked. "Called me just after he followed your wife here." He said, "Would've been here sooner, but got hung up in a poker game; was dealt some pretty good hands."
Kirk's confusion showed on his face.
"That's okay," Tommy said, misreading the look. "Happens all the time, people expecting me to have an accent. Might surprise you to know that I was born and raised in Trenton."
"Trenton," Kirk said weakly.
"What Trenton Makes, the World Takes," Tommy recited. "That's the Trenton motto," he explained. "Y'know, we've never met, but I can tell we're going to get along. All you have to do is let me know what happened."
Kirk said, "That's what I was going to ask."
Tommy edged closer to the bed. "Sense of humor's important in life, but not right now. Maybe we can have some laughs after you tell me where it is."
"Where what is," Kirk sighed tiredly.
"That's okay," Tommy shrugged. "Don't have to be a doctor to see how messed up you are."
"You're not a doctor?"
"Tommy Shee, that's me. Best memory therapist you'd ever want to meet." Tommy noticed the tattoo on Kirk's forearm. "Marine," he said. "I'd better be extra careful," he smiled.
Tommy grabbed the tattooed arm, pulled Kirk from the bed and hurled him across the room. Kirk hit the cabinets under the countertop and sank to the floor with a dreadful moan. Head pounding, IV yanked from his arm; hands on his groin, catheter ripped from his urinary tract.
Tommy marched over to him. He lifted him by the throat and said, "Tell me where the money is," thick fingers putting the pressure on.
Kirk's hands fumbled blindly over the counter-top behind him. In a fit of desperation, his arm swung around. With it, a flash of steel was followed by the crack of bone.
Tommy reeled and toppled back onto the floor, the scissors driven deeper into his skull.
Kirk collapsed down against the cabinets, chest heaving, pain racing through him. Eyes on the lifeless body that jerked across the floor like a windup toy gone berserk.