Empty Shell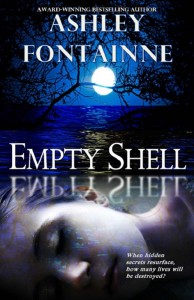 "Empty Shell is about what happens when one woman gives up, one man gives in, and another steps in to manipulate lives and hearts. It's about what's left when the love runs out, when death changes everything, and when a woman who leaves faith behind finds lives ruined because of her choices and reactions." – D. Donovan, eBook Reviewer, Midwest Book Reviews
A pair of pink, silk underwear…
The quiet world of Melody and Jack Dickinson is about to be turned upside down. Twenty years of marriage hangs in the balance when Melody finds out about Jack's infidelity. The betrayal is made worse when Melody discovers his lover is Serena Rowland, a young woman who works at Melody's law firm.
A receipt from an overpriced hotel…
Harsh words are exchanged before Melody storms off to work, determined to have Serena fired. But when Melody hears Serena was murdered over the weekend, everything changes. Serena's body is found beaten and strangled with a pair of pink, silk panties, in the same hotel that Jack had admitted staying at over the weekend. Within seconds of hearing the news, Melody's life spins out of control when Jack calls in a panic. The police are at their home to arrest him for Serena's murder.
Pictures of a young woman's scantily clad torso on a cell phone…
Was she married to a monster? One who beat and strangled the young woman to death, or was Jack set up? Did Melody's own dark secret, hidden inside her heart for years, have something to do with the nightmare they suddenly find themselves in?
Melody and Jack are about to discover that one fateful mistake will destroy many.
Chapter Excerpts
Chapter 2
Chapter 2 – Monday, early morning
"Turn that damned thing off!"
"I'm trying, but it's stuck or something."
The door flew open and Jack stormed into the bedroom. In three quick strides he crossed the floor, his face and chest beet red from his interrupted hot shower. With a sheepish grin, I held out the noisy thing to him. He didn't even try to hide his irritation as he yanked the screeching clock from my fumbling hands. His body language made clear his thoughts about my inability to perform such a simple task.
His angry hands used to touch me with gentle caresses.
God, how I missed them.
I shrugged at his nasty attitude, walked back over to my side of the bed and searched under the pillow for my glasses. Without them, I couldn't see anything that wasn't within eight inches of my face. No wonder I couldn't find the off switch on the alarm.
With my back to my annoyed husband, a small grin of triumph niggled at the corners of my mouth. Listening to him struggle to silence the little plastic piece of hell was rather entertaining. At least I wasn't the only one finding it difficult to shut off.
The noisy clock was another irritating purchase Jack had made online while watching one of those brain-numbing reality shows he loved so much. It served him right that he now held a worthless pile of junk. What a waste of forty bucks. The alarm clock that was supposed to wake us up to sounds of nature sounded more like a screaming, rabid howler monkey. One with its tail caught in a trap—and it seemed to be stuck in the permanent on position.
My grin became a full smile when I found my glasses; now I could fully appreciate watching him attempt to find the off switch. The anticipated fun disappeared in a flash when I turned around to ask Jack if he was ready for a cup of coffee and realized what he was about to do. With one final grunt, Jack launched the clock against the wall in frustration. It disintegrated into a pile of broken plastic, leaving a fist-sized dent in the newly painted sheetrock.
The one good thing resulting from my husband's tirade was that it killed the incessant buzzing. Jack's damp, dark brown hair flopped forward, releasing thinning bangs. The way his hair tumbled almost looked like it was taking a bow for saving our ears.
"Guess you just answered my question about coffee. Obviously, you haven't had any yet."
Jack shot daggers of rage at me with his hooded, deep-set brown eyes. He didn't speak as he moved past me and slammed the bathroom door behind him.
I let my own irritation out with a small sigh. For a second, I stared at the two-inch thick wood separating us. I wished the door was the only barrier that life had erected between husband and wife. At least the door was a blockade I could see—and knock down if I wanted to.
Problem was, did I?
I looked over at the mess Jack had left on the floor. I started to bend down and gather the broken remnants, but stopped short, my fingers hovering over the rubble. No. Not today. Not again. I decided to leave the twisted wreckage right where it was. Let Jack pick up after himself for a change—a small test to see how long it would take for him to do so.
And maybe to let him know how fed up I am with his mood swings. Whoever said that men don't suffer from hormonal influxes was obviously in a serious state of denial. Maybe I should start spiking Jack's coffee with my hormone pills. He needs something to take the edge off and make him less bitchy. They always work for me…
The smile I sported earlier came back in the form of a sly grin. My knees popped as I straightened and made my way down the quiet hallway toward the kitchen. Bright, early morning rays of vibrant yellow danced across the remodeled countertops and floors. The sparkle from the sun reflected off the polished steel of the new appliances. A delayed flash of anger hit me as I thought about the hole in the bedroom wall. After months of dealing with hordes of crack-showing, tobacco-spitting and stinky construction workers, they had finished and left us in peace two weeks ago. Now I would have to call the owner and make arrangements to have him send a worker back to patch and repaint the bedroom wall.
No, not me. Jack. His temper tantrum—his dilemma to solve. Not mine.
I pushed aside the thought and followed my nose to the source of the smell of freshly brewed coffee. I had enough on my to-do list and I wouldn't allow any more to weigh me down. I was barely able to breathe as it was. So much for my relaxing getaway with Regina this past weekend, which I had taken with the hopes of easing some of my stress.
Ah, another fun morning in the Dickinson household…thank goodness for an automatic coffee maker…Monday, Monday…da da la de da…
Coffee fixed and eyes focused, I decided to offer a flag of truce to my temperamental spouse. No sense in starting the week out on a sour note. He was stressed too with all the finals he had to grade, so I decided to cut him some slack. I carried two steaming mugs back down the hall toward the bedroom, Jack's with two sugars and mine black as coal.
Thoughts of my mother's wedding day advice on marriage years ago made a quick lump form in my throat. While pretending to be having trouble with the clasp on my dress, she had spoken about the various duties of a wife and how a couple could weather numerous ups and downs over the years.
"The key to a long lasting marriage, darling Melody, is communication. You can never stop the sharing of your innermost thoughts and dreams with each other. Communication is the water that nourishes the seed of love. Without it, your marriage will wither and die."
I had responded with some gushy, naïve comeback about how there was no way Jack and I would ever stop talking and sharing with each other. After all, we were in love.
Our tastes for life were very similar. We both adored classic rock, Italian food, fast cars, dogs, and hours spent watching reruns of Star Trek and Monty Python. But our biggest two connectors, which were what brought us together in the first place, was a strong affinity for history and deep Christian faith. That first World Civilizations course in college threw us together as study partners and led to our first date. The moment Jack held my hand in his during a walk across campus, I was hooked. The connection that travelled between the two of us was more than electric—it was cosmic.
Back then—oh, my God it was almost twenty-one years ago—I couldn't breathe without Jack. My existence hung upon his every movement, every touch and every caress. His deep voice would lull me into a state of bliss at night while we lay awake, planning our life after college. What career paths we would take. How we both wanted two children—a boy and a girl—named Jacqueline and Jordan. The type of house we would live in, the vehicles we would drive. The various places we would visit and make love in before parenthood arrived.
Jack's eyes had mesmerized me with their liquid stare. Those beautiful sable orbs pulled me inside his soul, leaving me breathless. I had looked at him and become lost in a sea of blissful tranquility. His muscular arms had embraced me in a cocoon of warmth and provided quiet shelter from the world. Back then, we couldn't get enough of each other.
My, how times have changed.
Somewhere, as we walked down the path of marriage together, we got separated, our loving grip on each other yanked apart by unseen forces. The fork in the road appeared when, after more than ten years of trying and thousands of dollars spent on fertility treatments, we realized that I would never be able to carry a child. We dealt with our grief alone, each trying to hide the pain from the other instead of working together to overcome our mutual sadness.
Big mistake. Huge. Gargantuan.
I went flying off in one direction and Jack ran in the other. Our late night cuddling and cooing sessions began to stretch out to twice a week, then once a month, then maybe every six weeks. Now, I couldn't even remember the last time we had held each other close and let the world around us disappear. Two, three months? We were like that old raunchy joke about how elderly couples engaged in sex by passing each other in the hall and yelling "Screw you!"
I approached the bedroom door and snorted at my mother's words still resounding in my head. Hmmm, communication may be the key to a happy marriage, but what does one do when the signals are hopelessly crossed? When nothing remains but dead air? The magical sparks are long gone. Quick, someone get the paddles out and crank us back to life! Clear!
Jack was still in the bathroom, so I set his mug by the door and walked back into the kitchen. I didn't have time to coddle him. I had to get ready for work and stop mulling over things I couldn't change—at least not with a simple cup of coffee. It was the end of the month, which meant I would be swamped while preparing the billing for over six hundred clients. Oh, and experiencing the joy of fixing tons of data entry mistakes, just as I had been forced to do numerous times the last nine months. I knew they would be there, input by the newest assistant at my office.
Serena Rowland. A young blonde with racehorse legs who wore skirts so short that the color of her underwear was damn near discernible to anyone within twenty feet of her. It made my stomach churn to see the way the male attorneys at the office ogled her—like she was the last meal before the executioner's noose or something. It was like watching a room full of Pavlov's dogs. The minute her heels clacked down the hall, they all began to salivate. Since the girl was the daughter of one of the firm's biggest clients and a personal friend of my boss, none of the drooling males had the balls to chase Serena around her desk, but oh the mental gyrations they threw her direction! Not to mention, Serena's ridiculous attachment to the color pink made me want to scream. Her desk space looked like the bedroom of a teenage girl, complete with pink notecards, spotted pink pens, and even two photo frames with frilly pink lace. I tried, but couldn't recall a day since she'd started working at the office that she hadn't worn something pink.
The entire female population at work hated Serena the minute her long, curvaceous limbs walked through the front door. Nothing like having cellulite on your butt, arms that jiggle and a not-so-flat stomach to change your perception of youth. No woman, including me, wanted to be confronted on a daily basis with the fact that—gasp—her youthful tight rear and smooth abs had mysteriously been replaced by gelatinous goo. It irritated me even more because I couldn't blame motherhood for the changes to my body.
It was simply due to age, stress, and countless hours spent glued to my chair at work, which made it even worse because it was my fault. If I really wanted to change my appearance, no magic pill or secret diet plan would do the trick. It would require hard work, tons of sweat and hours of reshaping my body. At my age, the thought of becoming a slave to my body again didn't interest me. It wasn't like it mattered anyway. Jack wasn't interested in me anymore, so what was my motivation?
Alas, watching Serena prance around like a prized show horse in her not-on-any-planet-would-this-ever-be-appropriate office attire every day was like having someone screeching in my ears: Hey, you're old!
Lost in thought about how I could cajole my boss Roger to fire Serena for her mountainous mistakes, I padded over on autopilot to the cabinet to grab a cupful of kibble to feed Simba, my surrogate child. My adorable six-year-old mongrel had been dumped in our backyard five years ago. Poor thing was so starved she couldn't even whimper. Patches of her fur had been missing, almost like it had been torn out in chunks. Jack had chastised me for trying to rescue her, saying that she didn't stand a chance and the most humane thing I could do was have her put down.
Like hell. The look I gave him that sunny morning outside had silenced his mutterings as I scooped the dying pile of flesh and sporadic fur up off the soft grass. It took three weeks of constant nursing and two very expensive trips to the veterinarian before Simba roared back to life. Simba's loving spirit, clumsy nature and enormous tail that never stopped wagging filled some of the longing for a child that churned inside of me. The bond between dog and master was set in stone. I saved her, she saved me. We were even.
I noticed a slight tremble in my hands when I scooped up Simba's breakfast. Guess my nerves were more frazzled than I thought. I wasn't doing myself any favors by getting all riled up about Ms. Serena Short-Skirt this early in the morning. I had other things to tend to.
Yeah, that's it, Melody. Unleash all your inner angst from your crumbling marriage and sagging rear out in the form of the green-eyed monster, rather than confronting the problems with Jack head-on. Serena isn't the issue. Your relationship with Jack, or rather, the lack of one, is the problem.
I shook my head and willed myself to not think about my disintegrating marriage until after work. Maybe I would leave early and come home and fix Jack's favorite dinner, light a few candles and serve the food in front of the fireplace. The finishing touches would be relaxing music, fine wine and chocolate covered strawberries for dessert. Set the mood and maybe open up the channels to start talking again, once our minds were plied with food and alcohol.
Wow, how cliché, Melody. Yep, life's troubles can be solved over a fancy dinner and some booze. Right. When did your life become a commercial? You already know what the problem is. You two need to get your butts back in church. And you need to open up to Jack. Tell him the secret. It's eating you alive and now, it seems, it is munching away on your marriage. We need a good, heart-to-heart talk. Maybe an overnight stay at Lake Catherine, like we used to do. God, how long had it been since we've camped out? I could get him to dig in the garage and find our camping equipment…
Simba's breakfast retrieved, I was in full stress mode about the upcoming hectic day and what salve I could use to soothe my irritated husband and repair our relationship. At first I didn't notice Simba wasn't in the kitchen. Normally she performed a morning ritual of circles and jumps in eager anticipation for her breakfast.
"Simba…here girl. Come eat."
A twinge of worry hit my gut when no response came.
I started down the stairs to the lower level of the house, thinking maybe she had closed herself in the laundry room again. Silly girl had done it twice before and what a mess it had been to clean after a night with a bursting bladder! My foot made contact with the second to last step and Simba's hairy body bolted around the corner, colliding with mine. Somehow I was able to stay on my feet, but Simba's bowl of food tumbled down the remaining stairs. The small round bits shot out in every direction.
"Well, good morning to you too! Looks like you will get a bit of exercise while you eat, chasing all your food around."
Simba's black tail thumped the hardwood in response as she dropped something from her mouth and began to chomp on the kibble.
"Whatcha got there, girl?"
I bent down to pick up a pair of underwear. Simba had developed a taste for underwear, socks and t-shirts in her youth. I groaned, thinking I must have left the clothes hamper on the floor of the laundry room again, which meant I was about to stumble upon a shredded mess of clothing.
I walked over to the laundry room door and eased my hand inside, grazing the wall until I felt the light switch. I was surprised to be greeted by a clean and tidy room, which is how I remembered leaving it. The clothes basket sat on top of the dryer, full of only the clean blue jeans I had folded last night.
Huh, wonder where Simba found my underwear? It's not like I dropped them for Jack during a heated session of lovemaking.
I flicked off the light and shut the door. I would figure out when I got home later where Simba confiscated my undies from before she ingested more. That would end up costing―            
Wait…these are silk…
Upon closer inspection, my heart skipped a beat. I caught a whiff of a familiar scent of perfume but couldn't quite place it. Chanel? Obsession? I walked over and held the underwear in front of the window, examining them under the morning light. They weren't even close to what I would consider wearing. Perhaps they weren't even panties, because the miniscule swatch of sheer material was barely enough to cover three inches of skin and maybe four pubic hairs at best.
Confused, I stared at Simba while she happily crunched on the remaining nuggets of her breakfast. She'd been inside all night, so where did she get them from?
"Hey girl. Good girl. Here, you want these back?" I cooed, squatting down to her level and dangling the chewed up panties in front of her. "Come on, come here. Show Mommy where you found these, huh?"
Simba ignored me and continued to scurry after the bits of food. I stood up and glanced around the room Jack and I called the media room, which was nothing more than a couch and big screen television. The downstairs only consisted of the laundry room with an attached bathroom, media room and the small room next to the stairs Jack used as his office. My heart pounded faster as I scanned the open area for any signs of clothing and found none. A knot formed in my stomach as the sensation of something wrong took control. Hard, tight and pounding, the pressure pushed a wicked thought up to my brain: I will find the answer in Jack's office.
I spun around and darted down the hallway, then stopped. Jack was a stickler about keeping his door shut. He didn't want Simba, or me, messing up his workspace, or nosing around the neatly stacked piles of papers that he graded or the lesson plans he worked on for his honors history class.
I winced when I noticed the door was slightly ajar. I peeked in and saw the mess inside, and blood whooshed in my ears at the thought of Jack's reaction. He was going to flip when he saw the after-effects of Simba's night of fun. Oh well, he should have made sure the door was locked before he went to bed last night.
I pushed the door all the way open and scanned the room. My eyes settled on the briefcase and Jack's travel bag amongst the shredded papers, useless pillows and one computer chair leg Simba must have chewed off. The black leather bag sat open in the middle of the floor, the edges gnawed and Jack's work papers covered in dried slobber and teeth marks. I almost laughed—and then I spotted another pair of panties on the floor next to it.
I bent down and picked up the silken material, unearthing a small scrap of paper embedded inside them. It looked like a receipt from a hotel. My hands shook when I brought it closer to my face. The five-hundred-dollar receipt for a one night stay in room 510 was from The Duchess, an overpriced hotel downtown that I had never stayed in, nor had Jack, at least to my knowledge.
The receipt was dated for last Friday night, when he was supposedly attending a two-day conference for work. But the thing that really caught my attention was the faint smell of a familiar, feminine perfume.
I recognize that scent. Chanel. That's the fragrance Serena wears. Wait a minute. On Friday, Serena called my cell and told me she was sick and wouldn't be in, and I had to call that temp to cover her absence…could it be? No way…
A small vibration caused me to nearly jump out of my skin. It was the buzz of a cell phone on vibrate. That made no sense because Jack's was upstairs on the charger, right next to mine. He had another one? I groped around in the zippered pocket and sure enough, there it was. One of those cheap, disposable phones you pay cash for each month. I flipped it open and read the first, unviewed text that had a picture attached from "SR":
Do me again baby I want you now Fri & Sat rocked! Meet me @ lunch Mon? Ur wife will be busy…got some new panties since u ripped my others
The crotch shot of a woman popped up. A woman with long, tan legs, wearing hot pink underwear that looked exactly like the ones in Jack's briefcase and Simba's mouth. I pushed the back button and my stomach churned. I recognized the number the text was from. I had seen it numerous times because she called at least twice a week with some inane excuse for being late.
I pushed my glasses up and brought the receipt closer. I almost fainted when I saw the name.
Serena Rowland.
It took a full minute for me to regain control of my faculties. Sorrow and anger fought for control of my mind. A wave of dizziness threatened to knock me off my feet, so I braced myself against the doorframe for support. After all these years, all the love we shared, how could Jack betray me like this? Worse yet—the betrayal sealed with a boney-assed dingy blonde who worked at my office!
A flashback to last year's Christmas party clouded my vision. I recalled the look on Jack's face as he tried to keep his jaw from dropping when a tipsy Serena sauntered over and introduced herself in her skintight, hot pink dress. I remembered the pang of jealousy that poked in my gut, but had dismissed it as nothing. Hell, all men looked at her like at, so why would my all-American, red-blooded husband be any different?
Because he was my husband.
Memories of our nights together, holding tightly on to each other for comfort at yet another disappointing attempt to conceive almost made me cry. My heart was shattered—visions of Jack in the arms of another woman made me clutch my chest in physical pain. Was Serena the first? Oh, God, what if she wasn't? I glanced back down at the phone in my hands. Her text seemed to magically remove the blinders I didn't realize I had been wearing from my eyes. The last six months of Jack's moodiness and complete and utter lack of interest in me sexually made sense.
Guess he doesn't need hormone pills after all.
No, I wouldn't succumb to the tears that threatened to burst out of me. Not today. Later, I knew they would come, and the deluge would drown me. I stuffed them deep inside and let my anger take full control of my mind.
Decision made as to which emotion would win at the moment, I found my voice. I stepped out of Jack's office and walked to the bottom of the stairs. Simba had just finished her last morsel and waited patiently by the back door to go outside and do her business.
I ignored her. Hopefully if the urge to relieve her bowels hit, she would do so on the briefcase. Maybe throw up her kibble, too. That would be a nice touch since it was what I wanted to do.
"Oh, honey, could you come down here? Seems Simba made a bit of a mess in your office last night. Looks like you'll need a new travel bag and briefcase, too, unless you want to keep ones covered in teeth marks."
I heard Jack grumble, his footsteps heavy above my head as he moved down the hall. An evil grin pulled my lips tight as I wondered if he felt even the briefest sense of panic, knowing I was in his office. Was his mind trying to recall if he had locked his briefcase and emptied his bag? Were the wheels spinning off their tracks, wondering if his little secret was exposed?
The doorframe was strong, the wood smooth against my skin. I leaned against it and waited for the war of words.
Communication was about to commence. Oh yes, lots of communication. One-sided communication. I didn't plan on giving Jack a chance to say much.
My fingers were wound so tightly around the little piece of black plastic that my knuckles were bone white. The minute I showed the undeniable, incriminating evidence to Jack, I planned on doing the exact same thing to it as he did to the alarm clock this morning.
Well, with one minor difference.
I didn't plan on throwing it at the wall.