Killer Evidence Legal Thrillers 4-Book Bundle: State's Evidence\Persuasive Evidence\Justice Served\Fractured Trust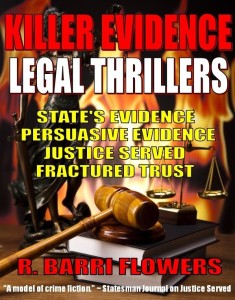 Killer Evidence Legal Thrillers 4-Book Bundle contains four full length legal suspense thriller novels by award winning criminologist and bestselling crime writer R. Barri Flowers, including State's Evidence, Persuasive Evidence, Justice Served, and Fractured Trust.
State's Evidence: A Beverly Mendoza Legal Thriller
Assistant District Attorney Beverly Mendoza appears to have an open and shut case when she prosecutes Rafael Santiago for the murder of a judge and the sexual assault of his wife in Eagles Landing, a town in Northern California. Santiago was recently released from prison and had a grudge against the judge. But her case against the suspect is put in jeopardy when career criminal Manuel Gonzalez, arrested for the murder of a young woman, also confesses to killing the judge. As Beverly and Wilameta County Sheriff's Homicide Detective Stone Palmer try to sort out fact from fiction, a case of mistaken identity becomes a real possibility. Or is it more likely that two violent men with close ties are trying to beat the system?
Persuasive Evidence: A Jordan La Fontaine Legal Thriller
It is five years before the millennium and Multnomah County Deputy District Attorney Jordan La Fontaine is in line to be the next Chief of the Homicide Division Bureau. But Jordan's world turns upside down when her teenage son is accused of a double homicide and her competition for the post, Jerrod Wresler, is assigned to prosecute the case. At the same time, Jordan is preparing to try a decorated Portland police detective, Graham Turner, accused of viciously murdering his ex-wife. Causing Jordan further grief is Turner's hardnosed partner, Detective Harry Coleman, who will stop at nothing to prove his innocence. As Jordan moves back and forth between the two tough cases and deals with issues in her personal life, she must use all her resources to clear her son's name and convict a cop of murder.
Justice Served: A Barkley and Parker Thriller 
In Portland, Oregon, male spouse abusers are being beaten to death by a bat-wielding female vigilante, dubbed by the press, The Vigilante Batterer Killer. Each victim had recently been on trial for domestic violence-related charges, but was set free through plea bargains, technicalities, or acquittal. Two Portland Police Bureau Detectives–Sergeant Ray Barkley and his partner Detective Nina Parker–investigate the killings. Among the list of suspects is Criminal Court Judge Carole Cranston, who presided over the trials of all the victims and has dark secrets she is in no hurry to share. As the body count grows and the suspects narrow, Barkley finds himself being targeted and may be powerless to prevent from becoming the victim of a relentless killer.
Fractured Trust: A Renee Steele Legal Mystery
It is 1982, and assistant prosecuting attorney Renee Steele works for the Sex Crimes Unit of the Akers County Prosecuting Attorney's Office in Sparrow's Crossing, Michigan. In her latest case, Renee prosecutes wealthy businessman Kurt Bochner, who is accused of raping a young woman during a date. The case hits close to home for Renee, who was the victim of date rape thirteen years earlier while in law school. She is pitted in court against a formidable opponent, defense attorney Deana Krane, who has never lost a case and is determined to win an acquittal for her client Kurt Bochner. In Fractured Trust, date rape and prostitution are put under the microscope. The results are anything but certain, and there is a stunning climax.
PRAISE FOR R. BARRI FLOWERS LEGAL FICTION 
"Flowers once again has written a page-turner legal thriller that begins with a bang and rapidly moves along to its final page." – Midwest Book Review on State's Evidence
"An excellent look at the jurisprudence system…will appeal to fans of John Grisham and Linda Fairstein." – Harriet Klausner on Persuasive Evidence
"An A+ suspense/mystery with a touch of heartfelt romance…. Is not just simply compelling, it also activates reader's consciousness…. Powerful legal suspense is riveting."–Fresh Fiction on State's Evidence
"Justice Served is a model of crime fiction …. Flowers may be a new voice in modern mystery writing, but he is already one of its best voices."–Statesman Journal
"An intriguing story of murder, madness and mayhem, with a slight blend of mystery. Flowers depicts believable characters in this suspenseful legal thriller." — Romantic Times on State's Evidence
"R. Barri Flowers has created a superb mystery …. It's a great book that any mystery lover will adore." –RAWSISTAZ Reviewers on Justice Served
"Raw, primal, thrilling, incredible—one of the best books that I have read. I was completely riveted from the first page." — Romance Reader at Heart on Persuasive Evidence
"A well-written thriller with an opening scene that would cause anyone to keep turning the pages…. It's fast-paced, intriguing, satisfying, and I highly recommend it to you." — Romance Reader At Heart on State's Evidence
"An absorbing legal thriller… Flowers' forte lies in the vivid well-developed characters he creates. The interactions of his characters and the conflicts that arise serve to make the story a compelling page-turner." — Romance in Color on Persuasive Evidence
"This author weaves a magical web, as well as, a tangled one [and] wraps up the mystery thriller beautifully …. Will be recommending this title to many!"
–Huntress' Book Reviews on Justice Served
"All the elements of a great mystery book, suspicions, red herrings, evidence and witnesses. If you are into mysteries, this would be the book for you." — Romance Review on Persuasive Evidence
Chapter Excerpts
Fractured Trust: Chapters One and Two
CHAPTER ONE
Renee Steele approached the swarm of reporters and photographers outside the Criminal Courts Plaza. The thirty-six-year-old Assistant Prosecuting Attorney clutched her briefcase tighter as she made her way through the crowd.
"There she is," shouted someone from the rear of the gathering.
A young female reporter who nearly ran into Renee, asked her: "Can you tell us, Ms. Steele, if you feel you can get a conviction in the Kurt Bochner rape case?"
Renee gave the woman usual cordial, confident smile. "Any time we decide to prosecute, we expect a verdict of guilty. Now, if you'll excuse me…" She began to make her way to the stairs.
A tall man wearing jeans and a Detroit Tigers jersey abruptly blocked her path. "Isn't it true that date rape is hard to prove?" he challenged.
She noticed the self-serving leer on his face. Narrowing her brows, she said contemptuously: "Mister, rape by any other name is still rape. In this country, it's also a felony. If it happened, it's provable."
If only that were always true, she thought.
On the contrary, proving it happened was far from the reality for date rape. According to official data, a rape took place in the United States every six minutes—to the tune of around eighty-five thousand assaults each year. At least half of all reported rapes were believed to have been perpetrated by first dates, casual dates, or romantic acquaintances. Yet most of the laws concerning rape, as of the current year of 1982, centered on the premise that the rapist was a total stranger. This made acquaintance rapes especially difficult to prove due to the criminal justice system and societal mentality that "she asked for it" or that only strangers could "truly" rape women.
Nor was this misconception gender-specific, Renee told herself. In her experience, not only did most men wrongly assume that any kind of sexual relations between those who dated was consensual, or at least unlikely to result in any punitive action, many women also held this view. Unless, of course, they had been the victim of an unwanted sexual advance. And, even then, too many victims kept it to themselves, often not sure if they were victimized or fearful that justice would be blind.
Renee broke away from her reflection as she attempted to sidestep the man, but he determinedly paralleled her movement. "I understand that Deana Krane has taken this case," he said.
Renee had heard the same thing about the tough as nails defense attorney, but wouldn't let that shake her. "You'll have to ask her about that."
"She hasn't lost one yet," he pointed out, as if she needed to be reminded of that. "Do you really think you have what it takes to change that?"
Renee was starting to get frustrated—and angry. Was he Deana Krane's press secretary or what? She closed her hazel eyes for a second and willed herself to calm down. She did, but not much. Glaring at the face before her, she replied: "No one's unbeatable—not even Deana Krane! Now I suggest you get out of my way before I charge you with harassment."
He held his ground for a moment stubbornly before moving aside. With a smirk, he asked: "Whatever happened to freedom of the press?"
"Whatever happened to freedom of movement?" she responded curtly, and walked briskly up the steps. She could hear other questions thrown her way almost for effect, but ignored them as she went into the building.
Welcome back to the life of an APA, Renee thought humorlessly as she inhaled the indescribable but customary smell that graced the halls of justice. She had returned home late last night from a much needed, well deserved, and thoroughly enjoyable nearly two week trip to the Virgin Islands. There, she and the man she was currently dating had soaked up the sun and effectively shut themselves off from all the annoyances of the outside world.
However, the trip had been cut short by the demands of the job. The Prosecuting Attorney himself, Austin Suárez, had assigned her the case, providing just enough details over the phone to push her buttons. The accused was a wealthy businessman who was being defended by the formidable and confident Deana Krane. As a result of her reputation for keeping her clients out of prison, the media had chosen to make a circus out of it.
She took the elevator en route to the twelfth floor. Why did I let myself get ruffled out there? Renee wondered. The press was always going to be…well, the press. As a professional, it was part of her job to handle everything they threw her way.
It was the case itself that drew her ire. About half of her cases involved rape of one kind or another: statutory, group, serial, and date rape. Each time, she unwittingly allowed herself to take it personally. It was not hard to do considering she herself had once experienced its devastating claws, and more recently, had prosecuted enough rapists and listened to enough heart-wrenching stories of victims to emotionally drain her.
Yet she always found a way to remember who she was and what she stood for as an employee of the Akers County Prosecuting Attorney's Office, Sex Crimes Unit, and an advocate for justice.
* * *
Just before the elevator doors split open, Renee flexed the skirt of her two-toned gray dress to remove any removable wrinkles and lightly patted her shoulder length brunette hair, which had recently been cut in sweeping layers.
She headed straight for the PA's office, deciding there would be time later to engage in the how-was-your-trip conversation with her fellow staff. When she entered the antechamber, the prosecuting attorney's secretary informed Renee that he was expecting her.
He was shuffling papers at his desk when she walked in. A moment or two passed before he looked up. His brown eyes twinkled beneath short black hair that was parted on the side. "Renee. Promise me you'll never go on vacation again," he implored as the county's first Hispanic PA.
She flashed at him a tiny smile, though not sure if he missed her more for her work ethic or a shortage of APAs in the office. "That bad, is it?"
"Worse," he said. "If we didn't come up with another investigation, complaint, or trial for the rest of the year, we'd still be booked into overtime."
"Just what I needed to hear," Renee muttered. "When you combine that with the reception committee I ran into this morning, it makes me wonder if I should have just retired on the beautiful beach I turned my back on."
The fifty-four-year-old PA shook his head thoughtfully. "People like you and I could never just sit back and watch life pass us by. It's hell sometimes, yes, but it's also worthwhile. And who could have a more productive life, right?"
Compelled by the rigidity of his firm stare, and the sensibility of his words, Renee said: "Point taken."
She watched as he rose to his feet, wearing a rumpled gray suit. Austin Suárez was in his second term in office. He was smart, tough, and by most accounts, headed for bigger and better things. Despite his reputation as a serious, no nonsense man of law and order, to his staff, Suárez had proven to be much more, down-to-earth.
He walked over and shook her hand. She felt a slight trembling in his fingers before their hands separated quickly. Like most of her male colleagues, she suspected the PA felt somewhat uncomfortable where it concerned physical contact with her or the other female attorneys in his office. It was as if the line between professional courtesy and sexual harassment had become too fragile these days and no one wanted to be accused of crossing it. For her part, all she really asked—no, demanded—was to be treated as an equal. Hence, the perfunctory handshake was fine.
He gave her the once over and Renee suddenly felt a bit self-conscious. It was not because of her outfit, or that most men seemed to find her attractive, it was due to the fact that even in low-heeled sandals, she seemed to tower over him at five-foot-eight inches.
"The press was pretty rough on you, were they?" he said, taking a step backward.
"They were like vultures," she admitted. "I felt like I was on trial!"
Austin scratched his cheek. "In a sense, everyone in this office is. Unfortunately, it's a no-win situation. The public demands that we prosecute these rapists and murderers. When we do, the press tries to make them out to be saints and the defense attorneys argue that we're violating their clients' civil rights—even when they know they're guilty as sin!"
He retreated to his large oak desk. Renee watched as he dug a folder out of a pile on his desk. She summarized the case in the meantime, stretching her memory on the basic facts. "So this Kurt Bochner rapes his date; she presses charges, claiming he forced her to have sex; and he hires Ms. Krane to make the problem go away."
"That's about the size of it," Austin muttered, leafing through the dossier.
"As if rape could ever be that simple," Renee said, wrinkling her nose.
"The only thing simple about this is that we're up against a great deal of money—more than you or I will ever make—and an attorney who knows how to gobble up a bunch of it and spit in our faces."
Renee cocked a brow, not sure she agreed with his assessment, especially the last part. Deana Krane certainly knew her stuff and didn't like to settle for second best. But that hardly meant she was unbeatable. Or that there was any intention on Renee's part to roll over and call it quits before the case had moved ahead.
Austin put on his glasses and read from the file. "Kurt Bochner is the owner of one of the city's largest advertising firms and a former local college star quarterback. The word is that he's got the Midas touch and an eye for the ladies. He also happens to be married and the father of three children."
"And a rapist," added Renee, unimpressed with his impressive credentials, collegiate stardom, and neatly-in-place family dynamics.
"The grand jury thought so," Austin seconded, "enough to hand out an indictment of first degree rape and criminal sexual conduct in the first degree."
Although Renee had already been informed of their decision, she was still a bit surprised that the grand jury would take it that far, given the nature of a "date" rape in many people's minds, as she had seen unfold in similar cases. Far too often, the charges, when they came at all, were of a lesser degree.
Evidently Austin concurred. "Who can figure out what goes on in a grand jury's collective mind? From what I hear, the victim, Alice Prescott, was pretty damned convincing. Or maybe," he considered, "Don Hobson"—one of the young assistant prosecutors on their staff—"just did one hell of a job of presenting this to them." He closed the folder and removed his glasses while regarding Renee with narrowed eyes. "But convincing a trial jury may be another matter altogether—one that requires more experience in dealing with cases like this." He paused. "And who on my staff fits the bill better than you?"
Renee supposed she should take that as a compliment, even if she would honestly rather be enjoying the fun and sun in the Virgin Islands. But this was her life, for better or worse. And she was good at her job. Very good. As an APA under Suárez for the last three years, she had prosecuted primarily sexual assault, sexual predator, and child sexual abuse cases. Prior to that, she had spent four years working in the Homicide Unit, though many of her cases involved criminal sexual misconduct resulting in murder.
Since graduating from law school some thirteen years ago, Renee had been motivated to go after sex criminals in particular, believing it was her calling. Someone had to be willing to take a strong stand against that coldhearted and sleazy segment of the criminal population. She gladly volunteered for the job, hating to see those who sexually assaulted and exploited others getting away with it.
Austin was now holding the dossier out to her. She grabbed it, mumbling mostly to herself: "Let's see what we've got here…"
She glanced briefly at the information on Alice Prescott, planning to study it in detail later. Right now, she was more interested in the file on the accused. Call it a morbid curiosity, but she always wanted to compare the image in her head with the actual look of the person to see how close she came. Experience told her that there was no set appearance to expect, per se. It was akin to picking out an alcoholic in a lineup. Anyone could be guilty of rape as far as physical characteristics were concerned.
Renee turned to sheet number three, where she spotted the wealthy businessman's full name: Kurt William Bochner.
She had never heard of him. But then, she didn't exactly have a pipeline to all the city's wealthy circles.
He was thirty-six—a bit younger than she had thought.
Sheet number four. There lay a photo with the arrest record.
Renee's eyes popped wide and her heart skipped a beat. He bore a striking resemblance to Richard Turner—the man who raped her thirteen years ago.
There was the dark hair, thick and wavy, the devilishly good looks, deep gray eyes that seemed to bore through you, and a confident half grin that sent chills through her.
And yet it wasn't Richard, who was three years older than her when he sexually assaulted her.
They had known each other for a short time, starting off with a simple handshake and ending with her worst nightmare.
"Are you all right?" The voice sounded like a sonic boom and Renee realized it was Austin's.
She shut the folder and made herself look at him, certain her face had turned florid. "Yes, I'm fine," she lied, adding: "I'm probably just suffering a bit from jet lag. It'll pass."
"Are you sure?" he asked. "Maybe you need an extra—"
In an uncharacteristic outburst, especially to him, Renee cut in sharply, "I said I'm okay!" She sighed, calming her nerves as she realized she was directing her rage at the wrong person. "I'm sorry, Austin. When I saw Bochner's face, it reminded me of someone I'd rather forget." As if I ever could, she thought.
Austin gave her a fatherly look. "Don't worry about it, Renee. The important thing is that we need to send a message. We can't have this type of thing happening here—not as long as I'm the Prosecuting Attorney. Scum like Kurt Bochner—no matter how much he has in his bank account and how many accolades he has from his glory days as an athlete—deserves to be put away for what he did to that young woman. I'm counting on you to get a conviction so he doesn't get the chance to rape someone else."
Renee nodded thoughtfully. "I'll do my very best."
"You'll need to," he said. "Your opponent, Deana Krane, will fight tooth and nail for her client, whether he's guilty or not. She won't hold back, and neither should you."
"I don't intend to," she told him, as if he believed otherwise. "I'm not afraid to go up against Ms. Krane."
Austin smiled. "I didn't think you would be."
Renee kept her emotions in check, while offering him a self-assured smile in return.
CHAPTER TWO
It was not until Renee had gotten to the sanctuary of her office that her frazzled nerves erupted in full force. She felt her knees buckle and only her desk kept them from giving away altogether.
She had just been handed a case of alleged rape in which the accused was an older version of the man who had raped her on a first date.
She had not seen Richard—or Rich as he preferred to be called—Turner, since she graduated from the University of Michigan Law School. She'd heard that he had been hired by a major East Coast law firm and spent much of his time overseas. She could only imagine how many other women he had victimized over the years as a seasoned sexual predator.
Renee took a seat at her desk and sucked in a deep breath as it all came back to her…
* * *
She was in her final year of law school when she first met Rich, a tall, handsome graduate student majoring in business law. They actually met at the bus stop where she was waiting to be transported to her part-time job in Ann Arbor as a law clerk, and he happened to be passing by on foot.
In addition to his good looks, she found him to be quite charming with a dry sense of humor. Nevertheless, she politely declined his suggestion that they meet later for drinks. Not only did she not know him, but between school and work, her time was almost completely taken.
They ran into each other several times after that on campus, where Rich was gentlemanly yet persistent in his affections. Renee finally agreed to go out with him on the night in which she had learned that she had succeeded in taking the first huge step toward becoming an attorney by completing her class work in the top five percent.
They went to a local pizza parlor to celebrate. After having a few slices of pizza and glasses of beer, she let him talk her into walking her up to her third floor apartment.
Then she let him talk her into coming in for a nightcap.
The fact that she lived alone was not by design. Her roommate and former law student fell in love and dropped out of school—and moved out of the apartment. Renee had been trying to sublease it for four months now, to no avail.
None of that was on her mind when she let Rich in that night. She thought of him as simply a sweet, nice looking guy whom she was repaying for a fun evening by letting him in the door for maybe a good night kiss—but nothing more.
He seemed like he was capable of behaving himself.
"Nice place," he commented. "You must be doing something right."
Renee was not a sexual innocent, having had her first experience as a nineteen-year-old undergrad, while attending Michigan State University. She saw nothing wrong with premarital sex, if it was mutually agreed upon, enjoyable, and no unwanted babies or diseases emerged.
"My roommate is responsible for everything you see here," Renee told him, even if that roommate was no longer around.
"Your roommate has good taste," he said. They were standing in the tiny living room. His eyes scanned the place. "I'd like to meet her sometime. In fact, there's no time like the present. Is she here?"
Renee had a feeling he was playing games with her or was trying to make her jealous. "She went out with a friend," Renee said quickly, and added: "She should be back any minute now."
If Renee was suddenly defensive, it was because she didn't like the way he was looking at her. Furthermore, her head felt like it was about to split open.
"I think I'm going to go to bed now," she told him politely.
"Oh really?" His tone was lascivious.
"Alone!" she emphasized, expecting him to act hurt, but leave it at that.
Rich moved right up to her and ran his finger down the side of her face. "Don't you have something for me first?"
Renee thought she got his drift and gave him what was supposed to be a quick kiss and let him kiss her back. When he wouldn't stop kissing her, she pulled away. "Good night, Rich." Up to that point, she considered his behavior overly aggressive, but not necessarily threatening.
He frowned. "Didn't you have a good time tonight?"
"Yes, but—"
"Then why stop now? The night is still young."
"Not for me it isn't," she made clear. His eyes were dark with desire, foreboding. She was becoming frightened. "I think you better leave now."
He dismissed her words with a brusque shake of his head. "You don't really want that any more than I do." He closed the gap between them and put his arms around her.
Renee tried to break free. "I'm not kidding, Rich." She hoped threatening him would work. "Let's just leave things as they are, okay?"
"No, it's not okay," he replied gruffly. "You owe me." He tried kissing her mouth, but she kept turning her face. "Come on, Renee. Don't make this any harder than it has to be. Just one more kiss. Please."
Everything in Renee said no way, but a small part of her said: Just kiss him and maybe he will be satisfied and go home.
That thought prevailed.
Only she let it go too far.
Or was she ever really in control?
He wouldn't stop, ignoring her pleas to the contrary, until he overpowered her.
He forced her to do what he wanted.
He raped her…
* * *
Now, years later, Renee sat tearfully in her office, forced to face up to what she had spent years trying to erase from her mind.
Why didn't she prosecute him?
She knew why. She had seen step-by-step what rape victims went through as part of her law schooling. There was no way she could subject herself to the humiliation, victimization, anguish, and brutal cross-examination rape victims faced.
Furthermore, she knew her case would be almost impossible to prove. She had gone out with him willingly, and they had both been drinking. She had let him into her apartment. There was no resistance to the assault that she could present clear evidence of. Yes, she had bruising, but his lawyers would have claimed that it was rough sex between two people intoxicated, not rape. There was no accounting for the terror, confusion, and disbelief she felt, rendering her virtually immobile. Or the fact that he was bigger, stronger, and determined to do what he wanted, no matter what.
But there was another important reason that she chose not to accuse Richard Turner of rape. She was only the bar exam away from achieving her dream of becoming attorney. She feared that should this thing become drawn out in court, it might create too much negative publicity that could have a bearing on her career aspirations in a profession already discriminatory against women.
Simply put, she thought it best to just try to put the entire episode behind her. She never spoke about it to anyone—not even the man who raped her. He had tried to make contact with her several times after that night, as if nothing had ever happened other than sex between two willing partners.
Had he believed the act between them was consensual? Renee had asked herself that many times.
Had it been her fault for letting him in? Had she encouraged him by kissing him not once, but twice, and allowing him to kiss her back?
I did not lead him on to assume I wanted to have sex with him, Renee told herself emphatically, now thinking as a prosecutor. Yes, I did go out with him and yes, I did naively invite him in. However, a woman—or man, for that matter—does not commit to going all the way on that basis alone. She didn't ask him to do what he did—and he knew it, but didn't give a damn. Forcing himself upon her hardly gave him the right to presume in his warped mind that they were on the same page, no matter if he tried to convince himself otherwise.
Renee wiped away the tears that had suddenly rushed down her face. She had not cried about this in some time. Now that she had, there was no sense in going down memory lane anymore. Too many years had passed. It was over and done with.
It was too late to prosecute that man for what he did to her, per se. Even if there was no statute of limitations for a first degree sexual assault in Michigan, the fact that she hadn't pressed charges in so long and would have an uphill battle in proving her case, made it a nonstarter.
Instead, as always, she would put her focus on the rape cases before her, in the hope of finding justice for others.
No matter what it took.