Maddie and The Norseman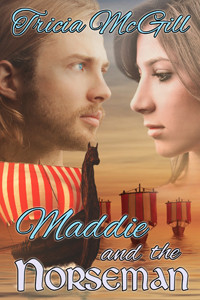 Madeline (Maddie to her friends), an Australian history teacher, travels to York, England, to visit her friend Amber who is working there with a team of archaeologists unearthing Viking relics. They share a passion for the Viking Age, and both studied the Old Norse language.
            About to take part in a re-enactment at the Viking village and wearing typical clothes worn by a Viking woman, they are swept back in time to the town of Jorvik, a thriving trading town, as York was in the year 879 AD. Maddie meets Norse trader Erik and is stunned by his uncanny resemblance to the Viking she has been dreaming of.
            When Amber is kidnapped, Maddie persuades Erik to help her find her friend. Their journey takes them across to France and to Rouen, then further inland. They encounter misadventures on their perilous journey. Erik risks everything to aid Madeline in her quest. And the fear is always there; will she stay in the past to share her hero's life, or be snatched back to her own time?
Chapter Excerpts
Chapter Two
Jorvik, England, about 879 A.D.
The man picked up a small iron bowl, then bent to set light to the wick in its middle. The lamp didn't give off a lot of light, but at least now they could get a clearer look at him. Although not strictly handsome, he didn't have a mean face. But that was not to say he was to be trusted—most serial killers were harmless to look at, weren't they? Light brown hair brushed his shoulders, and a short beard covered all his lower jaw. A deep frown creased his brow as he scrutinised them.
"So, are you going to tell me what you were doing in my workshop? And just how did you get in?" He set the lamp down on the table near them. Maddie glanced quickly at Amber. Now what to do? There was little point in trying to convince herself this was not real, so she might as well go along with it and see where things led. It was beginning to take on the form of an extraordinary theatre production, and they were the players, with no idea where the script would take them.
"What'll we tell him?" Amber found her voice, as her fingers went to the necklace. Had her thoughts matched Maddie's? Should they try to reproduce the action that brought them here?
Wherever here was.
"I have no idea. We should get out of here as soon as possible, Amber. I think we could tackle him. What do you think?"
"Speak in my tongue. I know you can," he said. His voice was pleasant, if gruff. His eyes had followed Amber's movement and he suddenly seemed very interested in the necklace. "You stole that necklet." Amber shrank back as he stepped within a pace of her and peered at the amber and crystals around her neck.
"No, we didn't steal anything." Maddie covered her necklace with a hand. Despite looking harmless, he had wielded that axe and for all they knew could be a demented killer. They'd somehow wandered into a movie set—now that was a feasible answer.
"Then tell me how she happens to be wearing a piece I worked on but a few days ago?" He jerked a thumb at Amber, then caught sight of the necklace Maddie was desperately trying to shield. His frown grew fierce. "And you wear the mate to it."
"You're a jeweller?" At Amber's question Maddie jerked her head around. Had her friend gone demented? Was that really of any importance? Right now there were far more pressing things to worry about.
"You expect me to believe you did not know. Which one did you steal from me and which one from my recent customer?" he bit out.
Maddie chewed on her lip as she glanced about. "I think we should take him now." The axe against the wall was the only weapon in sight and to reach it one of them would have to pass him. "You get his attention while I make a run for the axe."
Without preamble Amber pushed him sideways and Maddie darted to the weapon. But he was far too agile. Before she had time to make a grab for the axe, he had Amber in a lock, her back pressed against his front, her arms trapped beneath his. Amber squealed as she wriggled.
Maddie waved the axe, but he seemed quite unperturbed. Amber's struggles made no impact on him at all. "Let her go!" Maddie tried not to show her terror. Doubtless he could break Amber's neck with one swift movement if he chose to.
"I do not think so." The swine had the audacity to laugh. "Put my weapon aside and I might think on it."
"What do you think I am, a fool?" Obviously he did, for he still smiled. It made him look quite nice. This was probably quite erroneous. Maddie shook herself—what was she thinking? Yes, she had to be delirious; faced with a Norseman who was about to strangle her friend and she was considering how nice he looked!
"Best do as he says, Maddie—he's a lot stronger than he appears. I haven't a hope of breaking free." Amber's struggling had made no difference whatsoever. His hold still looked just as firm and she looked more terrified than Maddie had ever seen her.
When he suddenly reached up and yanked the necklace from Amber's neck she choked on a small sob and made a grab for it. "God, Maddie, we can't let him have it," she wailed. "We need it. It's our only link with home." As she tried desperately to reach it, he pushed her away from him and at the same time poked it into a pocket at the side of his baggy breeches. Amber stumbled to Maddie's side.
"You can go now." He waved a hand at them. "You can keep the other piece. Let the one you stole it from try to regain his property."
"Let's get out of here while we can." Maddie put the weapon aside and pulled at Amber's arm. Her friend didn't seem to want to move. "Come on," she urged.
"I can't leave the necklace with him. We have to get it back." Tears streamed down Amber's cheeks.
"How do you suggest we do that?" Maddie rubbed her face in agitation. Amber was right, they needed it, but it seemed unlikely he would part with it, so best they make their escape while they could.
Legs astride, he studied them as if he couldn't make out what they were—which he probably couldn't. "Let's tackle him. Surely he can't fight the two of us if we both jump him at once. I suggest we do. We'll knock him out, tie him up and get the necklace back."
Sounded feasible. Maddie nodded. "Okay, let's do it. Now."
As if he understood their every word he was ready for them. As they pounced, he sidestepped agilely and left them to flounder and stumble. As they turned to charge again, so he moved quickly out of their way. He bent to pick up the axe and when they faced him again wielded it.
Amber clung to her arm and sobbed while Maddie shook with impotence. "Look, we really have to have that piece of jewellery."
"You want something that you have stolen?" He laughed derisively. "You really think me dim-witted enough to hand it over?"
"We didn't steal it, and that's the truth," Maddie said with feeling. He seemed a practical enough man, perhaps he would listen to reason. What a laugh! Reason played no part in this charade. The queasiness had dissipated but she still felt very odd. The events of the past fifteen minutes or so had taken on the appearance of a charade. Any moment she would wake up and find this had all been one of her unusual dreams.
But something told Maddie that wouldn't happen. And if they didn't get the other necklace back from him, it was odds on that they wouldn't be moving on in the foreseeable future.
"Tell me the truth, and there is a small chance I might listen." He sat on his low bed, legs wide, the axe balanced between his knees.
"Shall we try for the absolute truth?" Maddie turned to ask Amber, who was wiping her cheeks on the hem of her pinafore. "Or, if as I surmise, and I'm sure you do, that fate has played a weird trick on us and dumped us somewhere back in the past, will he have us taken off to what passes as the equivalent of a loony bin."
"Oh God. I think I'm going to be sick." Amber pressed a hand over her mouth. Maddie put an arm about her shoulders and squeezed gently. "You seem to be handling this a lot better than me. I can't even begin to imagine how this happened, can you?"
Maddie nibbled on her bottom lip. "It started when we both touched that little bronze talisman thing that's on both necklaces. Did you feel as if you were stuck to it?" She glanced down at the strange medallion. It looked like a harmless lump of metal. Reticent to touch it for fear of what might happen she put her hands behind her back. The last thing she needed was for her to slip back to the future and leave her friend here in limbo.
"Yes, I did." Amber groaned and rubbed her forehead.
Obviously growing impatient, the man banged the axe handle on the earthen ground and they turned to him with a start. "I was taken as a slave," Maddie blurted, not having a clue why she said it. But she had a feeling there was no way in this world he would take the truth seriously. "My husband died…and…and I had nowhere to go. I met my friend when this trader took me to his ship." Her imagination couldn't drum up any more lies. Silently cursing, she sent Amber a pleading glance.