Murder and Tainted Tea (Katherine Miller Book 3)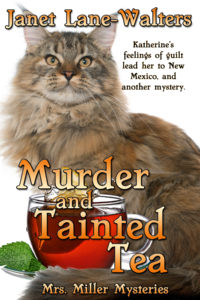 Katherine heads to Santa Fe, New Mexico along with a Maine Coon Cat kitten to spend New Year's Eve with Lars. Her guilty feelings over the organist's death has her needing an escape. When she reaches Santa Fe, she discovers Lars is missing. She seeks and finds him and steps into another mystery.
Lars' daughter dislikes Katherine but when the young woman is kidnapped, they are puzzled. The murder of Lars' daughter and one of his employees makes solving the mysteries necessary. Can she learn before Lars becomes a victim.