On Earth As It Is In Hell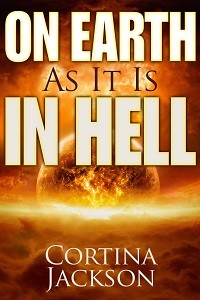 Hell, a word that not only describes a dark, fiery underworld, but also defines periods in our lives. Thus is the case for the 3 characters, Clara, Nick, and Toni; portrayed in this fiction thriller.
The story line follows: Clara, the unbeliever due to God's lack of intervention; Toni, Clara's friend; homosexual by nature, faithful friend by design; and Nick, a pastor who endures his own trials. Their paths intersect as they each experience turmoil and tragedy in their lives. However, no matter the trials and tribulations that they face, choices must still be made that will determine their future.
Evil forces clamor insistently, as they tear and claw through portals that lead from Hell to the Earth. They are driven by an assignment, to move about, seeking whom they may devour by orchestrating the lives of susceptible people, places, and things; that will further the cause of total destruction of men, women, and children, who can be claimed for Hell.
Life is scarier than fiction; the fate of the world is scarier than this!
Begin your journey into, "On Earth as It Is in Hell," by visiting the website at www.cortinajackson.com
It can also be purchased at Amazon.com https://www.amazon.com/author/cortinajackson
It can be downloaded at Barnes&Noble.com and Apple I store.