Pagan Queen (Curse of the Lost Isle Book 2)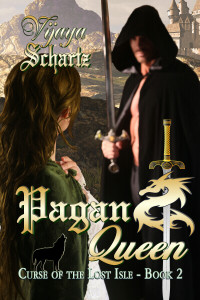 From history shrouded in myths, emerges a family of immortal Celtic Ladies, who roam the medieval world in search of salvation from a curse. For centuries, imbued with hereditary gifts, they hide their deadly secret… but if the Church ever suspects what they really are, they will be hunted, tortured, and burned at the stake.
PAGAN QUEEN.
810 AD – Alba (Ancient Scotland) – Queen at last, Pressine brings victory to her beloved Elinas and prosperity to their growing kingdom. But she has to contend with the intrigues of Charlemagne's bishops, spurred by her Christian stepson. She also fears the curse that could bring her downfall. For the love of Elinas, she will tempt fate and become with child. But when her indomitable passion challenges the wrath of the Goddess Herself… can she win that battle?
"Schartz is an accomplished writer, whose pacing, conflicts, and goals are always complex and whose good characters are always likeable, and whose villains are evil incarnate. You have to like her villains as much as the good guys! Mattacks is a magnificent example of this!"