RAVENFEAST – Farewell To Legend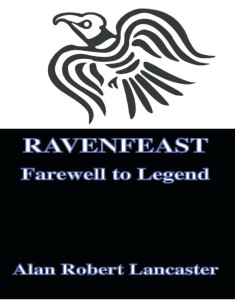 Ivar Ulfsson in early middle age is still fighting fit. Tall, white-blond and trim-bearded, he is a close kinsman of King Harold on his mother's side. In RAVENFEAST we meet him on his way North with Harold's huscarls to Jorvik in late September, 1066. Harold has a task for Ivar, to keep his wayward younger brother Tostig from being slain by the vengeful Earl Morkere's men. To do this he must show himself to be sympathetic to Tostig's cause and 'join' him and Harald Sigurdsson, 'Hardradi'.
After the fighting, with Tostig safe, Ivar must see he sails to Flanders, to wife Judith and sons. Before that he re-acquaints himself with the russet-haired Mercian woman Braenda he bedded after the defeat of Gruffyd ap Llewellyn some years earlier.
The killing does not stop with the battle, and on his way south to catch up with Harold in London he meets with one adventure after another, sealing old friendships, gaining new ones along the way.
Harold's defeat near Hastings is not the end. A set-back awaits Duke William at London Bridge when the Middlesex fyrd readies a steely welcome for him and his mounted followers. Time for feasting?
You may like to read some of Alan's work on Hub-pages, http://alancaster149.hubpages.com/hub/THE-RAVENFEAST-SAGA-SERIES, or on www.northworldsagasite.webeden.co.uk, where you will find a Bookshelf on page 2 with links to my Amazon.com Author page, New Generation Publishing and Natalie at the Battle Abbey shop  for signed, dated copies of RAVENFEAST and its successors.  The web site takes you from the post-Roman migrations into Britain up to the Normans.
Chapter Excerpts
Chapters in the RAVENFEAST saga are numbered 1-20