Seducing Sigefroi (Curse of the Lost Isle Book 3)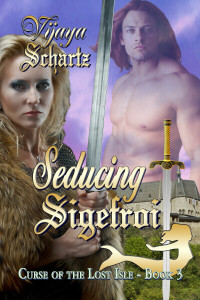 Luxembourg – 963 AD – To offset the curse that makes her a serpent from the waist down one day each month, Melusine, exiled Princess of Strathclyde, must seduce and wed a mortal knight, the shrewd and ambitious Sigefroi of Ardennes.
Sigefroi, son of the Duke of Lorraine, suspects Melusine is not what she appears, but her beauty, her rich dowry, and her sharp political skills serve his ambitions. He never expected her to soften his stone-cold warrior heart.
So close to the Imperial court, dangers and intrigue threaten Melusine. War looms on the horizon, a Mermaid was sighted around Luxembourg, and Sigefroi's bishop brother questions her ancestry. If anyone ever suspects Melusine's true nature, she will burn at the stake…
"As always, Schartz spins a great story. It's a bit bloody and bloodthirsty in places… But that's part of the drama, and Schartz certainly knows drama." Manic Readers 4.5 stars