Shadow's Voice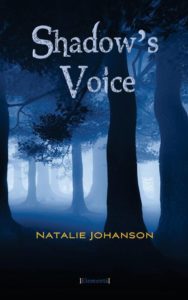 Rose Ula is on the run from her past and anyone who might know her. She wants nothing more than to disappear and live a simple life but when a dying King's messenger begs her to complete his mission she cannot turn away. Now she must make the dangerous journey to the castle and face capture to get the information to the King. Someone seeks to overthrow the King. Rose must rely on her determination, tenacity, and the very shadow magic she'd hoped to leave in her past; magic most have never seen before.
It soon becomes clear her King's life is not the only thing in danger as Rose finds herself torn between her desire to run and her desire to help her King; the unassuming man who is inspiring something in Rose that is more dangerous than anything else she can think of…trust. Something about this King has Rose lowering the guards she's had all her life, telling him secrets no one knows.
Her voyage unfolds into a battle of life and death. Rose must struggle with her own demons and fears to realize who she is and more importantly, to accept who she is. Ancient secrets long forgotten and old magics never known to exist come into play and soon Rose finds herself reliving an ancient conflict long thought gone. The safety of her King and kingdom are at risk; war looms around the corner if she fails. Can Rose face the past that haunts her to gain a future that includes friends, family, and possibly love? Or, will Rose become consumed by the shadows that would claim her?
"Shadow's Voice by Natalie Johanson is a beautiful read for fantasy lovers. Roselyn Ula has had a very rough past and she thinks running away from it is the only form of redemption left for her. But one never runs away from one's self. Destiny puts her on the path of a messenger who beckons her to complete his mission for the King. Now, she must travel to the castle to save the king from an enemy who will stop at nothing to see him overthrown. Is Rose ready to open her soul, connect with her shadow magic, and face the challenges that await her? Shadow's Voice is a tale of magic, but most importantly, it's a story of redemption won through heroism and unrelenting courage.
Natalie Johanson has an arresting writing gift and her prose will surely seduce lovers of beautiful words. I loved the descriptive style and the images the writing conjures up, making readers see things very clearly. The narrative voice comes across with strength and unwavering conviction. The plot is well imagined and executed with a lot of style; it moves very fast, with enough to make the reader curious about what happens next. I loved the characters. Yes, they are compelling and fully fledged. Rose is one that readers will root for. She comes flawed with her past and torn between seeking redemption and offering her services for the welfare of her people. The conflict that rages within her is the catalyst that propels the story forward. Shadow's Voice is an impassioned page-turner that fantasy fans can't put down. Its satisfactory ending could be the promise of another beautiful story in the making."–Reader's Favorite