The Century Cube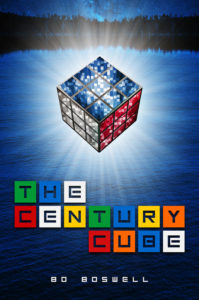 "Exciting adventure into the future"
Turner and Weston are brothers who constantly bicker and fight with each other, but they can agree on one thing: they both enjoy games that challenge Turner to speed-solve the Rubik's Cube. During a visit to a small country town in Tennessee, the boys discover a mysterious gemstone puzzle cube. Like any respectable cuber, Turner figures out the puzzle's solution and performs the algorithms to solve it.
The boys suddenly find themselves trapped one hundred years in a future world, stranded amidst crumbling buildings with scorched walls, and surrounded by technologies that are amazing, but dangerous. With the assistance of new friends, they must work together to escape a monstrous threat they never thought possible on a journey across the exciting land in search of the one who can help them fix the cube and get back home.
A wild, gripping tale full of action and mystery that's fun for all ages.
Chapter Excerpts