Murder in Hawaii Mysteries 3-Book Bundle: Murder in Maui\Murder in Honolulu\Seduced to Kill in Kauai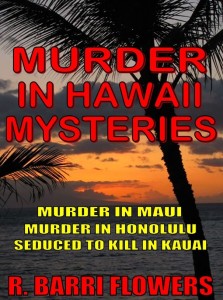 Murder in Hawaii Mysteries 3-Book Bundle contains three full length bestselling suspense thriller novels by R. Barri Flowers, including Murder in Maui, Murder in Honolulu, and Seduced to Kill in Kauai.
Murder in Maui: A Leila Kahana Mystery is a police procedural medical mystery novel set in the lush, deceptively idyllic tropical paradise of Hawaii. Maui County homicide detective and composite sketch artist Leila Kahana and partner Detective Sergeant Blake Seymour investigate the execution-style murder of two prominent doctors in an upscale condominium. As they interview suspects and collect evidence, more doctors are murdered, making it clear to all that they have a ruthless and determined serial killer on their hands.
Murder in Honolulu: A Skye Delaney Mystery is a private investigator crime novel centered on the lush Hawaiian island of Oahu. Ex-cop turned PI and security consultant Skye Delaney investigates the apparent suicide of ex-husband and former prosecutor turned businessman, Carter Delaney, after he had hired her to learn if his new young wife was having an affair. As the bodies continue to pile up, Skye puts her neck on the line to find out the truth and nail a ruthless killer who has targeted her for death.
Seduced to Kill in Kauai is a tropical island novel of psychological and erotic suspense and financial intrigue. Pushing forty, Jack Burke was living the good life as a successful advertising executive with a gorgeous wife in Hawaii before, in the blink of an eye, his life began spiraling out of control. Temptation, infidelity, betrayal, deceit, and murder, leaves Jack left wondering if there is any way out. Or will he lose everything, including possibly his life?
PRAISE FOR R. BARRI FLOWERS 
"Murder in Maui is a masterful thriller set in the dark underbelly of Maui…. A terrific read!" — Douglas Preston, Co-creator of the Bestselling PENDERGAST series.
"Murder in Maui is a gripping and tightly woven tale you won't want to put down. Flowers neatly contrasts the natural beauty of a tropical paradise with the ugliness of murder and its aftermath." — John Lutz, Edgar winner and bestselling author
"Infidelity and murder in paradise lead to a one of a kind case for PI Skye McKenzie Delaney, and an enjoyable ride for the reader…. A story that will grip you to the end." — John Lutz Edgar Award winner and bestselling mystery author on Murder in Honolulu
"An exquisitely rich and masterfully constructed mystery…. A savvy, smooth, and sumptuous read that's as hot as Waikiki beach sand." –Jon Land, bestselling thriller author on Murder in Honolulu
"Intriguing mystery in a tropical paradise with a dynamic PI. A compelling, intriguing read." — Allen Wyler, bestselling author on Murder in Honolulu
"A police procedure of the highest order, mixing equal parts Sue Grafton and Jeffrey Deaver with a sprinkling of Patricia Cornwell at her best." — Jon Land, bestselling mystery writer on Murder in Maui
Chapter Excerpts
Murder in Maui: Prologue and Chapter One
Murder in Maui: A Leila Kahana Mystery
Prologue
The handgun was loaded methodically. Time for payback. Now they would know what it felt like to be humiliated. And only then could some peace of mind come.
And just maybe a life again.
First things first. There was a job to do and the doer was determined to exact some vengeance against those deserving.
Stuffing the gun in a pocket, the soon-to-be-killer downed the rest of a glass of liquor before heading for the door.
It was a relatively quiet evening by Maui standards, what with the constant throng of tourists practically taking over the island. This was a good omen. No need to draw undue attention or have to take out someone who didn't deserve to die.
The doer got into a vehicle and began the drive down Mokulele Highway toward the South Shore.
Arriving in Wailea, the car was parked not far from the Crest Creek Condominiums.
Then came the wait, certain they would show up. After all, their routines had been studied and memorized.
Ten minutes later both arrived in separate BMWs. The tall, handsome man left his car first and casually looked around as if lost before heading toward a condo.
The woman waited an appropriate amount of time before stepping out of her car. She was attractive and leggy with long blonde hair.
She joined the man in the condo.
It didn't take much to imagine what they might be doing inside, having already witnessed it firsthand.
She was the loud type; while her lover was more focused on rough actions speaking for him.
Glancing at a watch, the doer decided it was time to get this over with.
Moving quickly toward the condo, the doer resisted the temptation to look around in the dim light, knowing this small impulse alone might cause someone to hone in on a passing stranger.
Pausing at the unit and listening carefully for any sounds within, there was nothing perceptible due to the thick walls, which would work well for the purpose in mind.
The gloved hand turned the doorknob, slowly opening the door.
Inside two goblets of wine sat on a table in the living room. Clothes were strewn about the hardwood floor as if they couldn't get them off soon enough. Muffled sounds could be heard upstairs.
The doer climbed the steps, moving steadily. The master bedroom was just down the hall. Laughter and moaning grew louder, along with the frenetic movement of bodies.
The two were on the bed naked having sex. She was on top, galloping like a stallion, while he had one hand clamped firmly on her breast and the other gripping a buttock.
Removing the gun, a few brisk steps toward the pair followed. Before they were even aware of another presence in the room, it was too late. Bullets were systematically pumped into the pair until the killer was satisfied there was no life left in the room other than one.
Chapter One
Leila Kahana had been with the Maui County Police Department for seven years, working in the Criminal Investigative Division as a detective and composite sketch artist. She'd joined the homicide squad three years ago and had seen her share of murder victims in various types of positions, ranging from fetal to awkward to dangling. But none made her olive skin flush like the present victims. A Hawaiian man and white woman, both in their thirties, were naked and locked in coitus; the woman slumped astride the man.
Identified through their driver licenses as Doctors Larry Nagasaka and Elizabeth Racine, both had been shot at point blank range in the head and the woman had bullet wounds in her back. The two were literally lying in a pool of their own blood.
The call had come in this Tuesday at 8:30 p.m. with a report of gunfire at the Crest Creek Condominiums, one of the new and expensive developments in the exclusive Wailea Resort. Neither victim lived at the residence that, according to records, was owned by the Medical Association of Maui.
"Looks like they went out with a bang, no pun intended," her partner, Detective Sergeant Blake Seymour, said as a police photographer took pictures of the decedents.
Leila winced, hoping Seymour didn't notice how uncomfortable she felt seeing the victims locked in the sex act. Not that she had anything against sex, other than being without for the past six months. It just seemed like some things should remain private and not exposed for everyone to see. Or at least not a bunch of gawking law enforcement personnel.
But then Leila didn't imagine the pair knew they would be murdered at the worst possible time. Or best, depending on how you looked at it.
"I guess we can pretty much rule out murder-suicide," she said, as there was no murder weapon found anywhere near the bodies. Not to mention they were shot multiple times and in difficult positions, making it all but impossible that either victim could have been the shooter.
"I agree. Not unless one or the other was a glutton for punishment and Houdini at the same time."
Leila wrinkled her nose. "There was no sign of forced entry either. And it doesn't look like anything was taken. Once you get past their messy remains and clothes scattered around, the place is immaculate. Not exactly evidence of a burglary."
Seymour flexed his latex gloved hand and lifted a shell casing, dropping it in a plastic bag. "Someone invaded the place all right, and found exactly who they were looking for. The question is, under what circumstances and who got the jump on the lovers?"
Leila made it a point to never try and get inside a killer's head too soon. The evidence had a way of leading them down the right path, even if less than straight and narrow. She looked again at the victims.
"No reason to believe they were expecting company. Obviously it didn't deter the killer. Whichever way you slice it, this was definitely personal."
"Sure looks that way. Whoever did this definitely wanted to make a statement. They didn't have a fighting chance."
"So we'll fight the fight on their behalf."
Leila stepped aside as the photographer took pictures of the corpses from a different angle. She believed the killer not only wanted to execute the pair, but humiliate them, too.
She instructed other CSI members to document the crime scene including identifying, collecting and processing any possible physical evidence.
Following Seymour downstairs, Leila couldn't help but wonder if anyone ever used the place other than for sex. If only her house were as tidy. Or maybe that would make it seem too artificial rather than a place to live.
She noted the door key on a cabinet off the foyer. "I'm guessing one of the victims used this to get in. Probably left the door unlocked and that's how the killer got in."
Seymour looked. "Yeah, you're probably right. Still, you never know. If the killer had a key, he or she might have tossed it aside, no longer needing it once the deed was done." He said to a nearby CSI, "Dust this key for prints."
"Sure thing."
Seymour did a quick scan of the area. "Would've helped if they'd had a first rate security system."
Leila blinked. "Maybe the association didn't feel one was needed."
"A costly error in judgment, though something tells me the victims were here on their own time taking care of business, so to speak."
"Yeah, right." She rolled her eyes.
Seymour managed a weak smile.
Leila approached Officer Tasia Gould. "Who called this in?"
"A neighbor." She lifted a notepad. "Barbara Holliman."
"We'll need to speak with Ms. Holliman."
"And anyone else in the immediate area who was home when the call came in," Seymour added. "Someone must have seen the shooter."
Tasia nodded. "That's usually the case, even if they didn't realize it at the time."
Leila looked up at Seymour, who was nearly a foot taller than her five-four with most of it muscle. "You think this is an isolated incident?"
He shrugged. "Guess that will depend on why someone wanted the doctors dead while caught in the act."
Leila refused to speculate on motive beyond the obvious that the killer knew the doctors. Not till they had more to go on regarding the victims.
And perpetrator.
* * *
Leila sat in the passenger seat as Seymour drove. Both were trapped in their own thoughts about the latest case to bring them out into the night. For her part, Leila never considered one investigation to be any less or more important than the next. When dealing with human beings and loss of life through violence, all cases deserved their best efforts.
She glanced at Seymour's profile. He was nice enough looking, if not the most handsome man she had seen. His salt and pepper hair was cut short and he'd recently grown a mustache, which Leila hadn't decided if she liked. They had been partners for two years and she still didn't know him very well. At times he could be moody, witty, or a million miles away.
Seymour was currently separated from his wife. Leila suspected he wanted to get back together with her, but tried to pretend otherwise. She wasn't sure what to tell him, having no experience in that department.
At thirty-two, Leila had never been married. Born in Hawaii to conservative Polynesian parents who believed it was her duty to marry an established Polynesian man, Leila wasn't opposed to marriage as much as being with someone she didn't love. That included her last boyfriend, who had turned out to be a real jerk.
Leila preferred to be on her own for now till someone came along who really made her want him.
She looked again at her partner. "Why are you so quiet over there, Seymour?"
"Just thinking about disappointing my daughter." He paused. "I was supposed to pick her up for the night. Then duty called."
"Is it too late now?"
"She's probably asleep."
"She knows you're a cop. I think she'll understand." Easy for her to say.
"Yeah, I suppose." Seymour sniffed. "I still hate letting her down."
"So find a way to make it up to her."
"I'll think of something."
Leila's mind returned to the grisly crime scene. They were on their way to notify next of kin before the press could. This was one of the hardest parts of the job, along with tracing the winding path that had culminated with a double murder.
* * *
The address they had for Larry Nagasaka was in nearby Kihei. It was a beachfront estate surrounded by swaying palm trees in a gated community. Seymour could only imagine what a place like this went for. Certainly way out of his league.
Apparently the doctor wasn't entirely at home here though, considering he'd chosen another location to have sex.
The door was opened by an attractive petite Asian woman with long raven hair, almost as though she'd been expecting them.
"Yes?"
He identified them. "And you are…?"
"Connie Nagasaka."
"Is Dr. Larry Nagasaka your—?"
"Husband. Yes." She frowned. "What is this about?"
"Could we please come in?" Leila asked.
Connie met her eyes and nodded. She led them into a large foyer. "What's happened to Larry?"
Seymour cleared his throat. "I'm sorry to inform you that your husband's dead."
A hand flew to her mouth. "How?"
It was always the initial reaction Seymour tried to gauge in determining if such news came as a total shock.
"He was shot to death."
"Where?"
"At a condo in Wailea."
Connie's nostrils flared. "Was he with her?"
"Who?"
"His lover."
Seymour glanced at Leila, deferring to her.
"You knew your husband was having an affair?"
"He made no secret of it. Neither did she."
Leila Glanced at her notes. "Two people were shot to death tonight. Your husband and a woman named Elizabeth Racine."
Connie started to cry. "I told Larry she wasn't worth it. He never listened to me."
"Mind telling us how you spent your evening?"
She favored her sharply. "At home. By myself. I've gotten used to it."
Seymour chewed on his lip. "Do you know anyone who would've wanted your husband dead?" He was still trying to decide if she belonged on that list.
"Maybe Liz's husband, Kenneth," Connie answered matter-of-factly. "Few men can tolerate a cheating wife."
* * *
Leila eyed Seymour after they reached the department issued dark sedan. "She wasn't exactly a grieving widow."
"Not everyone takes the news the same."
"Especially when you have an adulterous husband who happens to be bringing in what has to be big bucks."
Seymour opened the door. "Think she did it?"
Leila imagined Connie pumping bullets into the lovers. "Anything's possible. Or maybe someone did the job for her."
"Like Kenneth Racine?"
"Hey, stranger things have happened. Maybe he'll save us all some trouble by fessing up."
She wasn't holding her breath. From Leila's experience, most homicidal spouses were anything but accommodating. They usually preferred to blame everyone else for their problems, including the victim.
Or, in this case, victims.
Seymour pulled into the parking lot at Maui General Hospital where Doctor Kenneth Racine was on duty as medical director of the Behavioral Health Unit.
Leila hated hospitals, an emotion born from fear of having her tonsils removed as a child and added to by the death of her father ten years ago after spending the last two months of his life in a hospital bed.
They were directed to the third floor, where a nurse pointed toward a forty-something, tall man with thick gray hair. He seemed agitated after snapping his cell phone shut.
"Dr. Kenneth Racine?" Leila asked.
"Yes?"
She lifted her ID. "We're detectives with the Maui County Police Department. Could we have a word with you in private?"
His brow furrowed. "Look, if this is about those parking tickets, I swear I'll pay them. Things have just been a little crazy around here, you know?"
"We're not traffic cops," Seymour said curtly. "This is a homicide matter—"
Kenneth's head snapped back. "My office is just over there…"
They followed him to the office, where he left the door open.
"You said homicide?" He looked at Seymour.
"Afraid we have bad news. Your wife, Elizabeth, was murdered."
Kenneth's eyes bulged. "That's not possible! Liz is at a seminar in Honolulu."
Leila blinked, wishing that had been the case for his sake and hers. "We believe a woman found shot to death at a condo in Wailea tonight is in fact Elizabeth Racine."
He lifted his cell phone and pushed a button. "Yes, I need to speak to Elizabeth Racine. She's a guest there." A few moments passed. "What do you mean there's no one registered there by that name?"
Leila regarded Seymour. She wondered if Racine's reaction was mainly for their benefit.
He hung up, eyes downcast. "They said she never checked in, even though she had made a reservation."
Leila supposed it had been smart to cover her tracks. That was, until someone made certain they ran out for good.
"Larry Nagasaka was also murdered at the condo," she said.
"Larry—" Kenneth gulped. "Are you telling me my wife and Larry were having an affair?"
"Sure looks that way."
"That bloody bastard."
Leila didn't disagree, but that was beside the point. "You had no idea your wife was seeing another man?"
Kenneth sneered. "Isn't the spouse always last to know?"
"Not always," said Seymour. "We need you to account for your whereabouts tonight."
"You're kidding, right? You think I actually had something to do with this?"
"Wouldn't be the first time a vindictive spouse offed his wife and lover."
Kenneth took a step backward. "Look, I loved my wife and would never have wanted her dead, no matter what. I've been working my ass off here since three o'clock trying to keep this unit together."
* * *
"His story seems to hold up." Seymour stood beside Leila in the elevator.
"Even in a busy hospital, people can sometimes see what they want to," she said.
"True. Wouldn't be too much of a stretch to believe Racine could've taken a break from his duties to get rid of a cheating wife and her lover."
Leila ran a hand through her hair. "Aren't doctors supposed to be in the business of saving lives?"
Seymour gave her a deadpan look. "That may well depend on whose life it is."
He drove on the Honoapiilani Highway to West Maui where Leila lived.
"Do you want to get a drink?"
Leila didn't look his way. "Tempting, but I think I'll call it a night, if that's okay. It's been a long day."
"You're right, it has been, and that's fine."
"Another time?" She faced him.
"Yeah." He turned to look at her and back to the road. A few minutes later Seymour dropped Leila off at home. "See you tomorrow."
"Count on it." She gave a little smile and waved.
Seymour drove off, thinking she was probably the most levelheaded cop he knew, including himself. And also the best looking, which may have been the problem. He loved her new hairstyle, a short bob with sloping edges. Of course he kept his compliments in check, not wanting to make either of them uncomfortable in what was a good working relationship. Partnering up with Leila might not have been his first choice, but she'd earned his respect and taught him a few things along the way.
Seymour took the Kahekili Highway to the place he was renting in central Maui. Unlike the resort areas on the west and south sides of Maui, there wasn't much here to excite tourists. The fact that real people like him lived and worked in central Maui made it more to his liking, aside from living alone for the time being.
He would've preferred going to the house he once shared with his wife, Mele. That was before he screwed up, got caught, and was kicked out four months ago. She had yet to file for divorce, but since there was virtually no real communication between them, he feared it was only a matter of time.
When they did talk, it was mostly about their eight-year-old daughter, Akela. They had adopted her when she was less than a month old after learning that Mele was unable to have children. Akela was the one thing in his life Seymour was most proud of. He hated having to disappoint her. But he was a cop and had been for twenty of his forty-six years. Someday Akela would understand that people like him were needed to go after the bad guys in the world. Or at least within Hawaii. Until then, he would continue to try and balance the things most important to him.
Seymour thought about the crime that left two doctors dead. There was nothing more to be done tonight other than hope they caught a break and made an arrest.
As to what drove the killer to taking the two lives was pure conjecture at this point. But it didn't mean he wasn't up to some guesswork. Obviously the victims thought they had the perfect place for their affair.
Well, they were dead wrong.
They had ticked someone off. Or maybe one had been targeted and the other was just collateral damage.
Either way, a killer was on the loose and that was always cause for concern for you never knew what one might do next after experiencing their first kill and finding it agreed with them.
# # #
Excerpted from "Murder in Maui: A Leila Kahana Mystery" by R. Barri Flowers. Copyright (C) 2011 by R. Barri Flowers. Excerpted by permission. All rights reserved. No part of this excerpt may be reproduced or reprinted without permission in writing. Excerpts are provided solely for the personal use of visitors to this web site.