Author of the Month, January: Joan Hall Hovey
We are pleased to announce Joan Hall Hovey as Author of the Month, January!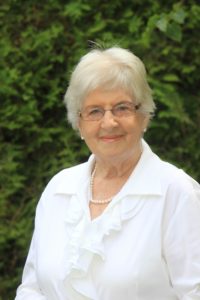 I've always been drawn to the dark side of the human psyche and devoured everything from Edgar Allan Poe to Shirley Jackson growing up. It is no surprise to me I turned out to be a writer of psychological suspense, often with threads of paranormal, mystery and romance.

I like to write about ordinary women who are at a difficult time in their lives and are suddenly faced with an external evil force. Women who are stronger than they think they are.
I didn't think a whole lot about theme until I had written a couple of books, but I realized with the writing of my third novel 'Chill Waters' that my books generally have to do with betrayal and abandonment in some form, and learning to trust again. And more important, learning to trust oneself. Almost any good book will tell you something about the author herself. (Or himself.) You can't avoid it. But first and foremost I want to give readers a roller-coaster ride, one that keeps them on the edge of that proverbial seats and resonates in the imagination long after the last page is read.

Stephen King (below)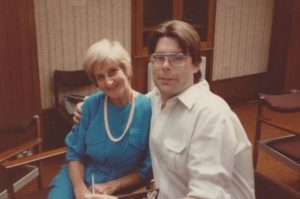 In addition to my suspense novels including And The he was Gone, The Deepest Dark, Night Corridor, Chill Waters, Defective, Nowhere To Hide and Listen to the Shadows, my articles, and short stories have appeared in any many publications including The Toronto Star, Atlantic Advocate, Seek, Home Life Magazine, Mystery Scene. My short story Dark Reunion was anthologized in investigating Women, Published by Simon & Pierre.

I've held workshops and given talks at various schools and libraries, including New Brunswick Community College, and the University of New Brunswick. I am also a tutor with Winghill School, a distance education school in Ottawa for aspiring writers.
"Most of the basic material a writer works with is acquired before the age of fifteen." -Willa Cather

We're told to write with passion or write from the heart, and while this is good advice, I take it further. I suggest you write from the Psyche.
When I say that, I mean writing from those places inside your memory that stay with you, that delight you, and even haunt you. The memory can be a joyful one, like a trip to the carnival at night when you were a child, with all the lights, the smell of candied apple and french fries in the air, the musical rides, the lure of the sideshow barker. Can you still feel that excitement churning in your stomach?
Or maybe it was a darker memory- a time when you were chased down the street by a stalker. Can you still hear those running footsteps behind you? Feel your heart thudding in your breast?
What memories haunt you?
The seeds for my one of my suspense novels Night Corridor were planted in my childhood. On Sundays, I accompanied my grandmother to visit an aunt in the New Brunswick Provincial Hospital, later changed to Centracare, once called The Lunatic Asylum. She'd spent much of her life within those walls. They said she was 'melancholy'.
That sprawling, a prison-like building with bars on the windows, has long since been torn down, the sights, sounds and smells of the place infiltrated the senses of the 12-year-old girl I was and never left. Recently, a local paper did a story on Night Corridor. They included an old postcard photo of the mental institution taken in 1905, and it looked almost like a pleasant rest home with trees in front. A clever photographer had managed to capture a small piece of the building shot at an attractive angle, not at all how it really looked.
She was always so glad to see us. She wore makeup, and beads and read poetry to me. She seemed like a movie star, but of course I knew better. I didn't really understand why she couldn't come home.
Further research led me to a diary I read written by a woman named Mary Heustis Pengilly, in 1885.
But while Night Corridor was inspired by my aunt, and influenced by Mrs. Pengilly, it is not about them. Fiction can be drawn from life, but it is filtered through the writer's imagination. Your characters are not you. They are people in their own right with their own hearts and minds. You breathe life into them by infusing them with your own emotions, based on your life experiences. In this way you are connected to them.

I'm a member of the Writer's Federation of New Brunswick, past regional Vice-President of Crime Writers of Canada and International Thriller Writers.
Filed Under: Author of The Month, Biography, Women's Fiction