Author of the Month, October: Gigi Sedlmayer
We are pleased to announce Gigi Sedlmayer as Author of the Month.
Gigi tells her fascinating story.
I was born on the 19. May 1944 on the east side of Germany, in Potsdam, Berlin.
My family escaped to the West just before the infamous wall went up. We moved around in Germany, following work my dad found, changing schools at least seven times. I lost track and lost all my friends with it until I was so scared to make friends and actually never learnt proper conversation until finally settling in Munich where I studied architectural drafting.  Then I met Albert in 1965 and married in December 1967. I worked as a civil draftsperson in various private consultancies in Munich.
Since my uncle was a writer, I tried to write short animal stories beside work, when I had the time. I think I wanted to see if I could write as well. But nothing further came of it, but I developed a love for the written word and consumed books.
In May 1975, my husband and I immigrated to New Zealand. Because of language challenges, I started a handcraft business. As a specialty, I made colourful parrots of which I sold thousands in a few years.
In 1988, we decided to adopt (we had no own children) and became adoptive parents of 3 ½-year-old twin girls from Fiji the year after. We lived in New Zealand for eighteen years and moved to Australia in September 1992.
One year later I was diagnosed with cancer. After operations and radiation, I withdrew, thinking that I would soon be dead, like my friend who had died of cancer, but my two little girls gave me the courage to keep going. After two years, still among the living, my brain started to work again, so I thought, "Get a grip on yourself and do something good with your life."
Since I couldn't go back to work, too much pain and damage from the radiation, I remembered the time when I wrote short stories and got inspired again, seeing my husband Albert writing the story of our adoption. My English became increasingly better, so I pressed on to develop my creative writing.
I started again with short stories and had sent them to competitions. I didn't get any praises but was often highly commended and to keep going. So, I went on, and one of the short stories was about Matica and Talon. Thinking it through, I thought I could do a novel out of that one.
And so, I started the series about Matica and Talon.
One thing came out when I started to write the story about Matica and Talon, that really surprised me.
I had to face myself. When I started to write the first book, "Talon, come fly with me", I never thought of the things they came out then. I wanted to write an adventure story for children and see what came out of that. Because, like Matica, I was rejected in school, not because of the growth handicap she has. I had other things. I had to face what Matica is facing, rejection, and learned, even from writing the book, more and more to cope with myself, to overcome my own rejection and to realize that I have survived a deadly disease.
How long does it take you to write a book?
After I had decided to make the story about Matica and Talon as a series, I spend three whole days in the library to learn everything about Peru, their people, the land and of course about the condors. In that time, nothing was available on the Internet as it is now. I also couldn't find any real and good pictures of condors. Now the Internet is flooded with wonderful pictures. Love them all.
Now, when I start a new book, I write it down, as it comes to me. But then, when that is done, comes the real writing, the re-writing. I explain it to other people like: First, comes the Skeleton, then comes the veins and the muscles, and then the skin. It can take me around a year to write a book.
From where do you get your ideas?
I wanted to write a story about a disabled or challenged girl to show readers what they can achieve if they put their minds not to the negativity but to the positivity. (As Matica had to learn it as well, and I have done nearly my whole life myself. Being rejected in school as well, I was always an outsider, keeping to myself in the turtle's shell, had hardly any friends.) And since I love birds, I decided to let her have a bird. But then came, what bird? And then the idea went even further. What is if she could fly on the bird? That would be something. But to do that, she has to have a disability to be very small. But again, the bird has to be big as well. And there the condor came to my mind. I loved the condors before. Amazing birds. They are the biggest land birds (vulture) on our wonderful earth. And so the story about Matica and Talon came to existence. And then I had to set the scene in Peru close to the great Andes where the condors live. And so it came, that I decided to let her family go to Peru as a missionary from Australia.
My motto was and is: "Teaching Children Self-Confidence through Service to Others." Children today face immense pressure to fit in with their peers. (As I faced in my own life) This pressure is leading to record rates of depression among preteens and teenagers and this to suicide. Parents look for ways to build their children's self-esteem; however, teens look to their peers and popular culture for acceptance rather than their parents. This puts parents in a challenging situation. Most children of this age group have issues with acceptance, and this is explored and resolved positively within the story line of the Talon series. Matica shows children and teens that they can overcome great obstacles with love, patience and a selfless attitude toward helping others and experience exciting adventure on the way.
I just wanted to let the world know that, when you put your mind to something and want it, you can achieve it. Matica was rejected by the local Indian because of her disability. She hated that state, but couldn't do anything against it. As it is in real life. But, there is always the 'but.' Even that Matica was not always happy, but she tried to be. And so she chose to be kind over being right. She had to learn it as well, but she learned it well, as I have as well, because if you think like that, you'll be right all the time.
A quote from my books: "If you don't know how to go on in life, whatever it might be, even if you have a disability, find a 'condor.'" (well, not everyone can find a condor, as Matica did, but that person has to look and to find what they love to do, whatever that may be, and then stick with it.
That is just what Matica does in my book, TALON, COME FLY WITH ME. Now she can handle every obstacle. In the beginning, Matica acted out of instinct and her survival. Only so she could cope with the rejection.
And something else: I had to face myself and being the hero in my books. And as Mira, Matica's mum, and Matica are saying in my books: 'Sometimes the worst and greatest problems in life cannot be solved. They can only be outgrown.' And I have been outgrown them. Many times, I might say and so has Matica. Yep, I certainly am the hero of my story. I am even a hero in how I befriended the condors I named Tamo and Tima. I am also a hero raising Talon, the offspring of Tamo and Time, to the majestic condor he meant to be. I am a hero because of defeating the poachers, defeating my sorrow.
How do you spend your time when not writing?
I love handcrafting, cross-stitching, painting. I always love doing something with my hands. There was once the time for pencil drawings. I started these on the ship immigrating from Germany to New Zealand. Then came the time for oil paintings, then came the time for making toys (mainly parrots, but other things as well, like a sleepy tiger or a koala), then came the time for cross stitch pictures, mostly animals. And now is the time for writing.
It is strange when I look back. But it was like that. I tried to do a pencil drawing again, but it's not working. That time is over. Now is the time for writing.
But I love going out with my husband and go 4×4 tours, fossicking and gardening, swimming, and walking.
What advice do you have for inspiring writers?
Never to give up. Your success can be right around the next corner. When you gave up, when you stop, you will never know. So, keep going. Even it looks no one likes your writing, no one likes your books. But you have to keep going. Success will come, one way or the other.
A view quotes from my books, if you like to put them in:
"Love and acceptance for each other, without boundaries."
"Self-pity is a useless emotion." "Self-pity can ruin one's life."
"Be you, yourself, be happy. Don't let life pass by you. Don't look back, look into the bright future. The future is as bright as the promise of God."
"Smile – it's the most beautiful attire."
"I can do it." These four words are the most power-filled words."
Matica in the second book is saying: "I see myself as a girl that likes to overcome all obstacles, all problems and all difficulties how bad they maybe because I found out in my young life that I can overcome them if I set my mind to it. I succeeded and so can you. Don't stick your head in the sand, face your difficulties, face your affliction. Look for a condor as I have done, I don't mean a real condor like me, but something you can identify yourself with, relay to it, love to do or like to be."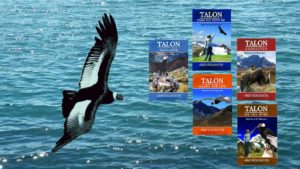 My new website: Gigi Sedlmayer
Filed Under: Author of The Month, Biography, Children's Books, Fanstasy, Fiction, Writer's Creativity