Author of the Month, February: Ann Herrick
We are pleased to announce Ann Herrick as Author of the Month!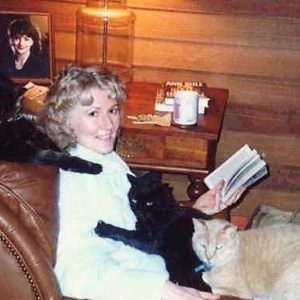 I was eleven when I first tried writing a book but didn't take it seriously until I was in my thirties. Now my books for young readers have received awards including the ALA Recommended Book for Reluctant Readers, IRA/CBC Children's Choice and EPIC Best YA Novel Finalist.
I grew up in Connecticut, where I graduated from The Morgan School and Quinnipiac University.  I now live in Oregon. While I miss the East Coast, primarily houses built before 1900, I enjoy the green valleys, fresh air and low humidity in the Willamette Valley of Oregon.  I love cats, walking, the Oregon Ducks and working in my backyard.  In addition to stories and books for children and young adults, I also write copy for humorous and conventional greeting cards.
My parents read to me, so from a very young age I loved books and reading. When I tried writing when I was eleven I thought I also had to publish the book. This was before home computers, however, so it wasn't too long before I got lost in the mechanics of how to put a book together and gave up!
Later, when I was an adult, I told a friend about my interest in writing, and she dragged, uh, took me to a writing-group meeting. Shortly after that first meeting I started writing and haven't stopped since.
My first sale as a writer was a greeting-card idea. The friend who'd invited me to the writing-group meeting and I decided to brainstorm card ideas. One of the cards was for Baby Congratulations. My friend came up with "Welcome to the generation gap." I added the inside tagline of "Now it's sitting on your lap." That idea sold for $40, so we each got $20. It was the first sale for both of us.
I write by the seat of my pants, or, in other words, I make it up as I go along. I do have a beginning and an end and a rough idea of the middle before I start, but that's all. Characters and plot unfold as I go along. In fact, I get to know the characters while writing the first draft and develop them further in later drafts. The exciting thing is I've often been told that my stories flow well. Maybe it's because I'm not trying to force the plot into a preconceived outline. I don't know. It takes me about a year to write a book. Ideas for stories come from everywhere–the news, eavesdropping, dreams, memories, and sometimes just out of whole cloth.
My advice to aspiring writers is to stick to it. Have a regular schedule and set daily goals, even if it is to write only two sentences a day. Yes, sentences. That will get you started, and you will probably find that you've written two pages before you know it. Two pages a day add up quickly!
My current release is The Ugly Girl Party. In the story, Faith's wish to get off to a good start at her new high school is shattered on the first day, as she quickly discovers that drop-dead gorgeous Hunter and friends decide she lives in the "wrong" house and wears the "wrong" clothes. They systematically harass her and seem determined to make her life miserable. She fantasizes about how she'll get even someday when she is a famous singer/actress, but meanwhile just wants to make it through the day. She meets a couple of possible friends but finds it hard to trust anyone.
When maybe-friend Julia tells her about the upcoming talent show, Faith is determined to win to impress her tormentors. Then nice-guy neighbor Riley invites her to the homecoming dance. She's excited to go until she gets there and realizes that something is up–something terrible. And when she reacts, she finds herself in danger of being suspended from school. Faith questions her own goals, decisions, and values as she struggles to find her way.
The book is available on Amazon as both e-book and paperback. Visit me on YouTube
I love to hear from my readers, my website is Ann Herrick, or you may contact me through my social media links: Facebook  Twitter  Blog  and Goodreads Author Page.   
Filed Under: Author of The Month, Biography