Herrick-SomeoneLikeHim200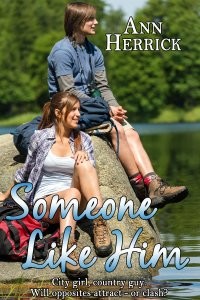 City girl, country guy. Will opposites attract–or clash?
When New-York-City girl Emily visits her cousin Janelle in Oregon, Emily wonders how she'll survive the wilderness. Janelle wonders if the wilderness will survive Emily's visit–and if she can convince her cousin to help save part of an old-growth forest.
Meanwhile, Emily also wonders if a big-city girl can get along with a county guy–named Bret. Under forest canopies and by crystal-clear waters she struggles with her growing attraction to him. But they're so different. Whoever thought she'd fall for someone like him?